Digital Series
Published February 15, 2019
Discover The Good Place's D'Arcy Carden's Robot Soulmate And Yours
The hilarious multitasker pops on Earth's Mightiest Show to talk Bad Janet, Marvel, and more!
We all know the always hilarious and talented D'Arcy Carden as Janet from NBC's The Good Place, but did you know the writer/actress/comedian is a huge Marvel fan?
Carden stopped by Earth's Mightiest Show to talk with Angélique Roché about her Marvel fandom as well as which iteration of Janet is her favorite. Before she popped out, she took the Robot Soulmate quiz to see which Marvel A.I. she'd pair with well. Watch all this in the clip above!
Now that you've learned D'Arcy's robot soulmate, it's time for you to discover yours with our Robot Soulmate quiz below!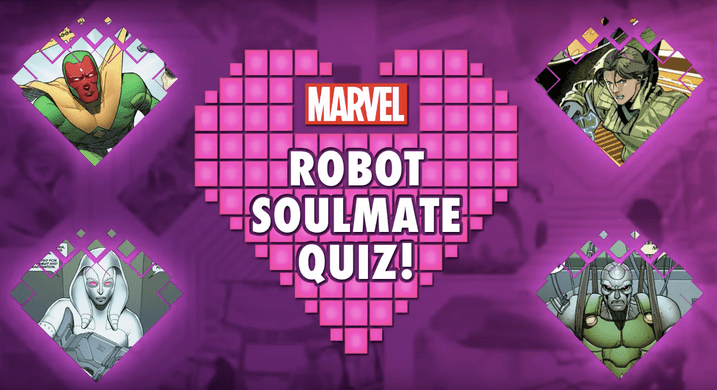 Marvel: Which Robot Is Your Soulmate Quiz?
How do you like to spend time with your friends?

A. We team up to go on adventures

B. Chat via the internet

C. Run away to avoid adults

D. You have no friends; there is only DOOM
 
How do you feel about humans?

A. I love them—enough to marry one

B. They're cruel and judgmental, but I can tolerate them

C. I AM human—I mean…basically

D. They are all inferior—except DOOM
 
Where would you most like to spend your vacation?

A. French Polynesia! I can never get too red from the sun

B. New Mexico—because of its cleansing energy

C. Staycation in LA

D. Eastern Europe. Because there's no place like home
 
How do you approach an argument?

A. Arguments don't phase me. I move right past them

B. I'm harsh and mechanical—but I'm working on my feelings

C. I never lose my head

D. There are no arguments; there are only orders
 
What's your love language?

A. Shouting it from the rooftops when I need to adjust my vocal volume

B. Showing love through sacrifice—again and again

C. Unsure. I don't know if I have been in love yet, but I've definitely been in like

D. Love is for inferior creatures
Results
If you picked mostly A's—your soul mate is Vision. He's a caring being, he adapts to his partner's needs and even if you have walls up he'll phase right through them.
If you picked mostly B's—your soul mate is Jocasta. She was created to be the perfect mate. But she also turned on her husband Ultron and gave him over to the Avengers. So hope you don't have trust issues.
If you picked mostly C's—your soul mate is Victor Mancha. He's a robot heartthrob with a silky head of hair and a big heart. Plus, he'll love you for your mind—because most of the time he doesn't have a body.
If you picked mostly D's—your soul mate is Doombot. He's an egomaniacal workaholic who lives in a castle, but probably in the basement with his 1,000 robot brothers. Honestly, it's not that different from dating most New Yorkers.
Watch D'Arcy on "The Good Place" on NBC.com and the NBC App. And check out D'Arcy on HBO's "Barry," now streaming.
Check out the Earth's Mightiest Show page at Marvel.com for more from the series.
The Hype Box
Can't-miss news and updates from across the Marvel Universe!