Games
Published December 14, 2016
Asgardians Ride the Bifrost into 'Marvel Future Fight'
An exciting assortment of new characters join the mobile hit!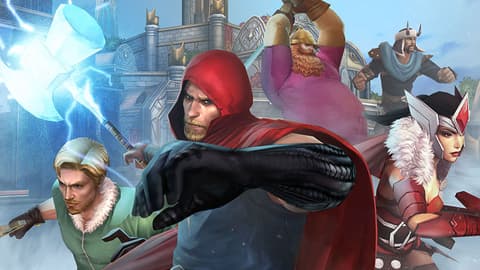 When The Enchantress puts a new evil plot into motion, your team needs the aid of Asgardian heroes like Ulik, Volstagg, Fandral, and more to take her on in the latest update for "Marvel Future Fight." Alongside all the new Asgard-centric content, players will discover new endgame activities, a new multiplayer mode, and a new level cap to climb to.
We grabbed Doo Hyun Cho, Dev Director for "Marvel Future Fight," to get a full rundown of all the new stuff we'll see as Enchantress makes her move.
Marvel.com: "Marvel Future Fight" is getting a plethora of Asgardian content. What new heroes and villains will players be able to recruit for their teams?
Doo Hyun Cho: As a developer of "Marvel Future Fight," we hope that our players play all the characters. We don't want to see any particular character go to waste, since each character has their own advantage and was created with much effort and thought. If we have to choose some favorites, I would say it's Odin, Enchantress, and Volstagg. When it comes to game balance, Odin is definitely one of the strongest. Even though it is difficult to find and upgrade him, he is definitely one of the most satisfying to have in the long run. For Enchantress, we gave her a skill called "Fatal Illusion" to design her as close to the comics as possible. "Fatal Illusion" is a skill that is very satisfying to use because it is very versatile and befits her character as it enables her to charm and incapacitate her enemies for a short duration. We had a lot of fun with Volstagg as we wanted his animation to really fit his looks. Not only is he fun to watch, but he also has excellent skills that will surely entertain the players.
Marvel.com: What new missions will these heroes be able to participate in once they've joined the fight?
Doo Hyun Cho: Chapters 11 and 12 were added to the story missions and are based around Asgard and will showcase Asgard and their heroes, including Malekith—who is already in game—Ulik, Volstagg, Fandral, Hogun, Hela, and many more. Also, if you clear the final chapter of the new story mission, you will be able to acquire one of the strongest characters in the game, Odin. A new lineup of big boss enemies including Ymir, Surtur, Midgard Serpent, Fenris Wolf, and more will give the players another avenue of entertainment in these new story missions.
Marvel.com: What is Enchantress hoping to accomplish amidst the interdimensional chaos?
Doo Hyun Cho: Enchantress is a greedy character who desires to take control of all things. Her goal is the destruction of the world, but to do this she manipulates the likes of Asgardian heroes such as Odin, and villains such as Ulik, and Loki, and powerful mythic giants including Ymir and Surtur. If everything goes her way, the world will be destroyed, so players must fight to stop her.
Marvel.com: Alongside the new story content, there's also a new multiplayer mode and some new endgame activities. How did you design the new three-player raids?
Doo Hyun Cho: It's already been about a year since "Marvel Future Fight" was launched. There's been a lot of changes since then, and we've been adding a lot of ways for our long-time players to constantly find new entertainment. Looking back, we realized that the restrictions on the level caps and other restrictions prevented these users from fully enjoying the game.
The goal of the new game mode, World Boss Invasion, was to enable all players regardless of rank and level to cooperate and enjoy new content together. Players, regardless of their character's rank or mastery can join in a World Boss Invasion and collect rewards.
By playing in World Boss Invasion, players will be able to check out what skills their characters are capable of and experience the power of their characters. We are confident that players of "Marvel Future Fight" will enjoy being able to play together.
Marvel.com: The Extreme Challenge mode seems like a great way for max-level players to work toward the new level cap. What challenges await everyone in this new game type?
Doo Hyun Cho: When Alliance Battles were first added to the game, the variation in the upgrade level of the players' characters made it entertaining. However, the longer the game was in service and as more characters were max upgraded, it was difficult to find any variation to the existing Alliance Battles. Entertainment plateaued, and therefore we added Extreme Mode. The rewards that result from Extreme Mode will depend not only on the character's level, but also by how well the player controls his characters. We expect that this newfound form of entertainment will encourage players to play and raise their level.
Marvel.com: What rewards will players find as they climb to the new level cap of 70?
Doo Hyun Cho: With the lifting of the S.H.I.E.L.D. level to 70, there was also a change in gear items. Now, Uru, which can be collected in the Asgard story missions, can be equipped to gear. These enchanted Urus can be equipped on all slots once you reach level 70. Also, when five Uru are equipped on one piece of gear, they can be amplified to make the character even stronger.
Keep up with all the latest "Marvel Future Fight" news on Marvel.com and through our social channels!
The Hype Box
Can't-miss news and updates from across the Marvel Universe!