Games
Published September 9, 2022
Watch D23 Expo 2022's Disney & Marvel Games Showcase Livestream
Check out today's Disney & Marvel GAMES SHOWCASE livestream and all its reveals, announcements, and trailers for new and upcoming games!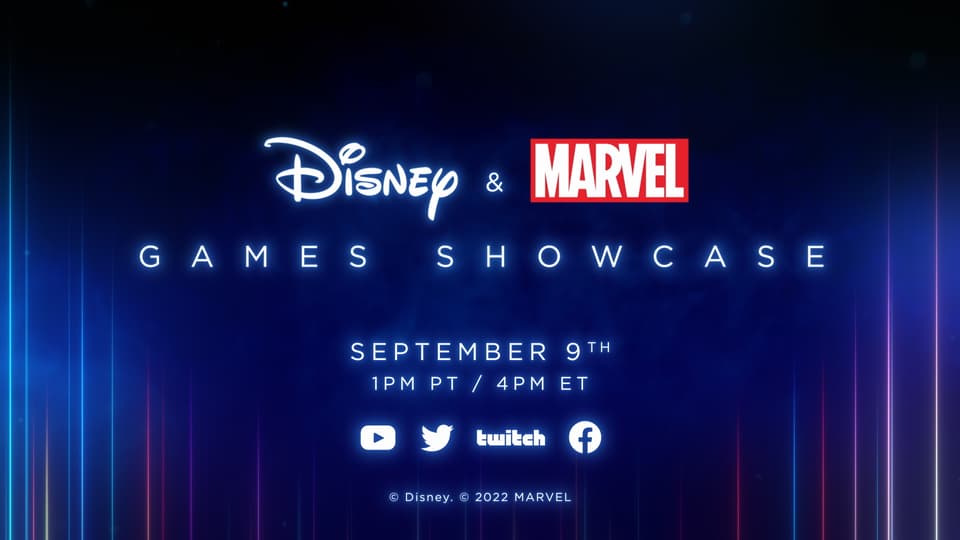 Live from D23 Expo presented by Visa, Disney streamed the Disney & Marvel GAMES SHOWCASE to fans worldwide on Friday, September 9. Hosted by Kinda Funny's Blessing Adeoye Jr., the showcase was packed with reveals, announcements, trailers, and more.
The digital showcase featured incredible new content from Disney & Pixar Games, Marvel Games, Lucasfilm Games, and 20th Century Games. In addition to all-new announcements, fans saw new reveals from titles including Disney Dreamlight Valley, Marvel's Midnight Suns, LEGO Star Wars: The Skywalker Saga, and a sneak peek at the upcoming Marvel ensemble game from Skydance New Media.
Check out the full Disney & Marvel GAMES SHOWCASE video stream and a recap of all the major Marvel Games news below:
Marvel's Midnight Suns
2K and Marvel Entertainment released a new gameplay trailer and shared that Marvel's Midnight Suns will launch on December 2 for Windows PC, Xbox Series X|S and PlayStation 5, with launch timing for the Xbox One, PlayStation 4 and Nintendo Switch coming at a later date.
Additionally, Marvel's Midnight Suns Prequel Shorts were announced – a set of five short videos that provide backstory on how Lilith became the Mother of Demons, and how Super Heroes like Blade, Magik, Ghost Rider and Nico Minoru came together to form the young core of the Midnight Suns. The first video will premiere on October 31, 2022, via the Marvel Entertainment YouTube channel, with subsequent videos scheduled to be released weekly.
MARVEL Strike Force
On Tuesday, September 13, Red Hulk will roar right into MARVEL Strike Force. In a new MARVEL Strike Force trailer, Red Hulk throws down with Abomination – and he doesn't seem particularly pleased when Hulk, She-Hulk, and Brawn turn up to join the fight. He tosses them aside before ramming Abomination into an oil truck, which triggers an explosion that sends him hurtling across the desert. He lands right in front of Apocalypse, who smiles and offers him a hand, which Red Hulk gladly accepts.
It's true! When he joins MARVEL Strike Force, Red Hulk will become Apocalypse's new Horseman of War. Don't miss Red Hulk's MARVEL Strike Force debut on September 13!
MARVEL Snap
Nuverse, Second Dinner and Marvel Entertainment announced today that the highly anticipated game, MARVEL SNAP, will launch globally on mobile and PC on October 18. Players can pre-register for the game now at: https://marvelsnap.com/pre-register.
Whether it's wanting to see Shang-Chi kick Thanos' evil purple butt (Awkwafina does!), or you've always wanted to see what the Guardians of the Galaxy look like in 8-bit mode—wonder no more! MARVEL SNAP brings you super-powered cards that you can play in any number of combinations. And isn't that what the Multiverse is all about?
Easy to pick up and so fun to master, MARVEL SNAP is a revolutionary game experience that unleashes the entire Marvel multiverse into a fast-paced, adrenaline-pumping card battler. Pre-register now and get in on the action...It's time to make your move!
Marvel/Skydance New Media Project
Skydance New Media, helmed by award-winning writer and director Amy Hennig, and Marvel Entertainment shared new details on their upcoming narrative-driven, ensemble adventure game set in the Marvel Universe. The title, which marks the first initiative from the new AAA game studio, features an original story that will take players on a WWII-era adventure with four playable heroes at different points in the story.
As the game's narrative unfolds, players will be able to play an ensemble of four characters: a young Steve Rogers, AKA Captain America; Azzuri, T'Challa's grandfather and the WWII-era Black Panther; Gabriel Jones, a U.S. soldier and member of the Howling Commandos; and Nanali, leader of the fledgling Wakandan Spy Network. Players can look forward to intuitive controls and exhilarating second-to-second gameplay that captures the action and excitement of Marvel, inspired by landmark comics, television, and films, as they navigate this all-new globe-trotting adventure.
MARVEL World of Heroes
Niantic and Marvel Entertainment invite you to become a part of the Marvel Universe with MARVEL World of Heroes, a new mobile game launching in 2023. Using the AR mobile experience, MARVEL World of Heroes allows players to create their own Super Hero identity and team-up with fan-favorite Marvel characters in the real world. A new trailer for the game offers a glimpse of the powers to come, as three players assume the abilities of Thor, Doctor Strange, and Cyclops in order to stop an imminent threat.
MARVEL World of Heroes launches globally next year, but players can pre-register now at marvelworldofheroes.com.
The Hype Box
Can't-miss news and updates from across the Marvel Universe!