Games
Published November 9, 2021
The Secrets Behind Designing Gamora for 'Marvel's Guardians of the Galaxy' and 'Marvel Puzzle Quest'
Hear from 'Guardians' Art Director Bruno Gauthier-Leblanc and Lead Designer at Demiurge Studios Patrick Rodriguez!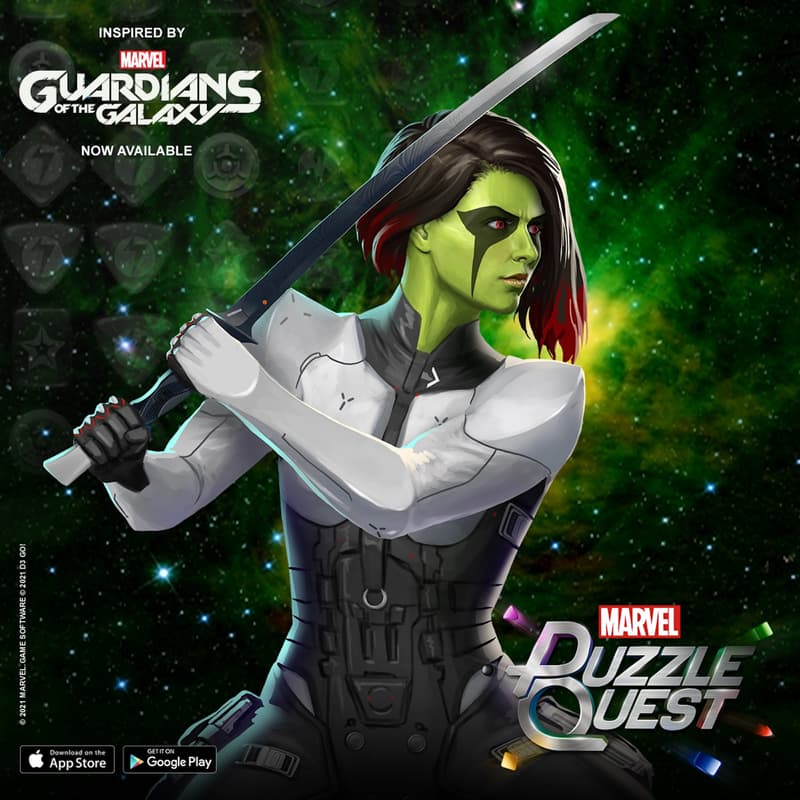 Continuing the Marvel Games tradition of celebrating classic comic book characters by reimagining them for new medium, Marvel's Guardians of the Galaxy features a unique version of Gamora, alongside her classic ragtag collection of teammates—Star-Lord, Drax, Groot, and Rocket. 
So, how did the consummate creators behind Marvel's Guardians of the Galaxy and MPQ bring this specific iteration of Gamora to your fleet fingertips? Marvel.com caught up with a couple of these mighty minds for a look into the process. First up... 
Bruno Gauthier-Leblanc - Marvel's Guardians of the Galaxy Art Director
How did you go about reimagining Gamora for Marvel's Guardians of the Galaxy?
Gamora was a tricky but fun character to design! Being the deadliest woman in the galaxy, she needed to look dangerous at first glance, but also have a more relatable side to her. We started by gearing her up in full armor to convey the fact that she is always ready for combat. Her suit is adorned with deadly claws on her feet and knuckles, as well as unexpected angular shapes, to illustrate she can attack at any moment. We then created contrast by giving her softer facial features as well as curvy hair, this makes her more accessible especially in cut scenes.
What's your favorite aspect about Gamora's design?
Weirdly enough (or not!) it is her face markings, which are actually representative of her race, the Zen-Whoberi. We did so many versions, and it was hard to choose. In the end, we went a direction that was reminiscent of face paint that ancient civilizations would put on before battle. The black area also contrasted very well with the whites in her eyes, which really helped emphasize her gaze.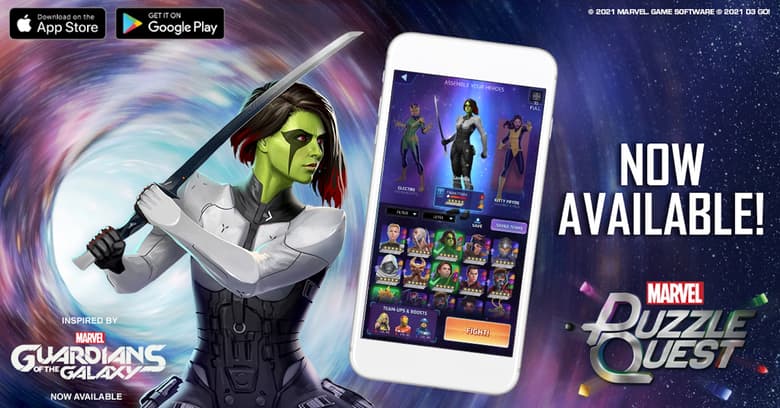 Patrick Rodriguez – Lead Designer at Demiurge Studios
How did you go about bringing this original Gamora design to MPQ?
Eidos-Montréal gave us plenty of reference/concept art and background info on [Marvel's Guardians of the Galaxy]. Using that info and concept art, we came up with some ability concepts for Gamora that fit her character and conveyed her fierceness and determination, for example, "Gamora unleashes a flurry of sword strikes on her enemy." We then translated those concepts into mechanics that work in our game. Our artists created some killer poses and visual effects for her abilities, and then she's ready for battle!
What's your favorite aspect about Gamora's design?
I really like the updated armor she has. It looks very sleek and modern but the shaping of her shoulders, forearms, and calves make her look very intimidating and powerful. In particular I love the claw-like details on her knuckles and toes—it makes it look like she's ready to get in there and punch, kick, and slice anyone who gets in her way.
How do Gamora's abilities from Guardians reflect in MPQ?
We saw a few of Gamora's abilities from gameplay videos, and definitely wanted to try to incorporate them into Marvel Puzzle Quest. My favorite one is an ability where she strikes an enemy and emits a wave of energy that staggers the enemies behind. We have a similar "Stun" mechanic in Marvel Puzzle Quest, so in our game, this ability damages the enemy team and creates a Repeater tile on the board. When that tile expires a few turns later, it Stuns a random opponent and resets, mimicking a disruptive wave of energy that knocks out your enemies.
What unique gameplay features does Gamora bring to MPQ? Any tips and tricks on how to use her?
One interesting mechanic that Gamora has in MPQ is her "Relentless Assassin" power. This power damages the enemy and creates a Countdown tile targeting that enemy. Whenever that enemy takes damage, the counter on the tile goes up, and whenever that enemy fires a power, if the counter is at a certain threshold, Gamora will strike them for massive damage. The best way to get use out of this power is to have allies on your team who fire powers that deal multiple hits of damage, like Apocalypse (Classic) or Gamora's own "Bladed Finesse" power, or allies who can shake up the board and cause cascades for quick hits of damage.
Utilize the might of the deadliest woman in the galaxy today with Marvel Puzzle Quest! Plus, Marvel's Guardians of the Galaxy is now available on PlayStation®5 console, PlayStation®4 console, Xbox Series X|S and Xbox One consoles, and PC digital, and streaming via GeForce NOW. Marvel's Guardians of the Galaxy: Cloud Version for Nintendo Switch is also available in select regions. For more information on Marvel's Guardians of the Galaxy, please visit the official website and follow us on Facebook, Twitter, and Instagram! 
The Hype Box
Can't-miss news and updates from across the Marvel Universe!