Games
Published May 14, 2020
Entering Marvel Contest of Champions: Black Widow (Deadly Origin)
Marvel Studios' 'Black Widow' opens in theaters on November 6!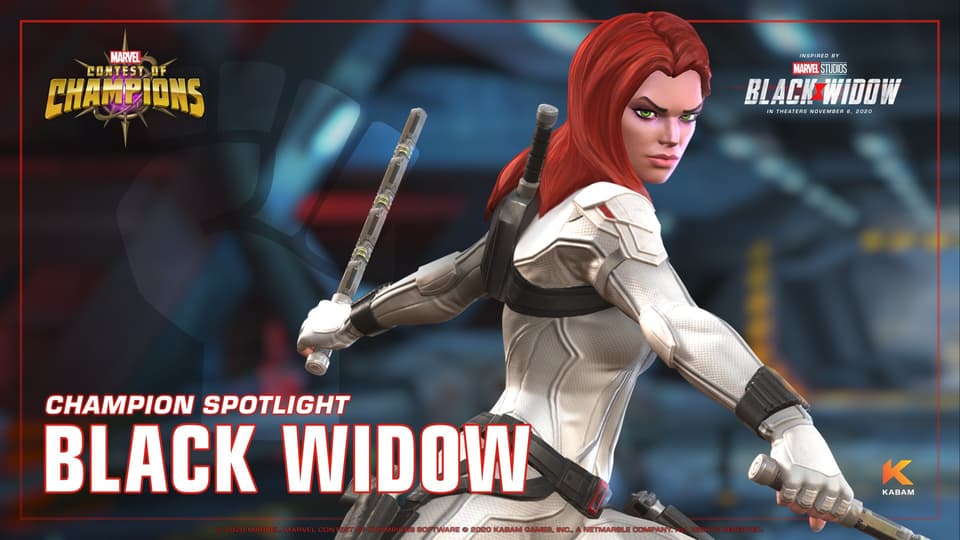 Hey Marvel Insiders – did you know reading this article could earn you 250 points? All you need to do is sign in or join now before you keep reading!
Recruited into the KGB at an early age and trained in the Red Room, Natasha Romanoff developed into one of the world's greatest and most ruthless assassins. Recruit Black Widow now for your roster in Marvel Contest of Champions! 
As a character class Skill, Black Widow's basic abilities include Widow's Insight, Shock, Precision, Evade, Sabotage, Cruelty. 
Black Widow's tool kit includes three special attacks and a signature ability. With Flight of the Arachnid, Black Widow (Deadly Origin) strikes with a full turn kick and baton combo before delivering a shocking surprise. The last hit inflicts a Shock Debuff dealing 2437 Energy Damage over 13 seconds.
Unleashing Spider Bite Combination, Black Widow (Deadly Origin) displays her graceful baton work in a flurry of electrifying strikes. Deal 4630.3 as a burst of Shock Damage when striking Shocked Opponents.
The Dance of the Elusive Black Widow has Black Widow form her batons into electrified whips before she gracefully loads her opponent with voltage. Inflict a Sabotage Debuff reducing Defensive Ability Accuracy by 20% for 16 seconds and dealing 48.74 Direct damage when the Opponent's Defensive Abilities fail to trigger.
Black Widow's signature ability, Red Room Training (Passive), increases the potency of Sabotage Debuffs, increasing Direct damage done when abilities fail to trigger by 120%. Increase the duration of Sabotage Debuffs by 80%. Landing hits while Widow's Insight is active pauses Sabotage Debuffs for 0.50 seconds.
Recommended masteries include Liquid Courage / Double Edge, Willpower, Cruelty / Precision. 
Black Widow's strengths include High Sustained Damage, Evading Misses, and Defensive Ability Counter - Sabotage. 
Black Widow is available for downloading now on Marvel Contest of Champions on iOS and Android devices!
Stay tuned to Marvel.com for Marvel Games news and interviews and follow Marvel Games on Twitter for more!
The Hype Box
Can't-miss news and updates from across the Marvel Universe!