Games
Published April 13, 2017
Entering Marvel Contest of Champions: Dave Bautista
The man who brings Drax to life forms his team and prepares for battle!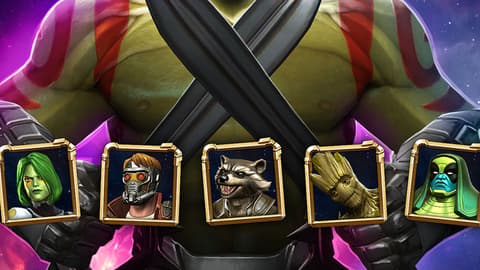 He's big, green, knows his way around a knife, and stands as one of the toughest guys in the known universe—and now he's drawing a line in the stardust for "Marvel Contest of Champions" players everywhere.
Dave Bautista, aka Drax the Destroyer in "Marvel's Guardians of the Galaxy Vol. 2," challenges all comers to test their might against his team of cosmic combatants. We talked to Dave about what makes his crew so formidable, why it's better than all the challenge teams that have come before it, and the reason you won't be able to get past his boss fight.
Marvel.com: Dave are you sure you're ready to take on millions of "Contest of Champions" players who have been training for years to bring down the biggest and baddest villains the Marvel Universe has ever seen?
Dave Bautista: The real question is, are they ready for me? I'm here to test the mettle of these Champions and I expect that many of them will be destroyed by my challenge.
Marvel.com: You couldn't have picked a better team to face down such overwhelming odds. Tell us a little about why you got the Guardians of the Galaxy gang together for this challenge.
Dave Bautista: You've got to trust your friends; you've got to trust your family. When asked what team I wanted to use for the challenge, there was no question who it was going to be.
Marvel.com: I love that you made Drax the boss for this event. How does it feel seeing a character you played on screen make the move to "Contest of Champions" and duking it out with Marvel's other heavy hitters?
Dave Bautista: Being part of the Marvel family is still very surreal but nothing makes me happier than seeing Drax in a mobile game. Fighting as Drax in "Contest of Champions" feels like the perfect fit for both me and the character.
Marvel.com: Have you taken Drax for a spin in the game? What do you think of the Destroyer as a combatant in the Contest?
Dave Bautista: Drax is a beast in The Contest. His abilities and special attacks make him a fierce offensive opponent. With his Fury and Bleed abilities, he can take down even the biggest adversaries.
Marvel.com: Ok if you hadn't gone with the full Guardians roster, are there any other heroes or villains you would have wanted on your team?
Dave Bautista: I like the Champions who can get into a knock-down-drag-out brawl like Wolverine, Beast, and Venom. And of course the other big green guy: Hulk!
Marvel.com: How do you think your team matches up against Chloe Bennet, Clark Gregg, and Ming-Na Wen's squads?

Dave Bautista: I like where their hearts were but their teams didn't have that one thing that brings them all together. With my team at my side, I think we can show the players what a real challenge looks like.
Marvel.com: Finally, what do you have to say to the players that will be gunning for you and your crew?
Dave Bautista: They won't be able to get past my challenge…my reflexes are too fast. Prepare to be destroyed.
Take on Dave's Drax and the rest of the Guardians now, and stay tuned to Marvel.com for more "Marvel Contest of Champions" news and interviews.
The Hype Box
Can't-miss news and updates from across the Marvel Universe!