Games
Published April 27, 2017
Entering Marvel Contest of Champions: King Groot
A different take on the floral colossus hits Battlerealm hard!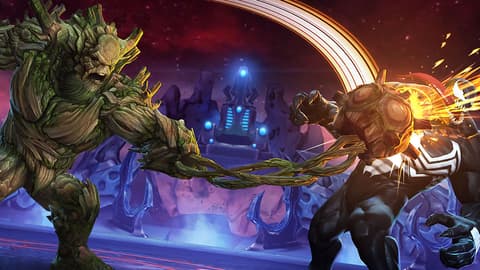 Getting psyched for "Guardians of the Galaxy Vol. 2"? Want to crush some skulls with a Groot from another reality? Look no further than "Marvel Contest of Champions" and King Groot!
We talked to Kabam Art Director Gabriel Frizzera and QA Analyst Gordon Thornton about the big bad new tree on Battlerealm.
Marvel.com: Oh man who is King Groot and why does he look so terrifying? What happened to our cute baby Groot?
Gabriel Frizzera: Sometimes, if you don't raise your Baby Groot right, give him love, water, and sunlight, they fall in with the wrong crowd and become an angry, spiky, wasp-spewing tyrant tree. It's sad but true.
But in all seriousness, King Groot is basically an updated version of the original "Groot, King of Planet X," when he was an evil tree King trying to "branch out" his empire to Earth. We just shortened the name to "King Groot".
Marvel.com: I have to give props to the team—King Groot looks incredible. What went into crafting this guy?
Gabriel Frizzera: When Marvel approached us to be part of the Monsters Unleashed event, I immediately called dibs on the original Groot, knowing we wanted to do a Guardians-related event featuring Angela. But when I looked at the original 1960s design again, I felt that it needed a bit of an upgrade to be the aggressive fighting boss we needed in the game. We didn't want his bark to be worse than his bite.
So, inspired by the original [Jack] Kirby design, I bulked him up a bit, enlarged his "crown" and spikes. and added a mace hand. I also looked at the gnarly quality of tree barks and vines drawn by artists like Steve Bissette and John Totleben. Once approved, the design fell into the hands of our capable modeling team—which is getting pretty good at modeling alien trees. Since all our characters are carefully sculpted in Z-Brush, all the cool organic details can be created before they're baked in the game model.
Marvel.com: If you had to guess, what would happen if King Groot ran into Groot and Rocket Raccoon in the Battlerealm?
Gabriel Frizzera: Hmm… I'll go out on a limb and say they wouldn't be friends. If you play our new event quest, "King Groot's Loot," you definitely find out more details, but what I can say is King Groot has been giving regular Groot a bad name in the Battlerealm, and Rocket isn't happy.
Marvel.com: Ok let's talk about how hard this guy hits! What is Unyielding Might? Is this ability as awesome as it sounds?
Gordon Thornton: King Groot's Unyielding Might Signature Ability is definitely as awesome as it sounds! This Signature Ability gives King Groot amazing combat resilience by empowering him with regeneration while he's waiting for his Fury Buffs to begin stacking again. This allows him to stay in the fight longer and focus on offense when he's got Fury, and defense while he's Regenerating, offering maximum face mashing time. Hello face, meet my new friend: Club Arm!
Marvel.com: From the looks of it, King Groot seems a little like a regenerating machine, able to bring himself back from the brink and avoid any status ailments along the way.
Gordon Thornton: King Groot has two regeneration abilities he can rely on. One will happen automatically when he switches from his Offensive to his Defensive State; the other is on command, a rarity for Regeneration abilities, when he performs his Level 3 Special Attack. It's also possible to stack one on top of the other, to really get yourself back in the fight.
Marvel.com: In your opinions, what's the coolest thing about King Groot?
Gordon Thornton: I think my favorite thing about King Groot is that when in his Offensive State he can instantly remove Debuffs at the cost of one of his Furies. Not only does this make King Groot very hard to shutdown with a Heal Block, it gets him out of fight ending Stuns, and has the added benefit of pushing him into his Regeneration State sooner as his Fury Buffs are removed.
Marvel.com: Anything else we need to know about the hulking brute?
Gordon Thornton: We all expect King Groot to be a strong defender with his tree-like resilience due to Regeneration and Debuff removals; Parry what Parry? Additionally, he has very high Base HP, which helps boost the strength of his Regeneration Buffs. Be sure to check him out when he comes to The Contest on April 27!
Stay tuned to Marvel.com for more "Marvel Contest of Champions" news and interviews!
The Hype Box
Can't-miss news and updates from across the Marvel Universe!