Games
Published February 13, 2020
Entering Marvel Contest of Champions: Longshot
Good Karma or Bad Karma?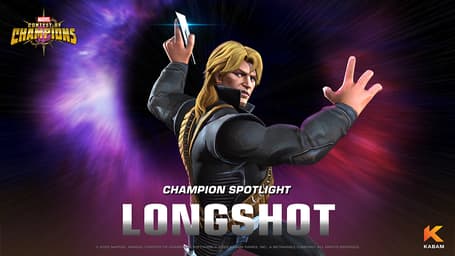 Hey Marvel Insiders – did you know reading this article could earn you 250 points? All you need to do is sign in or join now before you keep reading!
After being genetically enhanced by Arize with superhuman traits and the powers of Probability Manipulation, Longshot is now a hero from the Mojoverse. Snag him now in Marvel Contest of Champions! 
Arize made it so the strength of Longshot's Power was based on the purity of his heart, making him a star candidate for inciting a civil war to overthrow the tyrannical reign of Mojo himself.
Longshot excels when balancing both offensive and defensive play styles. Playing defensively builds Good Karma on himself, unlocking new abilities in his Special Attacks. Playing aggressively allows him to convert this Good Karma into Bad Karma on the Opponent for huge bursts of damage.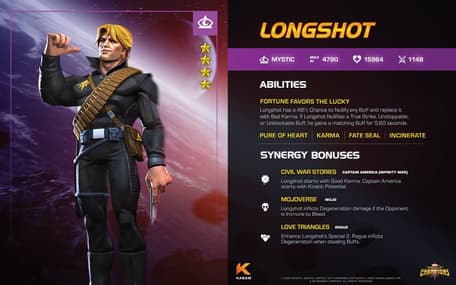 As a character class Mystic, Longshot's Basic Abilities include Karma, Pure of Heart, Incinerate, Fate Seal.
His took kit includes three special attacks along with a signature ability. Using Final Cut, he consumes 2 Good Karma and this attack cannot Miss or be Auto-Blocked. If Pure of Heart is active the first hit inflicts 7 Instant Bleeds, each dealing 459.2 damage. This damage benefits from Longshot's Critical Damage multiplier.
With Workers Compensation, the final hit inflicts Incinerate dealing 172.2 damage over 12 seconds. Incinerate also removes Perfect Block chance and lowers Block Proficiency by 50%. If pure of Heart is active, instead of inflicting incinerate on the Final hit, the Incinerate triggers on activation of this Attack with its expiry paused until the Attack ends. 
Lastly, Longshot uses Comedy of Errors, which stun the Opponent for 3.50 seconds. If pure of Heart is active this attack gains up to 1148 Attack Rating based on Longshot's Good Karma. 
Using Longshot's signature ability Fortune Favors the Lucky, he has a 48% Chance to Nullify any Buff and replace it with Bad Karma. If Longshot Nullifies a True Strike, Unstoppable, or Unblockable Buff, Longshot gains a matching Buff for 5.60 seconds.
Recommended masteries include Mystic Dispersion, Cruelty, and Petrify. 
Longshot's strengths include Fate Seal, Opponents with Buffs, and Low Chance Buff nodes.
Longshot is available for downloading now on Marvel Contest of Champions on iOS and Android devices!
Stay tuned to Marvel.com for Marvel Games news and interviews and follow Marvel Games on Twitter for more!
The Hype Box
Can't-miss news and updates from across the Marvel Universe!