Games
Published March 12, 2020
Entering Marvel Contest of Champions: Mole Man
Greetings from the center of the Earth!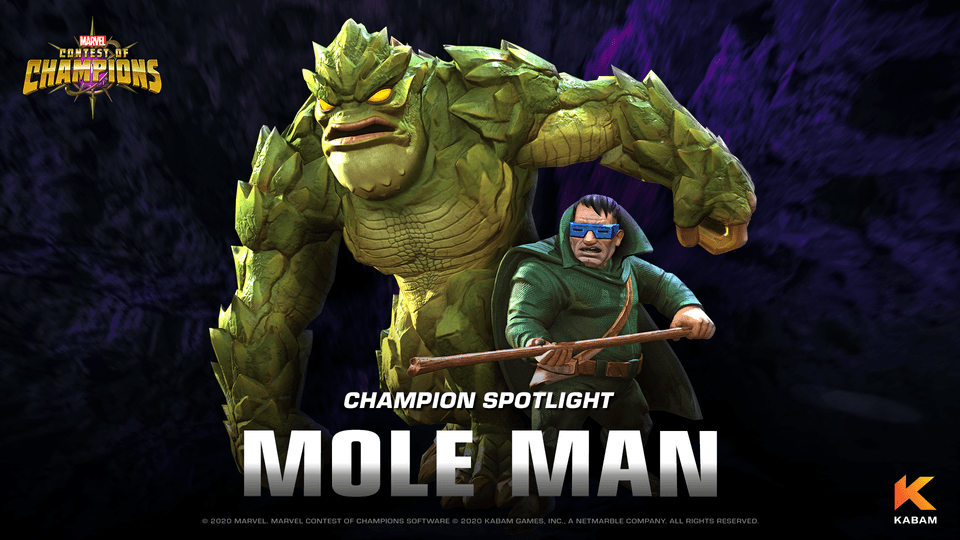 Hey Marvel Insiders – did you know reading this article could earn you 250 points? All you need to do is sign in or join now before you keep reading!
How do you become Mole Man? Well, after Harvey Rupert Elder stumbled upon the Monster Isle and fell deep into the realm of Subterranea, he became blinded before the Valley of Diamonds. 
After this discovery, Elder dubs himself the Mole Man, ruler of Subterranea and the caverns of Monster Isle. Riding on the back of his most trusted monster friend, Giganto Jr., the Mole Man burrows his way into Marvel Contest of Champions!
As a Character Class Skill, Mole Man's basic abilities include Shock Immunity, True Accuracy, Bleed, Monster Mass, Unstoppable.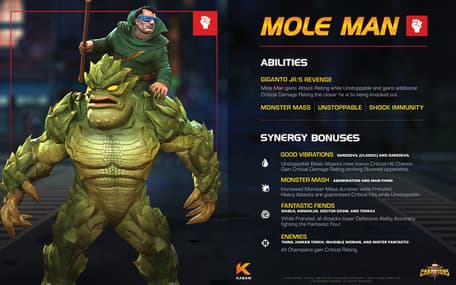 Mole Man's tool kit includes three special attacks along with a signature ability. Using Monster Prod Strike, Mole Man 'assists' Giganto Jr. for a shockingly powerful strike. Gain 2 Monster Mass. Inflicts a Shock Debuff dealing 1642.2 damage over 14 seconds.
With Holey Moley Bojutsu, Mole Man goes high in a flurry of bo staff strikes and Giganto Jr. goes low for a surprise subterranean blow. Each hit has +525 Critical Damage Rating. his attack gains up to +1759.5 Attack Rating based on missing Health.
Subterranean Frenzy sends monster Adrenaline flowing through Giganto Jr. 's veins, Giganto Jr. shows his opponents the full ferocity of Monster Isle. Gain 10 Monster Mass and become Frenzied if not on Cooldown.
Using Mole Man's signature ability, Giganto Jr.'s Revenge, players Gain up to 2566.66 Critical Damage Rating based on missing Health and gain up to 2346.01 Attack Rating while Unstoppable based on missing Health.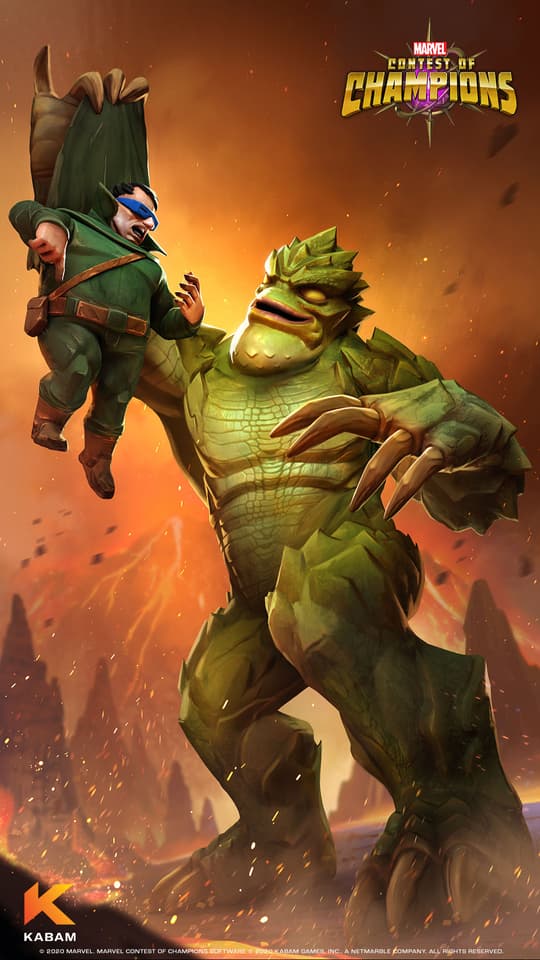 Recommended masteries include Stand Your Ground, Liquid Courage / Double Edge, and Cruelty / Courage. 
Mole Man's strengths include Debuff Purify, Unstoppable on Block, Guaranteed Critical Hits during Frenzy, and Blocking Heavy and Unblockable Attacks. 
Mole Man is available for downloading now on Marvel Contest of Champions on iOS and Android devices!
Stay tuned to Marvel.com for Marvel Games news and interviews and follow Marvel Games on Twitter for more!
The Hype Box
Can't-miss news and updates from across the Marvel Universe!