Games
Published January 9, 2020
Entering Marvel Contest of Champions: Squirrel Girl
Watch out for Tippy-Toe!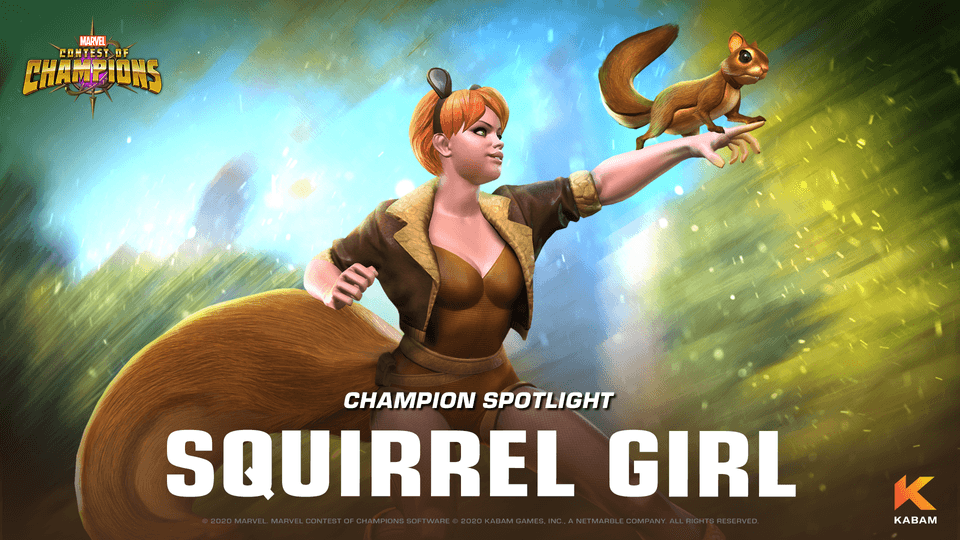 Hey Marvel Insiders – did you know reading this article could earn you 250 points?  All you need to do is sign in or join now before you keep reading!
What started out as a way to hide from her classmates and impress Iron Man has turned into something so much more! Snag Doreen Green (Squirrel Girl) in Marvel Contest of Champions now. 
Ever since her first victory, Squirrel Girl has taken down some of the most feared Super Villains in the Marvel Universe. With an almost unrivaled win record, she lives up to the title, the "Unbeatable Squirrel Girl." Squirrel Girl can consume her Combo Meter to power up her squirrel, Tippy-Toe! Tippy can assist Squirrel Girl or attack her Opponent inflicting Debuffs and dealing bursts of Bleed damage.
As a Skill Character class, Squirrel Girl's abilities include Tippy-Toe, Bleed, Critical Bleed, Distraction, Injure, Combo Shield.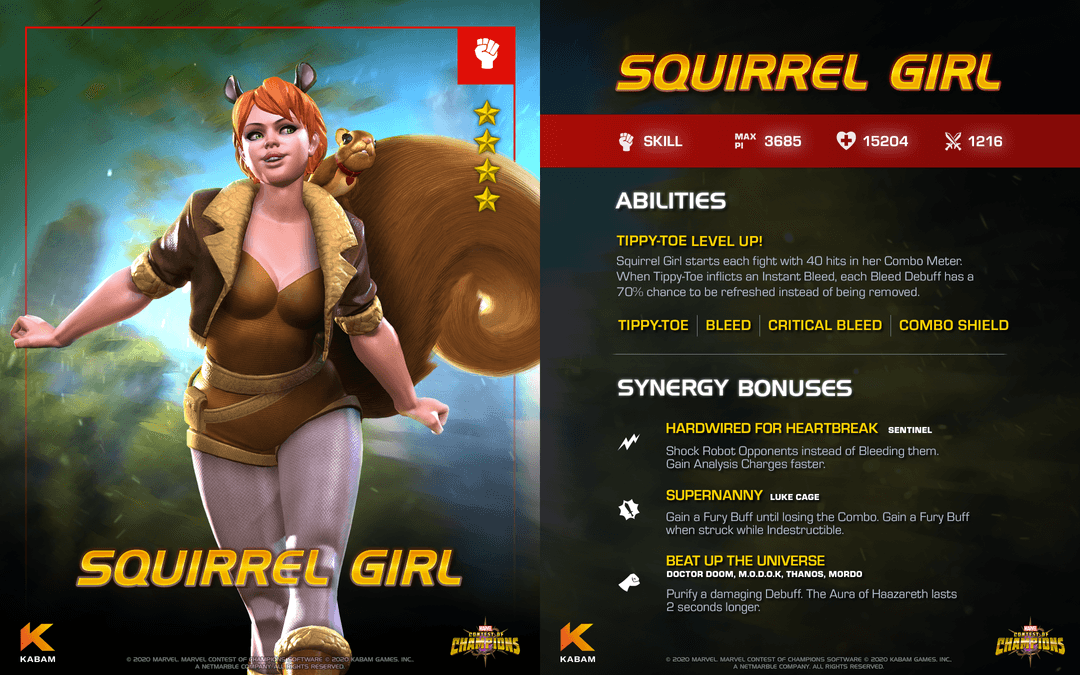 Her took kit includes three special attacks along with a signature ability. Using Army of Squirrels, Squirrel Girl calls on — you guessed it — an army of ferocious squirrels, swarming the unsuspecting opponent. The last hit increases Squirrel Girl's Combo Meter by 10 hits, and Squirrel Girl gains 1 Combo Shield Buff, lasting indefinitely. When struck, the Combo Shield Buff is lost after 2 seconds instead of the Combo Meter resetting.
For Flurry of Fur, Squirrel Girl slings a piercing acorn before tearing into the opponent with a flurry of claw strikes. Each hit that makes contact, inflicts a Bleed Debuff dealing 243.2 Direct Damage over 6 seconds. This ability does not trigger during a Well-Timed Block.
Lastly, utilizing her trusty sidekick, with Tippy-Toe's Takedown, Squirrel Girl's bushy-tailed best friend chases the opponent down, landing a series of savage blows. Squirrel Girl gains 100 additional hits in her Combo Meter, and if Tippy inflicts an Instant Bleed with this attack, there is a 30% chance for each Bleed Debuff to be refreshed instead of being removed.
Using Squirrel Girl's signature ability, Tippy-Toe Level Up!, she starts each fight with 40 hits in her Combo Meter.
Recommended masteries include Deep Wounds, Despair, and Double Edge. 
Squirrel Girl's strengths include High Bleed Damage, Bypasses Physical Resistance, Prevents Evades and Auto-Block. 
Silver Surfer is available for downloading now on Marvel Contest of Champions on iOS and Android devices!

Stay tuned to Marvel.com for Marvel Games news and interviews and follow Marvel Games on Twitter for more!
The Hype Box
Can't-miss news and updates from across the Marvel Universe!