Games
Published April 23, 2020
Entering Marvel Contest of Champions: Storm (Pyramid X)
Watch out for her thunder and lightning!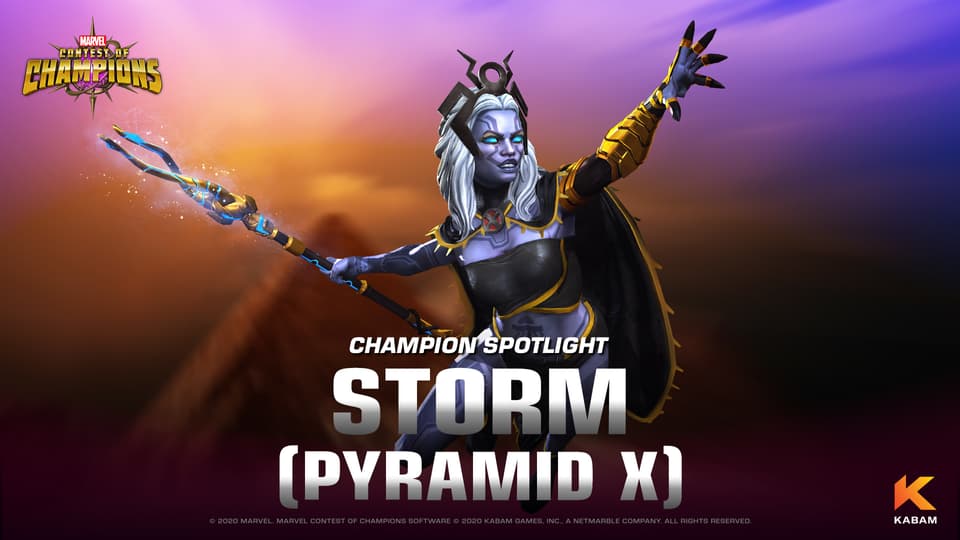 Hey Marvel Insiders – did you know reading this article could earn you 250 points? All you need to do is sign in or join now before you keep reading!
This is not the Ororo Munroe we know and love, because now Storm has been indoctrinated into Pyramid X by her God Apocalypse. Storm is able to channel her weather-bending abilities through her ornate wand Heset's Ruin, to raze entire cities and subjugate those who do not submit to En Sabah Nur. Now she's the latest player to enter Marvel Contest of Champions! 
As a character class Mutant, Pyramid X's basic abilities include Ice Tempest, Lightning Tempest, Prowess.
Pyramid X's tool kit includes three special attacks and a signature ability. Using CLOUDY WITH A CHANCE OF PAIN, Storm calls forth a hailstorm of ice directed entirely on her unfortunate Opponent. Inflict a Passive Slow for the duration of this Special Attack, preventing the effects of Unstoppable and lowering Evade Ability Accuracy by 100%. Opponents with a natural Class Advantage cannot be slowed.
Storm channels a conduit of electrical force with WHEN TOADS MEET LIGHTNING, discharging a rapid burst of lightning obliterating everything in its path. Each hit inflicts a Shock Debuff dealing 1949.6 damage over 9 second(s). If the Opponent Purifies any of these Shock Debuffs, deal a burst of 1949.6 instant Shock Damage instead.
Storm demonstrates her absolute control over the elements by conjuring a devastating localized storm. Witness the true power of an Omega level mutant with ACCELERATED CLIMATE CHANGE. If both Tempests are already active, Storm increases her Attack Rating by 3655.5 during this Special Attack. After this Special Attack ends, Storm activates her alternate Tempest for 35 seconds. This duration is paused while charging Heavy Attacks and launching Special Attacks. 
Using Pyramid X's signature ability, Wrath of Ororo Munroe, while below 30% of her maximum health, Storm activates both Tempests.
Recommended masteries include Block Proficiency, Stupefy, and Parry. 
Pyramid X's strengths include Glancing, Stun, and Energy Damage. 
Pyramid X is available for downloading now on Marvel Contest of Champions on iOS and Android devices!
Stay tuned to Marvel.com for Marvel Games news and interviews and follow Marvel Games on Twitter for more!
The Hype Box
Can't-miss news and updates from across the Marvel Universe!