Games
Published January 11, 2019
Seek Victory (and Doom) As Marvel's First Family Joins MARVEL Future Fight
The hit mobile action RPG game celebrates Fantastic Four with an epic event!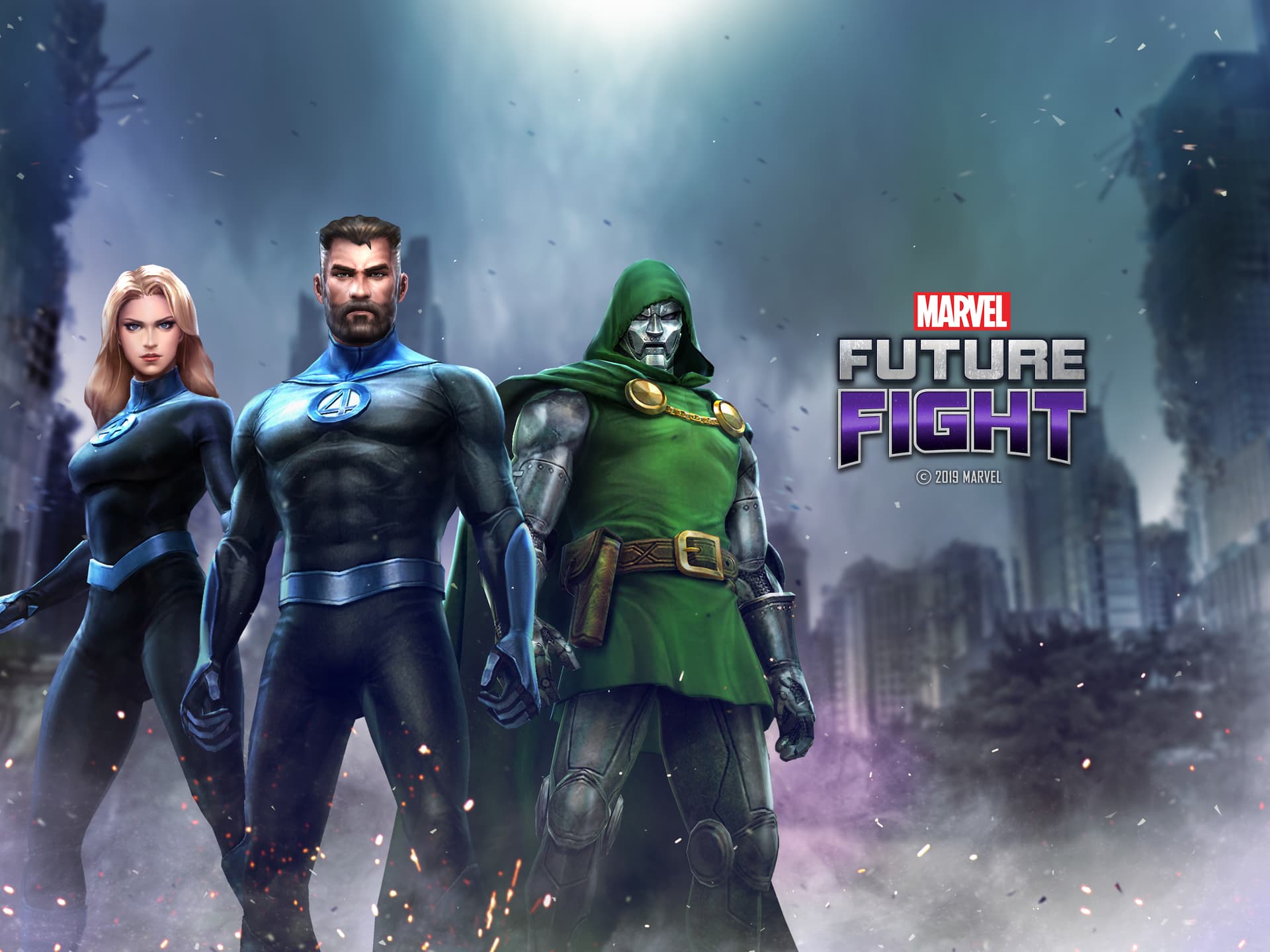 If you were to listen to Victor Von Doom, you'd believe there were no victors. Only Doom!
However, that's not the case with MARVEL Future Fight, the action RPG, has brought in over 170 heroes and villains spanning across the Marvel universe to countless modes and stories. It's not a stretch to say they're pulling out all the stops for the first game update of 2019. Let's hear it for Marvel's First Family—the Fantastic Four!
This week, MARVEL Future Fight welcomes Mister Fantastic, Invisible Woman, Human Torch, The Thing, Doctor Doom, and his champion of Latveria, Victorious, into the game. Marvel.com had the opportunity to talk to Min-Kyun Kim, Netmarble Monster's Director of MARVEL Future Fight all about the latest event update.
Marvel.com: Marvel Games and Netmarble are celebrating Marvel's First Family with Fantastic Four: World's Greatest Week! What do you guys have up your sleeve for this update?
Min-Kyun Kim: In this update, players will be able to enjoy a unique Fantastic Four storyline through the "First Family Epic Quest," utilizing powerful characters such as NEMESIS Doctor Doom and others.
Also, we've totally revamped the Challenges feature in the game to allow players to view their own or others' achievements in Challenges. Other than that, we've also prepared a new Uniform collection, Comic Cards, and various new activities and Events.
Marvel.com: We hear there are six characters joining in on the fray. Who are they and what roles will they play?
Min-Kyun Kim: The Fantastic Four are all being released, consisting of Mister Fantastic, Invisible Woman, Thing, and Human Torch. Of course, their nemeses Doctor Doom and the Latverian Warrior, Victorious. 
Mister Fantastic has powerful capability as he starts at Tier-2 by default, and he will grow more powerful as you play through the Epic Quests. He was designed to allow even beginner players to acclimate to the game easily. Invisible Woman can be acquired by purchasing the Fantastic Four Deluxe Pack, but she's equipped with immense power to make up for the difficulty of getting her. The remaining Fantastic Four members, Thing and Human Torch, can be naturally acquired and grown as you play the Epic Quests.
Doctor Doom takes a bit more time to power up than Thing or Human Torch, but he is designed to be that much more powerful. As Doctor Doom is renowned as one of the strongest villains in the Marvel Universe, you will see that his form in Future Fight does not disappoint. Expectedly, he is one of the most difficult to acquire and grow, and doing so requires comparatively more time as well.
Marvel.com: Outside of the Fantastic Four, how did you select Victorious and Doctor Doom as the other two characters we can recruit for this event?
Min-Kyun Kim: Doctor Doom has been the arch-nemesis for the Fantastic Four squad for a long time. He has had a history with Mister Fantastic since their college days. So naturally we felt that Doctor Doom was the obvious answer to play the enemy in the new Epic Quest featuring Mister Fantastic.
Victorious is a relatively new character that appeared in newer FANTASTIC FOUR comic series from Dan Slot and Sara Pichelli. A warrior of Latveria, she played a crucial role in bringing Doctor Doom to the light. By releasing a well-known, older character in conjunction with a newer one, we hope to satisfy both long-standing Marvel fans and those that have just joined the club.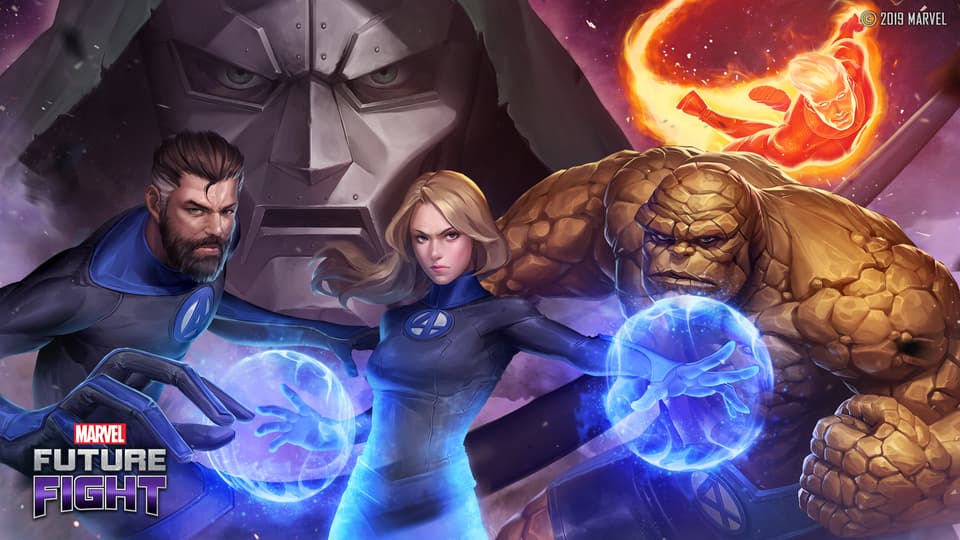 Marvel.com: New characters aren't the only thing. What new costumes will some of our heroes be sporting?
Min-Kyun Kim: The Fantastic Four have a history full of encounters with various heroes. They have an especially close relationship with Crystal of the Inhumans and Hulk's cousin, the She-Hulk, as they've even joined as members of the Four before to fight together. That's why we've added Fantastic Four themed uniforms for both Crystal and She-Hulk, offering new looks and powerful effects that players can enjoy.
Marvel.com: What new missions will our players fight their way through this time around?
Min-Kyun Kim: We're adding a brand-new Fantastic Four Epic Quest in this Update. As you play through the immersive storyline of this Epic Quest, you will encounter new stages and special fights themed with iconic settings such as the Fantastic Four Baxter Building and Doctor Doom's Castle.
Marvel.com: Were there any classic comic storylines that you guys dove into for inspiration for this update?
Min-Kyun Kim: We were particularly inspired by Doctor Doom's actions in SECRET WARS. In that comic series, Doctor Doom creates his own world, the Battleworld, and wield godly powers when in that place. As Doom will be Doom, his form in Future Fight is similar in destructive prowess. If you're curious about the details, try playing the new Epic Quest!
Marvel.com: Do you have any gameplay tips for fans to really get to clobberin'?
Min-Kyun Kim: Thing is a character that will appear in the early-mid part of the Epic Quest. He is the first Fantastic Four member players will have the opportunity to acquire, so they won't have to wait long. Thing activates useful buffs for the Fantastic Four members when they are teamed together, so he's kind of necessary if your composing your team with Fantastic Four members.
Marvel.com: Anything else you can share about the World's Greatest Week and Fantastic Four celebration?
Min-Kyun Kim: It is an honor to have Marvel Future Fight be a part of this Fantastic Four celebration, and we hope all of you will enjoy this festival with us.
You can follow Marvel.com for all the news and content related to FANTASTIC FOUR: WORLD'S GREATEST WEEK. Plus, all of your favorite digital series -- Earth's Mightiest Show, This Week in Marvel and more -- will have exclusive interviews with the FF creative team, trivia, and more! http://Marvel.com/fantasticfourweek
Stay tuned to Marvel.com for Marvel Games news and interviews and follow Marvel Games on Twitter for more!
The Hype Box
Can't-miss news and updates from across the Marvel Universe!