Games
Published January 31, 2018
Five New Spider-Verse Characters Just Joined the Roster of 'Spider-Man Unlimited'
The wonderful wallcrawling adventure from Gameloft gets a major update!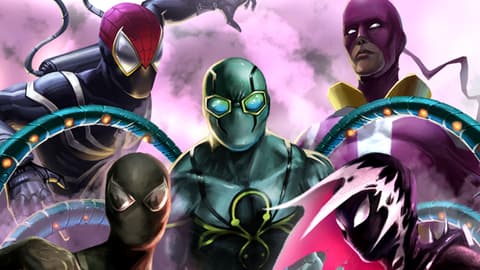 "Spider-Man Unlimited," everyone's favorite spider-themed mobile runner, has some cool new content set to hit the web very soon. We talked to Gameloft Product Marketing Manager Sergii Gotsman, and he broke down all the spicy Spidey shenanigans the team has planned for players.
Marvel.com: It's been a while since we've had an update from you guys. Mind giving us a tl;dr of all the changes you have coming for us?
Sergii Gotsman: In this update we're adding five cool new characters, a new collection, which will be available this February only, and new rarity levels for several Spideys currently on the game's roster.
You'll be able to play as The Answer (from Peter Parker, The Spectacular Spider-Man #91), Ai Apaec (New Avengers #18), Blood Spider (Amazing Spider-Man #367), Superior Octopus (Amazing Spider-Man #1) and my personal favorite, Gwenom (Edge of Spider-Verse #2).
Marvel.com: Dang, five new characters? Are we getting all of them in one blast, or will you be releasing them over the next few weeks?
Sergii Gotsman: All characters will be available in February's story events. We'll release them one after the other so players can collect them all gradually, rather than having to frantically fling their webs to get them all at once.
Marvel.com: What went into crafting each of their unique looks? Did the team just draw from their comics for inspiration, or is their some Gameloft flair added to their appearances?
Sergii Gotsman: It is one of the Gameloft's promises to Spider-Man fans that every character in the game has been painstakingly recreated to match their original comic book appearance as much as possible. But game development is a complex process, and we usually find room to show off our artistic skills – particularly as we convert a character from a 2D piece of art to an animated 3D model.
Marvel.com: I heard that a few characters are getting updates. Mind digging into their upgrades for us?
Sergii Gotsman: Sure! First off, players will now be able to get Titan rarity versions of Silk (Cindy Moon), Unmasked Spider-Woman (May Parker) and Unmasked Spider-Gwen. In addition, each of these characters will receive a new set of bonuses corresponding to their new rarity level.
Marvel.com: Also, we have some new chances to get pieces of Nick Fury's Infinite card right?
Sergii Gotsman: Infinite characters are currently the strongest in game, but they take dedication to unlock. To get Infinite Nick Fury you'll have to collect all the pieces of his Infinite card in Symbiote World. It's a dangerous place, but the prize is certainly worth the effort!
Marvel.com: There's a lot for players to sink their teeth into here. Is there anything the team is most excited to roll out to players?
Sergii Gotsman: Definitely. I'm excited to see how players react to Gwenom – she'll be available in the first event, which should start in a few days.
Also, we've just finished the SMU roadmap for 2018 and I want to say this year is gonna be huge for Spider-Man. There's not much I can disclose now, but if you're a fan of web slinging heroes from the Spider-Verse, stay tuned.  A lot of cool stuff is coming, so be sure to keep your eyes peeled for more new stuff in "Spider-Man Unlimited"!
Pick up "Spider Man Unlimited" on Google Play and iTunes and stay tuned to Marvel.com for more news and interviews.
The Hype Box
Can't-miss news and updates from across the Marvel Universe!