Games
Published September 18, 2017
Inside the Minds Behind 'Marvel vs Capcom: Infinite'
Take one last sneak peek before the anticipated game hits consoles!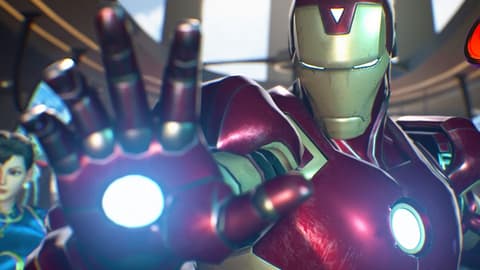 Hyped for the imminent release of "Marvel vs. Capcom: Infinite"? Us too! So much so that we reached out to some of the awesome people who put their blood, sweat, and tears into making the game a reality. Today: more with Brett Elston and Mike Evans from Capcom, as well as Marvel Games' own Danny Koo!
Marvel.com: I wanna hear who you guys will be playing once the game drops and with what Infinity Stones! Personally I've been thinking about playing me some Hulk and Thor, though I'm not sure who I'll be running on point or which stone I'll be using. Love me some big bodies…
Brett Elston: So, I've gone back and forth on this a lot. I love Firebrand—shout out to "Demon's Crest"!—so I've been dabbling with him over the summer. But, after playing the latest build, I may have settled on Ghost Rider and Strider, aka Ghostrider or GoStrider; still working on this. Those two with the Power Stone seems like an obnoxious wall bounce party just waiting to happen. Here's hoping I can actually pull it off!
Danny Koo: For a heroic team, I'm thinking Captain Marvel and Chun-Li with the Reality Stone to give me some double projectile possibilities. For a villain team, I think Thanos and Dormammu might be cool to have some fun with Mind Stone. At the end, I just want to play with everyone on the roster and see what Infinity Stone works best for me.
Mike Evans: Gamora and Strider with the Time Stone! Cypher and Godslayer, Ouroboros and guns, what's not to love? Two of the universe's most deadly assassins, finally united!
Marvel.com: With everything you know, everything you've seen about the game, what are you most excited to see players take advantage of?
Danny Koo: I am excited to watch the pro players experiment with new moves and new discoveries. Even though I'm not a fan of being on the receiving end of getting hit by a crazy combo chain, I smile every time someone executes it flawlessly; there will be plenty of livestream and tutorials online, where players can take advantage and understand more about mechanics they may not be familiar with. Also, be sure to check out Doctor Light's Database in the game and each individual characters' theme music too—I am super excited about the music and the Collection Mode in the game!
Mike Evans: I'm most excited to see players create their own unique identity and play style within the game. "Marvel vs. Capcom: Infinite" is a playground, the engine really allows you to get creative with your team and stone strategies. I can't wait to see how the Meta evolves, and how unique, "identity creating" play styles [emerges] from the community. Super [hyped] to see that, and as a fan myself, I'll be tagging along for the exciting ride.
Brett Elston: I definitely want to see people go nuts with the Infinity Stones and I'm really hoping for some incredible tech to surface over the next few weeks as players from around the world get their hands on it.
Marvel.com: Any final thoughts? What else do we need to know about "MvC:I"?
Mike Evans: We wouldn't be able to create these games without the amazing support and passion of our fans. So, thank you to everyone who has supported this amazing series over the last 20 years, and to all those new players who are jumping into battle for the first time with "Marvel vs. Capcom: Infinite": See you online!
Brett Elston: I would encourage everyone to check out all of the unlockable art in the game. I know, I know: how exciting can concept art really be? But, in this case, we have some very sharp, beautiful stuff in there that helped set the stage for the game and I think players will really enjoy flipping through those pieces. Great stuff!
Danny Koo: We have great stuff coming to "Marvel vs. Capcom: Infinite." We started with 20 variant comic covers inspired by the game with Marvel Publishing and continued to collaborate and produce a prelude comic exclusively for GameStop customers. In April, we debuted the "Marvel vs. Capcom: Infinite" Collector's Edition featuring a Deluxe SteelBook, four premium diorama statues and a box of Infinity Stones replicas. This is actually Marvel Games' first Collector's Edition ever! Back at E3, we unveiled Iron Man and Mega Man X action figures from Hasbro as part of Marvel Gamerverse, and we just recently announced a series of adorable two-pack Funko POP! Vinyls based on characters from the game! Lots of effort has gone into—and continues to go into—this game. Outside of us answering these epic questions, I want to give a shout out to several of my stealthy ninja team members. Tim Tsang, our Art Lead, ensures that we have awesome visuals; Becka McIntosh, our Ops Manager, makes all logistics seamlessly effortless; and Isabel Hsu, our Assistant Creative Manager, and Michael Francisco, our Production Assistant, both bring passion and authenticity to this game. We will continue to have more exciting stuff for the fans to look forward to, so stay tuned. Here's to many battles to come!
Pre-orders for "Marvel vs. Capcom: Infinite" are available. All editions and versions of "Marvel Vs. Capcom: Infinite" will simultaneously release this week on Tuesday, September 19. Stay tuned to Marvel.com and follow us on @marvelvscapcom and Like "Marvel vs. Capcom" on Facebook for more "Marvel vs. Capcom: Infinite" news and interviews!
The Hype Box
Can't-miss news and updates from across the Marvel Universe!