Games
Published September 14, 2017
Marvel Gamerverse Unleashed
Funko Pop! kicks off the new line with 'Marvel vs. Capcom: Infinite'!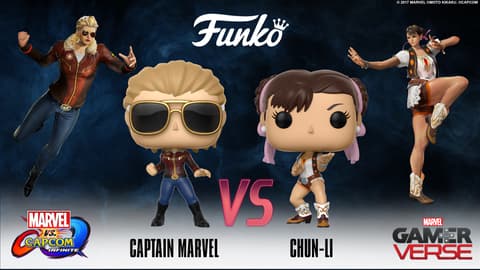 Enter the Marvel Gamerverse! With this new line, Marvel and friends bring fans a whole new way to level up their collections with exciting products and collectibles inspired by Marvel gaming favorites—bringing the epic characters and in-game storytelling you love to life. With "Marvel vs Capcom: Infinite" releasing next week, get set for a new wave of Funko Pop! vinyl collectibles based on the crossover video game series.
Two universes collide with "Marvel vs. Capcom: Infinite." This Funko: Pop! Games series features the high-flying Captain Marvel, the martial arts master Chun-Li, the laser-blasting and wise-cracking Rocket Raccoon, the successor to Mega Man, X, and the most dangerous woman in the galaxy, Gamora. In addition, the ninja agent Strider Hiryu, the maniacal mechanical Ultron, and the power-hungry tyrant, Sigma, join the lineup!
We sat down with a few of our friends at Funko—Director of Marketing Mark Robben and Project Manager Erin Macke—to get an inside look at the process of putting this set together.
Marvel.com: Fans of the Marvel vs Capcom franchise are sure to be pumped about these new collectibles. How did the team decide which characters would join the Funko Pop! family in this set?
Mark Robben: We partnered closely with Marvel during the character selection process. As with most of our projects with Marvel, it's equal parts input from Funko artists and product design as well getting feedback from the team at Marvel. For MVCI, we definitely wanted to showcase the most visually striking characters from the game up front, and we always try to make room for our personal favorites and the favorites of our fans. But we definitely wanted to keep some in our back pocket for future waves!
Marvel.com: Some of these characters have been seen before in past Marvel and Capcom sets from Funko. How have their looks been updated and adjusted for the "Marvel vs Capcom: Infinite" line?
Erin Macke: In general, we tried to use premium alternate costumes found in the game and this is actually the first time anyone has seen these alternate looks. While the costumes we selected may not be those that fans will think of first when they picture a character from the game, we think that will make for a very exciting and fresh take on these beloved characters.
Marvel.com: Gamora, in particular, rocks a look in MVCI that hasn't been seen much in collectibles: a classic comic-inspired uniform. Does the team have more fun working on completely new looks for characters you've seen in the past?
Erin Macke: Absolutely; it's definitely fun and challenging to flex our creativity with new looks or new takes on known characters. It's a personal challenge for the artists at Funko to reflect the characters as fans would know them, but then to also infuse that special Funko style that we've become known for.
Marvel.com: X—the successor to Mega Man—and Sigma—one of X's primary antagonists—join Strider Hiryu as characters who get the full-size Pop! treatment for the first time here. What was the design process like for them?
Erin Macke: We worked closely from reference art provided by the Marvel Games and Capcom [teams] to ensure we're doing the characters justice; we definitely want to ensure we're reflecting them properly and showcasing the designs from the game itself. But again, the real trick is then adding those special tweaks that bring out the Funko look and feel. Any fan or collector should be able to look at a character and easily know who it is, but at the same time recognize it as a Pop! vinyl because of the art style.
Marvel.com: This set presents a nice spread of familiar and fresh faces. How do you strike that balance of characters you've worked with previously vs those that are new to the Funko family?
Mark Robben: We really don't tend to think about characters in terms of old versus new. Instead, we just tend to look for great character design and pay attention to the characters, stories, and games that fans love. Everyone loves new characters, but fans also have a great deal of nostalgia for the characters they grew up with. We want to make sure every line has a little of both.
Look for the Marvel Gamerverse "Marvel vs Capcom: Infinite" wave of Funko Pop! vinyl collectibles to hit shelves in November! But this is just the beginning for Marvel Gamerverse and Funko. A certain ragtag group of galaxy-savers are next to get the Pop! vinyl treatment—straight from the gameplay of "Marvel's Guardians of the Galaxy: The Telltale Series!"
The Hype Box
Can't-miss news and updates from across the Marvel Universe!