Games
Published April 30, 2018
Marvel Future Fight Celebrates Three Years of Epic Mobile Super Hero Experiences
Marvel Games' Bill Rosemann and Danny Koo reflect on the dynamic mobile game's third anniversary!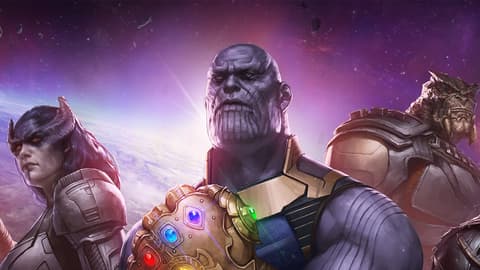 This week, Marvel Games and NetMarble are celebrating the three years of Marvel Future Fight and the fans, heroes and True Believers who make the mobile game an amazing success!
Marvel Future Fight entered their third year with an Avengers: Infinity War tie-in event that saw our heroes facing the greatest threat yet—Thanos! With this impressive update, Marvel.com took the time to sit down with Marvel Games executive creative director Bill Rosemann and senior producer Danny Koo to discuss the hit mobile game as well as what's to come!
Marvel.com: What were your first memories of working with Netmarble on Marvel Future Fight?
Bill Rosemann: What I remember most about beginning the journey with Netmarble on Marvel Future Fight is how intense and quick our first weeks together were. I had just relocated my family across country and on my first day at work in the Marvel Games office, I was told, "Okay, we're launching this new mobile game in six months…go!"
Danny Koo: Marvel Future Fight was the first mobile game I started overseeing when I joined the team. The development team and I definitely hit the ground running to work towards the introduction of World Boss mode. Of course we didn't stop there – we collaborated on the huge Shadowland update and Marvel Future Fight's first original character – Captain America Sharon Rogers!
Marvel.com: How has the relationship between Netmarble and Marvel grown and strengthened over the years?
Bill Rosemann: The team at Netmarble has proven that they are True Believers of the highest order, going above and beyond in their efforts to create the greatest amount of – and just plain great – content for players with each and every update. The number of different characters, suits, event content and supporting visuals that they create each month is staggering. Through their diligence and efforts they've forged bonds of trust that can withstand even the power of Thanos himself!
Danny Koo: In terms of relationship, it has definitely been steadily strengthening over the years. The Netmarble team totally understands how to bring Marvel characters to life. The astounding number of characters that have been released in the game so far just shows how well our teams work together. I have made several trips to South Korea to visit the Netmarble team and celebrate with them for all the efforts they have put forth so far. Of course there might be some roadblocks along the way, but that's a normal part of development. We huddle over those obstacles quickly and move on with even more determination.
Marvel.com: What is your favorite part of being involved with Marvel Future Fight?
Bill Rosemann: My favorite part of being involved in Marvel Future Fight is working through the entire creative process. We begin by discussing each 12-month plan, strategizing on which new characters should be added to the game and when they should be added, and then we see the Super Heroes and Villains come to life through the progression of two-dimensional designs, to three-dimensional bodies, to finally seeing them leap to life via in-game action. Oh, and when each a new piece of key art is created, from black-and-white sketch to final full-color art – it's an artistic thrill every time!
Danny Koo: My favorite part is definitely the collaboration with Netmarble to create all-new, original characters, such as Captain America Sharon Rogers and Luna Snow. Those two characters are important to me and it's amazing that Sharon Rogers has even gotten her own Funko POP! I'm looking forward to creating more original products based on Marvel Future Fight. Creating original content is a huge priority for me on this game.
Marvel.com: What are your future plans/hopes for the game in the coming years?
Bill Rosemann: I hope that the talented team at Netmarble continues to unleash wave after wave of amazing character and gameplay scenarios that keep players around the world fighting… for the future!
Danny Koo: I hope Marvel Future Fight continues to attract audiences from different corners of the world. We all want new exciting modes and original content for Marvel Future Fight and we will continue to work together to strive towards that! Here's to another year to come!
Marvel.com: Who's your favorite character in Marvel Future Fight?
Bill Rosemann: As much as I love our take on classic characters like Spider-Man, Black Widow and Hulk, there's also a special thrill seeing our own unique characters like Sharon Rogers Captain America and Luna Snow being embraced by the Marvel Future Fight family.
Danny Koo: I have two favorite characters – Captain America Sharon Rogers (a.k.a. ShaRog, as the fans nicknamed her) andLuna Snow, the first Marvel K-Pop Super Hero!
Marvel.com: What about your favorite content update?
Bill Rosemann: The Marvel Games team loves the X-Men, so it was an honor and privilege to help unleash – and continue to usher through subsequent updates – the mighty mutants into Marvel Future Fight.
Danny Koo: Every update, I am excited about the growth of the character roster and new features that players can enjoy. Shadowland is perhaps my favorite update, because you can take a simple idea of a ladder and make it a challenge that is thematically appropriate.
Marvel.com: Can you describe the experience of developing original characters for the game?
Bill Rosemann: They may be digital creations, but the long and intense process of creating an all-new character who can stand alongside the legendary Iron Man, Daredevil and Captain Marvel…well, that's a special adventure to be a part of. From the bottom of our hearts, we thank the Netmarble team for teaming with us and working so intently to introduce new heroes worthy of the name Marvel, and we also thank every Marvel Future Fight player who has embraced them. Bring on the cosplayers!
Danny Koo: Developing original characters takes time especially when come to collaboration. On Marvel Games side, we need to ensure that they are authentic Super Heroes and able to tell compelling stories. We also have so many characters in the Marvel Universe that we need to ensure the new character can carve up an unique space on their own. Also, we need to give Netmarble some iteration time in order to give the original character the most awesome treatment. So, in reality, we need to give Netmarble Monster some space and time to have the power to develop the original character that embodies the soul of a Marvel Super Hero with creativity in mind!
Can't get enough of Marvel Future Fight? Watch the special Infinity War/3rd Anniversary livestream featuring Danny Koo!
Marvel Future Fight is available worldwide on the App Store® and Google Play™. For all the latest on "Marvel Future Fight," stay tuned to Marvel.com and @MarvelGames on Twitter!
The Hype Box
Can't-miss news and updates from across the Marvel Universe!