Games
Published September 13, 2017
"Marvel Future Fight" Enters the Age of Apocalypse
A classic X-Men storyline makes its mark on the acclaimed mobile game!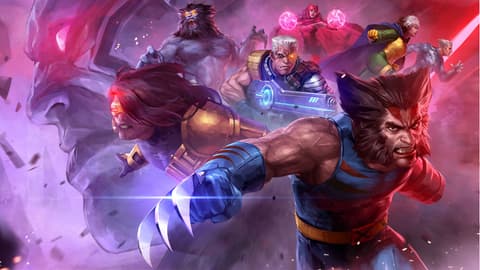 The X-Men joined the "Marvel Future Fight" team only a few months ago, but Apocalypse has already sniffed them out. Ever ready to eliminate those mutants he sees as beneath him, the powerful villain brings a new Age of Apocalypse to the world of "Future Fight."
You'll need to assemble your team, suit up in some new uniforms, and take the fight to the High Lord himself. Maybe—just maybe—you can bring him to your side.
To get the full rundown of everything the Age of Apocalypse brings to "Future Fight" fans this month, we grabbed a few minutes with Minkyun Kim, Dev Director at Netmarble Monster.
Marvel.com: Age of Apocalypse comes to "Marvel Future Fight" in a big way with this update. After the addition of the X-Men back in June, fans have certainly been eager to see some content from one of the team's biggest events. What can you tell us about the apocalyptic additions?
Minkyun Kim: In this update, we will be telling an X-Men story from an alternate dimension with our mutant heroes under Apocalypse's control. You'll be able to experience World Boss content along with the X-Men, traversing an apocalyptic world.
Marvel.com: To combat the villainous Apocalypse, several of the recently added X-Men suit up as their Age of Apocalypse counterparts. Who will sport these new uniforms?
Minkyun Kim: In the first Age of Apocalypse update, you'll be able to check out the comic uniforms for Cyclops and Beast, who appear as minions of Apocalypse. In a later Age of Apocalypse update, uniforms for Rogue and Wolverine will be available.
Marvel.com: And of course, some new faces join the team, as well. What do the Maximoff twins each bring to the table?
Minkyun Kim: Scarlet Witch and Quicksilver will appear as World Bosses. They also play a very important role in the story. A huge event will affect not just the Age of Apocalypse dimension, but also the world of "Marvel Future Fight."
Marvel.com: Not one to be left out of an interdimensional battle, Cable arrives on the scene as well. How will his unusual mix of psychic abilities and massive weaponry play out?
Minkyun Kim: He'll have his basic weapon, a futuristic laser rifle. He will also be able to throw a smoke bomb, which will cover the enemy's vision while he teleports away. With his rifle, he can fire at the enemy furiously or [launch] rockets and leave them suspended in the air using psychokinesis before suddenly activating them on unsuspecting enemies.
He is also able restore his health by meditating. During the meditation, he can use his psychokinesis to throw military knives to keep the enemy away.
If he needs more firepower, he is able to get support fire from the floating nation, Providence. He can also pull out a large plasma bazooka and destroy whatever is in his way. You'll soon be able to experience his very powerful weapons and his amazing strength.
Marvel.com: Alongside the Apocalypse update, World Boss mode gets an overhaul. What changes are coming to the fan-favorite game mode?
Minkyun Kim: New users had a difficult time with the original World Boss modes, and it also felt too long. To alleviate this, we created a Beginner Mode for new users. Beginner Mode will enable players with lower level characters to participate in this core game content.
Marvel.com: Players will also be able to get their hands on a new currency with this update. What are Boost Points?
Minkyun Kim: The amount of energy consumed when playing through content will decrease, or the amount of experience gained will increase, depending on the amount of Boost Points a player has. Previously, Hot Time events enabled players to log into the game at specific times during the day to gain these effects, but players who lived in other time zones were unable to utilize it. Boost Points enable all players to make full use of these bonus effects, regardless of when they log in or what character they play.
Marvel.com: Apocalypse himself will join the fight in a few weeks; how will players recruit him and what will the world's first mutant add to their team?
Minkyun Kim: To acquire Apocalypse, players will have to complete a newly added challenge in World Boss, unlock his stage and face him like other World Bosses in order to collect Apocalypse biometrics.
Apocalypse is a very powerful character who does not use any weapons. Even his slightest movements can crush the ground or blast enemies with a dark force, keeping [his opponents] at bay. He is also able to remove enemy buffs and can enhance himself [to] keep himself at an advantage. He deals continuous damage and his ability to deploy floating stones is also advantageous. He can also enlarge himself and destroy things around him with increased strength.
For all the latest on "Marvel Future Fight," stay tuned to Marvel.com and @MarvelGames on Twitter!
The Hype Box
Can't-miss news and updates from across the Marvel Universe!