Games
Published May 15, 2020
Marvel Games Comic Connection: Black Widow
Find out how Natasha Romanoff developed into one of the world's greatest and most ruthless assassins.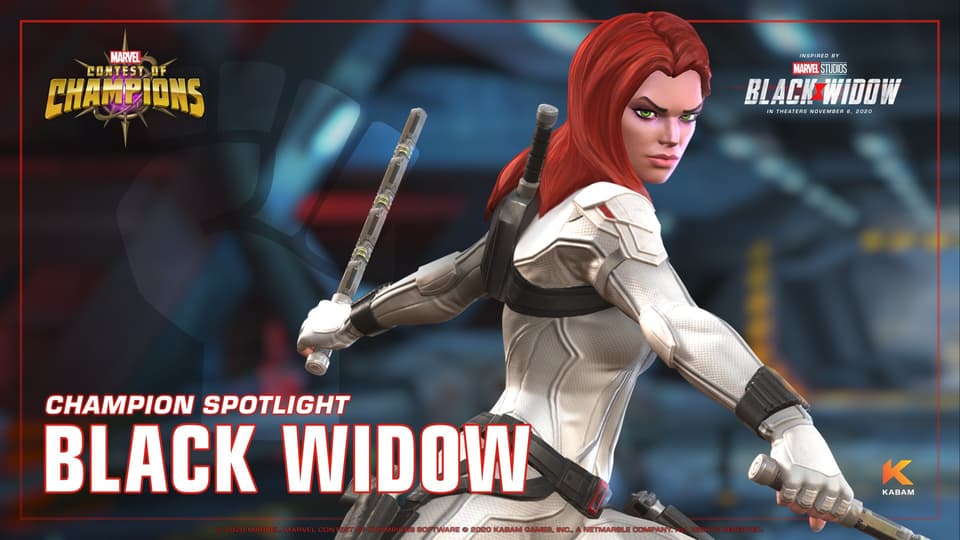 Hello, True Believers, and welcome back to the latest installment of Marvel Games Comic Connection, where we hunt through Ye Olde Comic Book Vault to shine a light the incredible issues that inspired the creation of the latest and greatest characters, items and events hitting our mobile, console and VR video games. 
The empress of espionage Natasha Romanoff has been kicking butts in Marvel Contest of Champions — the hit free-to-play fighting mobile game (made by our friends Kabam up in the Great White North) — for five years, and now she's rocking her white suit from her upcoming Marvel Studios' Black Widow film in the Battlerealm. This may be the first time she's wearing this stylish suit in the MCU, but do you know when she first wore it in print? Let's break down Black Widow's Comic Connection!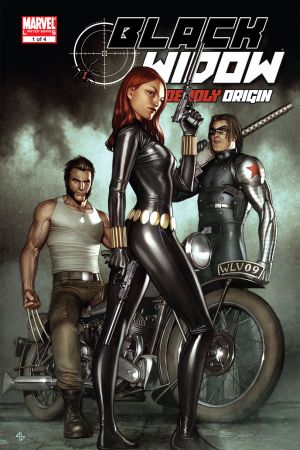 Black Widow: Deadly Origin (2009) #1
published

added to marvel unlimited

rating

colorist

inker

penciller

other

letterer

writer
What is Marvel Unlimited?
Back in 2009 when Yours Truly was editing comics out of Marvel's NYC offices, I was asked to put together a Black Widow mini-series exploring her origin, so that movie-goers walking out of Iron Man 2 would have a handy collected edition to read featuring their new favorite super-spy. Acclaimed British writer Paul Cornell (of Doctor Who fame) pitched me a twisty tale that would reveal new secrets from Natasha's past that now threaten her in the present. I brought on board Tom Raney (of ULTIMATE X-MEN fame) to draw the present-day scenes, John Paul Leon (of DAREDEVIL and MOON KNIGHT fame) to illustrate the flashbacks, and Adi Granov (of IRON MAN fame) to craft the covers. Together these colossal creators delivered BLACK WIDOW: DEADLY ORIGIN, which was instantly hailed as "a must-buy" by the critics of CBR.com.
Here's the back cover copy from the collected trade paperback that sums up the thriller nicely: Trained from a young age to become a razor-sharp weapon, the Russian girl named Natasha Romanoff was honed into the world-class secret agent and sometime super hero known as the Black Widow. Throughout her chaotic life of espionage and double-crosses, only one thing remained constant: her relationship with Ivan, the enigmatic man who raised her as a daughter. But when the mysterious "Icepick Protocol" suddenly strikes at her beloved father figure, the Black Widow must untangle the decades of treachery and betrayal that have plagued her life since childhood. Racing around the globe, Natasha must confront former lovers and allies, including Wolverine, Daredevil, Hawkeye, Hercules, Nick Fury and the Winter Soldier. But even with powerful allies like this, can she act quickly enough to prevent her past from destroying her future?
Black Widow: Deadly Origin (2009) #2
published

added to marvel unlimited

rating

colorist

inker

penciller

other

letterer

writer
What is Marvel Unlimited?
Paul's plot for the second issue of the series would take her back to Russia, so when it came time to commission a cover for Marvel's monthly Previews catalog, I asked Adi to create an image of Natasha standing on a snowy rooftop, with the iconic spires of St. Petersburg looming behind her. Adi delivered an instant classic that is still used today throughout Marvel, from t-shirts to action figure packaging. As positive retailer orders rolled in, Sales guru David Gabriel asked me if I could quickly deliver a variant cover for issue #2. Rather than start from scratch, I asked Adi if he could take the main cover and change Natasha's suit from black to white. Inspired by the Arctic Suits worn by Snake Eyes and Co. on the cover of G.I. JOE #2, I figured this snow-white suit would function as camouflage for Widow on her dangerous mission. The legend that he is, Adi delivered the updated image in record time...and Paul loved it so much that he incorporated it into issue, which Tom penciled in stunning style!
So there it is, the behind-the-scenes secrets of the secret-stealing super spy! I hope you give BLACK WIDOW: DEADLY ORIGIN a read, enjoy playing this new version of Natasha in the game (download now on iOS and Android devices), then join us here next time for another illuminating edition of Marvel Games Comic Connection. Have fun, Frantic Ones!
Fans will be able to escape into the Marvel Universe and revisit their favorite stories from a curated selection of complete story arcs – completely FREE – on Marvel Unlimited, Marvel's digital comics subscription service.
To find these stories and more of Marvel's greatest comic books in print, please reach out to your local comic book shop to ask about services they may offer, including holding or creating pull lists, curbside pick-ups, special deliveries and other options to accommodate. Find and support your local comic book shop at http://comicshoplocator.com.
The Hype Box
Can't-miss news and updates from across the Marvel Universe!