Games
Published January 11, 2017
Marvel NOW! Unleashes a Monster in "Marvel Future Fight"
Download the latest updates including new characters and costumes!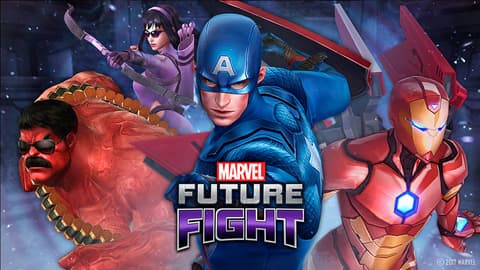 The latest update for "Marvel Future Fight" brings a double whammy of content drawing inspiration from the latest Marvel comics. Most of the new characters and costumes come by way of Marvel NOW! while one familiar hero takes a monstrous turn with a new look as the uniform system overall sees a big change. All of this comes on the heels of the Lunar New Year event starting later this month.
"One of the aspects we love about 'Marvel Future Fight' is that it gives players the chance to play with unique versions of the Super Heroes they love, and not just their traditional depictions," said Seungwon Lee, Chief Marketing Officer at Netmarble Games. "We want to consistently continue to diversify players' gameplay and strategy by including new features—like the Uniform Upgrade, for example."
The uniform upgrade system allows players to accrue experience for individual outfits and use it to unlock stat boosts on those costumes. Train up your hero's uniforms to unlock different stat boosts and swap them in and out to give your heroes the edge they need for the battle ahead.
Alongside this new feature, five heroes receive new looks in this update: Yellowjacket, Captain America, Red Hulk, Squirrel Girl, and Hulk (Amadeus Cho). The first four receive Marvel NOW!-themed upgrades, while Hulk gains a new uniform based on an upcoming variant cover for the Monsters Unleashed event kicking off later this month.
Three new heroes also join the interdimensional battle. Kate Bishop as Hawkeye, Inhuman Queen Medusa, and teen prodigy Ironheart all eagerly bring their unique skill sets to the team. And there will be plenty for them to do as the Lunar New Year event kicks off in a few weeks. As the New York of "Marvel Future Fight" becomes blanketed in snow, players can collect special tokens as they clear stages to unlock new exclusive items. We'll have more details to share on the event closer to its launch on January 24.
"With their new Marvel NOW! series hitting over the past few weeks, the pinpoint timing of the 'Marvel Future Fight' team for their latest update–which allows you to jump from the game to comics and back again–gets a virtual high-five from my inner True Believer," said Marvel Games creative director Bill Rosemann. "Did you love U.S.AVENGERS? Check out the patriotic versions of Red Hulk and Squirrel Girl in 'Marvel Future Fight!' Intrigued by the Super Soldier's new uniform? Learn how he's pulling everyone's strings as a secret Hydra agent in CAPTAIN AMERICA: STEVE ROGERS! Love playing as Medusa? See her lead her kingdom against the mutants in Inhumans vs. X-Men! Want to learn more about Kate Bishop after you kick butt with her in the game? Read HAWKEYE! Can't get enough of RiRi Williams [as] Ironheart? Take her for a spin! If it's the latest and greatest you crave, we have your Marvel NOW!"
The team at Netmarble constantly work to improve players' overall experience with the game, even while they bring new content in the form of heroes, villains, stages, raids, uniforms and more. To that end, a handful of UI upgrades that streamline ISO-8 usage and Hero Gear round out this latest update.
"Marvel Future Fight" is available now on the App Store and Google Play Store, and you can follow the latest game news on Marvel.com!
The Hype Box
Can't-miss news and updates from across the Marvel Universe!