Games
Published August 18, 2022
Piecing Together MARVEL Puzzle Quest: She-Hulk (Origin)
She-Hulk (Origin) mounts a heroic defense in MARVEL Puzzle Quest!
In Jennifer Walters' case, being a Hulk simply runs in the family. After an accident led her to be exposed to her cousin Bruce Banner's gamma-radiated blood, she gained Hulk-like abilities, leading her to become She-Hulk⁠—and that's not her only major responsibility! Thanks to her previous experience as a prosecutor at the District Attorney's office, she now leads the Super Hero division of the law firm GLK&H as well. There, she works with clients like Emil Blonsky, AKA Abomination, while juggling the struggles of being a woman in her thirties who has been suddenly thrust into the spotlight.
She-Hulk (Origin) is the latest to join the ranks of MARVEL Puzzle Quest!
In addition, MARVEL Puzzle Quest will give out a FREE She-Hulk (Origin) cover to celebrate her release when she arrives in the game. Also, be sure to check out MPQ this week and play each day (now through August 21) to earn a daily token to the Holding Court Vault! To earn the token, you need to play and win with one of the following characters: She-Hulk (Modern), Black Widow (Any), Medusa, Scarlet Witch (Any), Storm (Any), Hellcat, Spider-Woman, Invisible Woman, or Valkyrie.
And that's not all! Another Community Challenge, "The Puzzle Quest – Gamma Justice Community Challenge," is also in progress. In this challenge, players can reach special reward tiers by answering trivia and visiting content featuring She-Hulk. These rewards include free covers, in-game currency, and shards. The "Gamma Justice Community Challenge" takes place through August 27.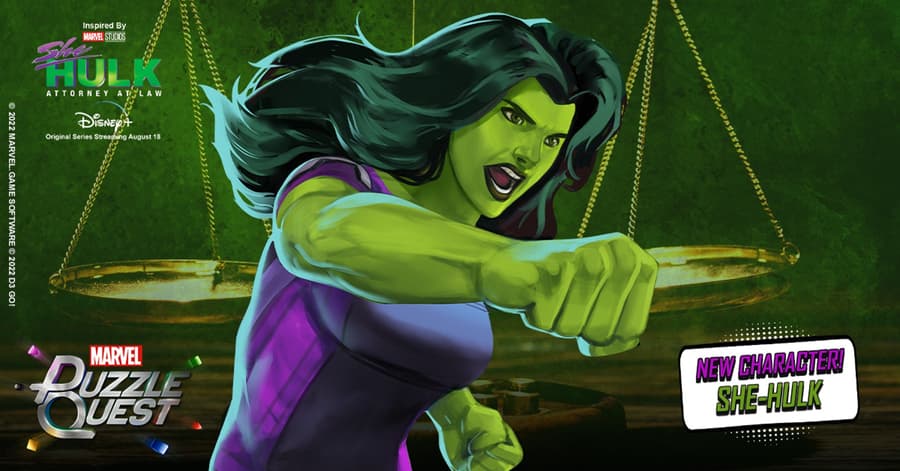 A 4-Star Rarity character with Affiliations Heroes, Enhanced, and Gamma Mutates, She-Hulk (Origin) has a toolkit that includes Damages, Heroic Defense, and YEET.
You make a strong argument, but mine's stronger. With Damages, She-Hulk leaps into a full-force punch dealing 486 damage and sending her target flying through any unfortunate walls behind them. For every Protect tile on the board up to 2, destroy those tiles and deal 116 damage per tile. All damage ignores Protect tiles. (Prioritizes enemy tiles). (Destroyed tiles do not deal damage or generate AP).
Using Heroic Defense, She-Hulk creates a 3-turn Blue Heroic Defense Countdown tile. While this tile is on the board, if an ally would take more than 130 damage, She-Hulk creates a 46 strength Protect tile before damage is applied. When the Countdown tile expires, She-Hulk gains 2 Green and Red AP.
(PASSIVE) She-Hulk comes prepared to every fight with a Blue Heroic Defense Countdown tile.
Look, you know what it means. I have to speak to the terms of today. I'm not proud of this: YEET! She-Hulk flings a piece of rubble from the current battle. She deals 500 damage to the enemy and 150 damage to the enemy team, both increased by 9% for every Red AP over 9, consuming the additional AP. You wouldn't like Jen when she's angry.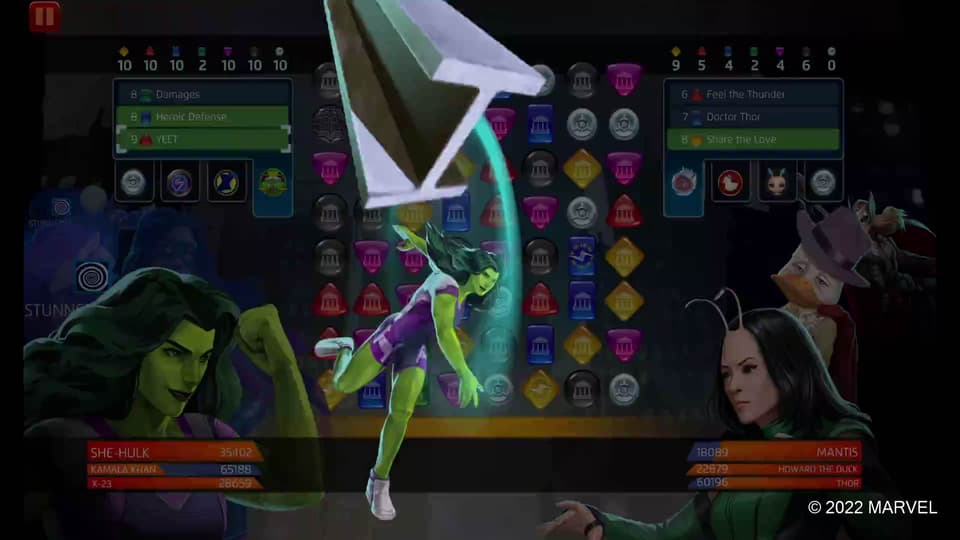 Release Events
Story
Fight for Wakanda – 8/18 – 8/22
She-Hulk (Origin) in Placement Rewards
Welcome to S.H.I.E.L.D. – 8/21 – 8/26
She-Hulk (Origin) in Progression rewards
Meet Rocket & Groot – 8/22 – 8/25
She-Hulk (Origin) shards in Progression rewards
Rewards tokens to the The Hulk vault
Versus
Hulk (Immortal) – Immortal Combat – 8/18 – 8/22
Rewards tokens to the The Hulk vault
She-Hulk (Origin) – Class Action – 8/21 – 8/24
She-Hulk (Origin) shards as Placement rewards
Offers
The Hulk Vault 8/22 – 8/26
80 Item Vault:
3x 4-Stars

1x She-Hulk (Origin) cover
1x Hellcat cover
1x Random 4-Star cover

7x Tokens

1x Legendary token
1x Mighty Token
2x Heroic Tokens
3x Beginner Support tokens

6x Iso-8

1x 5,000 Iso-8
2x 2,500 Iso-8
3x 1,000 Iso-8

15x 3-Stars

3x IronMan Model 35 cover
12x Random 3-Star covers

49x 2-Stars

10x Storm Classic cover
39x Random 2-Star covers
Pick up MARVEL Puzzle Quest here. Stay tuned to Marvel.com for Marvel Games news and interviews and follow Marvel Games on Twitter for more!
The Hype Box
Can't-miss news and updates from across the Marvel Universe!