Games
Published November 20, 2017
MARVEL Strike Force: First Strike
A new mobile game brings the threat of Ultimus and the Kree to Earth!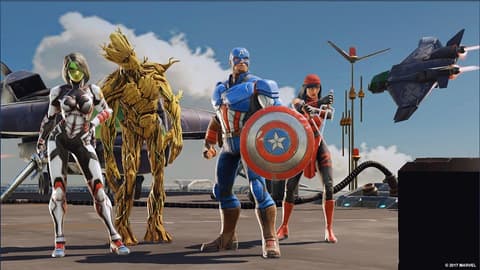 Coming in 2018, Marvel and FoxNext Games team up to bring you "MARVEL Strike Force"! Heroes and villains alike will need to forget their differences and battle side-by-side against one of the biggest threats the world has ever seen: Ultimus. With the Kree Warlord's sights set on Earth, players will take control of S.T.R.I.K.E.—our primary line of defense against threats like him—put a squad together, and take the fight to Ultimus and his armies.
We sat down with Jason Bender, Creative Director at FoxNext Games, to learn everything we could about this thrilling new adventure, including which of your favorite Marvel heroes and villains we'll see as things get underway.
Marvel.com: What brings about the crisis at the heart of "MARVEL Strike Force?"
Jason Bender: In "MARVEL Strike Force," war has come to Earth as Ultimus, a Kree warlord, has jumped from one dimension to another, conquering every version of Earth along the way. He has finally arrived at our doorstep, and it's up to us to stop him. The player commands S.T.R.I.K.E., the Strategic Tactical Reserve for Interdimensional Key Events; the only line of defense against threats like Ultimus.
Marvel.com: Can you tell us more about Ultimus' plan for world domination?
Jason Bender: "Strike Force" marks the triumphant return of the long-lost Kree Eternal, Ultimus.
Ultimus is a powerful warlord, obsessed with the survival of the interstellar Kree Empire. We've seen other Kree warriors, such as the zealot Ronan the Accuser and Korath the Pursuer, in comics and the first "Guardians of the Galaxy" film, but none as powerful as Ultimus. As an Eternal, he shares the same source of power as Thanos, who we'll see a lot in the upcoming "Avengers: Infinity War." In "Strike Force," the Kree Empire has realized that Earth will always be a threat to their existence, and have devised a plan to deal with Earth once and for all.
Now a general of the Kree Empire, Ultimus has set out to conquer Earth, but he doesn't stop there. He has the technology to mind control the heroes of Earth so he uses them to build a more powerful army and sets about conquering the Earths of every dimension he can reach. It doesn't take long before he has an army of Hulks, Thors, and Groots, and finally ends up at our Earth.
That's where S.T.R.I.K.E. comes in.
Marvel.com: What heroes and villains will players be able to add to their squads at the beta's launch?
Jason Bender: The list is extensive. We have characters from across the board. Players can collect Defenders like Luke Cage and Jessica Jones, Guardians like Groot and Drax, and many of the Avengers. A variety of wildcards will make an appearance, such as Night Nurse, Doctor Strange, Quake, and Spider-Man.
Marvel.com: How will we manage the members of our team in battle? Is the combat system more active or turn-based?
Jason Bender: Combat controls are turn-based so players can play at their own pace. The action moves as fast as you do. In addition to their trademark super powers, characters will leap into battle with highly choreographed martial arts moves and a variety of team based combo attacks.
Marvel.com: Will our heroes be able to combine their powers or give each other a boost in any way?
Jason Bender: Team composition is crucial in "MARVEL Strike Force." There is immense depth of strategy across characters and squads, which typically have [five] characters on the field at a time. Players will build a force of around 70 characters, with even more to be revealed, so that's a lot of combinations! Squads can be built around iconic characters, such as Nick Fury leading a team of S.H.I.E.L.D. agents, or built for ideal gameplay combinations for the most competitive teams. Characters like Rocket Raccoon and Groot have unique and powerful abilities when fielded together—a vital component of making the most powerful team.
Marvel.com: In what ways will players be able to upgrade and change their squad's abilities?
Jason Bender: Every character has to collect a variety of gear in order to grow stronger, and they have [three to four] unique abilities each. As abilities improve, new mechanics will unlock and reveal new tactical options. For example, Daredevil might start out attacking a single target at a time, but will quickly grow to chain his martial arts maneuvers to multiple enemies in a single attack. This expands your combat options quite a bit as your characters improve, leading to more and more depth of strategy over time.
Marvel.com: The game's player-vs-enemy content is clear from the announcement trailer. Are there any plans for player-vs-player you can share with us?
Jason Bender: We want to be sure that players can put each other to the test and see who dominates, so we're launching with player-vs-player included from the start. This is an arena that starts out friendly but can get highly competitive as you work your way to the top of the ladder. Naturally, there are some pretty excellent rewards to be earned at the top of the heap. We have plans for a wide variety of additional player-vs-player modes in the future.
Marvel.com: Outside of potential PVP, what social and multiplayer features will players be able to utilize?
Jason Bender: It's a blast to play this with friends, so Alliances will allow people to team up and battle Ultimus together. Alliances can coordinate to conquer Raids, a cooperative game mode that provides some of the most powerful rewards in the game. The Alliances that work together most effectively will be able to conquer the toughest Raids, but the mode is tuned to be fun for more casual players, as well. Bring your friends!
Marvel.com: The announcement trailer also mentioned a bonus for players who pre-register for the beta; what rewards can we expect to receive?
Jason Bender: Players who pre-register will unlock a super-powered Daredevil and additional resources, so they will have a major advantage in the fight against Ultimus.
Stay tuned to Marvel.com and follow @MarvelGames on Twitter for the latest news and info on "MARVEL Strike Force," debuting worldwide in 2018!
The Hype Box
Can't-miss news and updates from across the Marvel Universe!