Games
Published September 12, 2019
'Marvel's Avengers' Character Outfit Spotlight: Hulk
Plus, get a look at the alternate Joe Fixit-inspired outfit!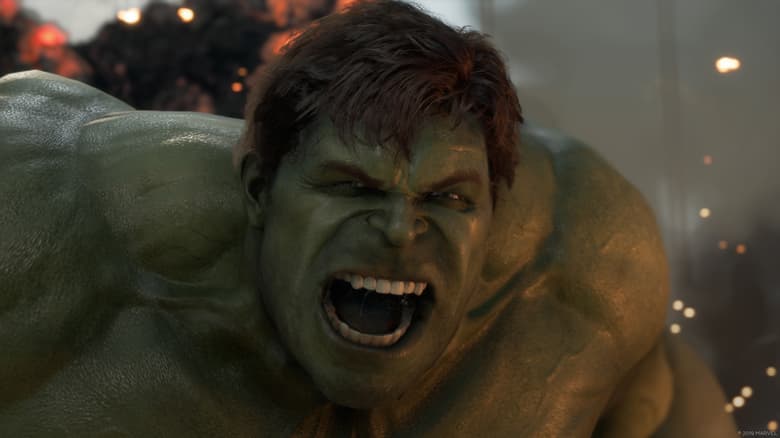 Created by Stan Lee and Jack Kirby, Bruce Banner made his debut in THE INCREDIBLE HULK #1, and nearly 60 years later, True Believers everywhere will be able to Hulk Smash as the monstrous, green Avenger in the upcoming release of Marvel's Avengers. As The Hulk, you'll take down enemies like an unrelenting freight train, demolishing everything in your path and using the rubble to your anger-fueled advantage.
In Hulk's character profile, we took a look at how three talented actors approached balancing the contemplative Bruce Banner and the larger-than-life Hulk in Marvel's Avengers. Now we'll take a look at Hulk's design aesthetic.
The brutish Avenger's "iconic" look is big, green, and intimidating. Tore Blystad, game director at Crystal Dynamics, explained, "For Hulk, the design challenge for the team has been different than the other characters. In order to bring something unique to a character with a narrow aesthetic range to draw from, the focus was instead on Hulk's build. His face has been modeled from our Bruce Banner face, so they share the same facial features."
Hulk's body was modeled after a variety of bodybuilders, pro-wrestlers, and extreme athletes who operate at peak physical condition. To make the exertion of energy and power read well, Hulk is sculpted in a non-flexed approach. This is done to exaggerate and flex his muscles during combat, making his veins and tendons pull beneath the skin surface. Hands and feet are exaggerated in proportion, making his limbs the ultimate weapons of power and strength.
Hulk's classic purple trousers are muted in Marvel's Avengers, based on real-world dress slacks one would expect a man of science to wear in his daily routine.
ALTERNATE OUTFIT: JOE FIXIT HULK
Drawing from over 80 years of Marvel history, Marvel's Avengers includes a wide array of iconic outfits and all-new designs. Some outfits - like Joe Fixit - can be earned and unlocked in-game, and others will be purchasable. Outfits are purely cosmetic, and do not impact gameplay.
One of the coolest cats around was Banner's alter-alter-ego, Joe Fixit. The grey Hulk traded scruples for extra intelligence, giving him the will and the way to act outside the moral boundaries of both Bruce and The Hulk. No one can argue against his superior fashion sense, as illustrated in the stylish pinstripe suit with sharp fedora and sleek saddle shoes, seen in the video above.
This alternate outfit is inspired by the morally ambiguous grey casino enforcer in THE INCREDIBLE HULK #347.
From Marvel Games, Square Enix, and Crystal Dynamics, Marvel's Avengers is an original, story-driven, third-person action-adventure game, the definitive Avengers gaming experience will allow you to rebuild and reassemble Earth's Mightiest Heroes. It features a cinematic single-player campaign with Hero Missions and co-op Warzone missions. Assemble a roster of Avengers, customize them to harness their unique powers, and go online in four-player co-op Warzones to defend Earth from escalating threats. Marvel's Avengers will release simultaneously for the PlayStation®4 computer entertainment system, the Xbox One family of devices including Xbox One X, Stadia, and PC.
Reassemble and Embrace Your Powers on May 15, 2020! Play the Beta first on PS4. Pre-Order for Beta Access!
The Hype Box
Can't-miss news and updates from across the Marvel Universe!