Games
Published September 19, 2019
'Marvel's Avengers' Character Outfit Spotlight: Iron Man
Plus, get a look at the alternate Original Sin-inspired outfit!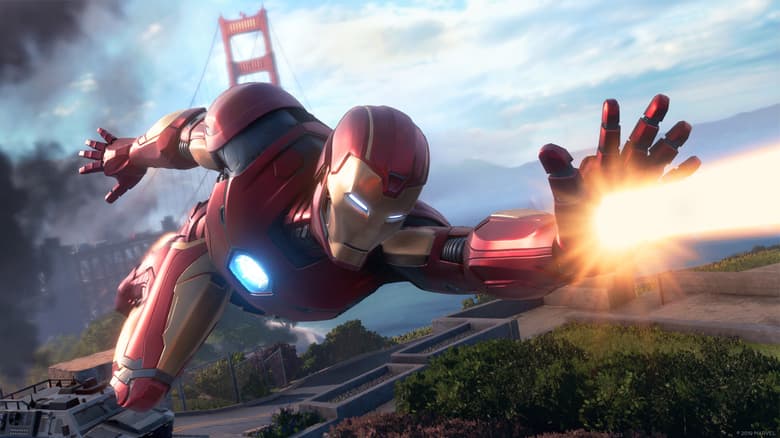 Created by Stan Lee, Larry Lieber, Don Heck, and Jack Kirby, the genius, billionaire, playboy, philanthropist Tony Stark made his debut in TALES OF SUSPENSE #39, but it wasn't until later that year with the release of TALES OF SUSPENSE #48 that Stark's iconic red and gold Iron Man armor made its debut. Five years later, he had his own series with IRON MAN #1!
We took at look at how actor Nolan North brought the armored Avenger to the game in Iron Man's character profile. Now, we're going to look at how Crystal Dynamics approached modernizing Iron Man's iconic suit in Marvel's Avengers while honoring its history.
In Marvel's Avengers, Iron Man's Arc Reactor is housed in a hexagonal shape to give him an updated feel.
Crystal Dynamics spent a tremendous amount of time and iteration designing the Iron Man armor. For his iconic armor, they were inspired by Italian motorcycles and supercars, which combine machinery and sleek housing. Their goal was to create a design that looks both functional and believable, but also maintain the classic design DNA.
It was crucial for the creative team to have a concept designer with extensive experience in industrial and vehicle designs in order to shape the parts and the function of the armor. While this is his "base" armor, we wanted it to still look modern. Like traditional Iron Man designs, the classic round inner shape for the Arc Reactor was kept, but it's housed within a skewed hexagonal shape for a more contemporary look.
A considerable amount of time was spent on the rear design of Iron Man as it's the most visible when playing the game. The shoulders flaps function for flight maneuvering and as air vents for cooling. The venting also provides a dual function as visual feedback to players to show the armor is overheating.
The red and gold graphic breakup was a learning process, and many concepts based on historical Iron Man designs were created in order to come up with the best balance for this iconic armor. The size of the traditional gold regions of the armor were reduced, while the red was more evenly distributed across the armor. In addition to the iconic armor, other Iron Man armors will have a wide variety of design breakup and colors that touch on various Marvel designs, as well as some exciting and unique new armors.
Iron Man's armor houses his arsenal of weapons. Using the explosive force of his tools along with his expertise in range combat, Iron Man is able to seamlessly change from ground to air and vice versa with his suit.
ALTERNATE OUTFIT: ORIGINAL SIN
Drawing from over 80 years of Marvel history, Marvel's Avengers will include a wide array of iconic outfits from Marvel lore, as well as all-new designs. Some outfits can be earned and unlocked in-game, and others will be purchasable in the marketplace. Outfits are purely cosmetic, and don't impact gameplay, meaning you can wear any outfit at any time.
We're excited to reveal that one of Iron Man's unlockable outfits is inspired by his armor in 2014's ORIGINAL SIN series, which saw Stark and Bruce Banner at conflict over Stark's role in The Hulk's origins. The armor is immediately recognizable with its striking black and gold coloring.
From Marvel Games, Square Enix, and Crystal Dynamics, Marvel's Avengers is an original, story-driven, third-person action-adventure game, the definitive Avengers gaming experience will allow you to rebuild and reassemble Earth's Mightiest Heroes. It features a cinematic single-player campaign with Hero Missions and co-op Warzone missions. Assemble a roster of Avengers, customize them to harness their unique powers, and go online in four-player co-op Warzones to defend Earth from escalating threats. Marvel's Avengers will release simultaneously for the PlayStation®4 computer entertainment system, the Xbox One family of devices including Xbox One X, Stadia, and PC.
Reassemble and Embrace Your Powers on May 15, 2020! Play the Beta first on PS4. Pre-Order for Beta Access!
The Hype Box
Can't-miss news and updates from across the Marvel Universe!