Games
Published October 11, 2019
'Marvel's Avengers' Character Outfit Spotlight: Kamala Khan
Plus, get a look at the alternate Classic Ms. Marvel outfit!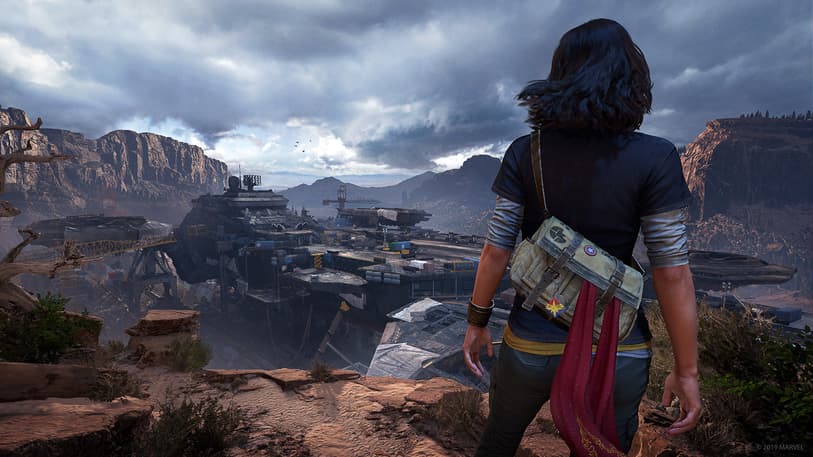 Kamala Khan first appeared in CAPTAIN MARVEL #14 and gained fame when she received powers upon inhaling Terrigen Mist in her solo series MS. MARVEL #1.
In Marvel's Avengers, Kamala is exposed to the mist at A-Day, which transforms her life and the world around her. Her outfit evolution reflects her journey from teen fangirl to budding Super Hero.
"Kamala's look was a challenge for the art team," revealed Crystal Dynamics' game director Tore Blystad. "At the time Crystal Dynamics started designing Kamala, she had only been around for a few years, so there wasn't as much material to work from when compared to characters like Captain America or Thor."
"Kamala starts her journey in casual clothing, a look heavily inspired by the iconic front cover of the first MS. MARVEL comic," added Blystad. "A satchel with scarf was added for some nice secondary movement when she's jumping around — which happens quite often! The design team also gave her lots of layers since she goes through a variety of environments."
To capture the essence of Kamala Khan, and to "do justice" to the original Ms. Marvel designs, Crystal Dynamics worked closely with the Marvel Games team and Ms. Marvel co-creator Sana Amanat.
"We wanted Kamala to have a strong origin arc from fan girl to Super Hero, as a representation of the player's journey -— the player's perspective is aligned with Kamala's," shared Blystad. "We took the core inspiration from the iconic Ms. Marvel costume from the comic, especially the MS. MARVEL #2 cover. But since our Kamala has to stand side-by-side with the other Avengers, she gets some help from Tony Stark who designs and makes her outfit. The materials are partly inspired by her cultural heritage and modern tactical materials and cuts."
The bracelet is the only element that is shared across all of Ms. Marvel's outfits. It is a family heirloom that she got from her grandmother, and she uses it to keep her most precious possessions safe when on the job.
ALTERNATE OUTFIT: CLASSIC
When Kamala failed a rescue attempt in her standalone 2014 series MS. MARVEL, she picked herself up and tried again. After extra training and a costume upgrade she pulled off the rescue, going on to become New Jersey's protector. This outfit is inspired by her iconic comic costume.
Drawing from over 80 years of Marvel history, Marvel's Avengers will include a wide array of iconic outfits from Marvel lore, as well as all-new designs. Some outfits can be earned and unlocked in-game, and others will be purchasable in the marketplace. Outfits are purely cosmetic, and don't impact gameplay, meaning you can wear any outfit at any time.
From Marvel Games, Square Enix, and Crystal Dynamics, Marvel's Avengers is an original, story-driven, third-person action-adventure game, the definitive Avengers gaming experience will allow you to rebuild and reassemble Earth's Mightiest Heroes. It features a cinematic single-player campaign with Hero Missions and co-op Warzone missions. Assemble a roster of Avengers, customize them to harness their unique powers, and go online in four-player co-op Warzones to defend Earth from escalating threats. Marvel's Avengers will release simultaneously for the PlayStation®4 computer entertainment system, the Xbox One family of devices including Xbox One X, Stadia, and PC.
Reassemble and Embrace Your Powers on May 15, 2020! Play the Beta first on PS4. Pre-Order for Beta Access!
The Hype Box
Can't-miss news and updates from across the Marvel Universe!