Games
Published October 4, 2019
'Marvel's Avengers' Character Spotlight: Kamala Khan
'Marvel's Avengers' will be available May 15, 2020 on PS4, Xbox, Stadia, and PC!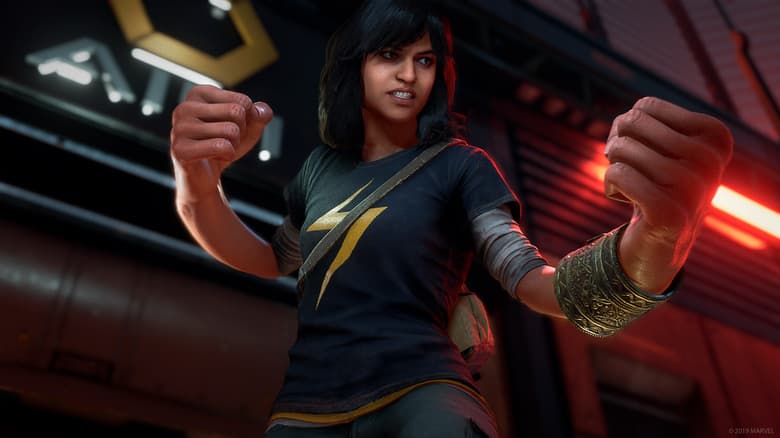 Marvel's Avengers begins at A-Day, where a young Kamala was invited as an Avengers fan-fiction contest finalist. She's exposed to the mysterious Terrigen Mist during the unanticipated attack.
Iron Man, Hulk, Black Widow, and Thor blame themselves for the mass devastation and the loss of Captain America. In the five years following A-Day, the team's absence has devastating consequences worldwide. A new organization has risen - Advanced Idea Mechanics, otherwise known as AIM. AIM believes that science – not Super Heroes – is the key to protecting the world.
Now a teenager, Kamala finds herself developing extraordinary polymorphic and healing powers as a direct result of exposure to Terrigen Mists during the A-day incident. With the Avengers disbanded and Advanced Idea Mechanics turning public sentiment against Super Heroes, Kamala hides her abilities from the world.
Kamala's unwavering loyalty to the Avengers, intelligence, inquisitive nature, and ever-optimistic personality lead to a huge discovery when she uncovers a shocking conspiracy. As Kamala learns to harness and embrace her powers, she finds the will and the way to reassemble Earth's Mightiest Heroes.
Voiced by Sandra Saad, Kamala Khan is the perfect character to bring the Avengers together because of her undying hope, resilience, and the fact that she's a mega-Avengers fangirl who knows them better than she knows herself. Saad brings the character's strength and spirit to the motion capture stage.
"Kamala's a tremendous inspiration to me," shared Saad. "She's so relatable, and I think we can all find aspects of ourselves in her. So, at the end of the day, playing her ended up feeling like I was playing a super version of myself. I ultimately focused on paying homage to who Kamala is but bringing my own dash of originality and uniqueness to the role whenever appropriate."
From Marvel Games, Square Enix, and Crystal Dynamics, Marvel's Avengers is an original, story-driven, third-person action-adventure game, the definitive Avengers gaming experience will allow you to rebuild and reassemble Earth's Mightiest Heroes. It features a cinematic single-player campaign with Hero Missions and co-op Warzone missions. Assemble a roster of Avengers, customize them to harness their unique powers, and go online in four-player co-op Warzones to defend Earth from escalating threats. Marvel's Avengers will release simultaneously for the PlayStation®4 computer entertainment system, the Xbox One family of devices including Xbox One X, Stadia, and PC.
Reassemble and Embrace Your Powers on May 15, 2020! Play the Beta first on PS4. Pre-Order for Beta Access!
The Hype Box
Can't-miss news and updates from across the Marvel Universe!