Games
Published May 10, 2017
New 'Spider-Man Unlimited' Update Drips with Venom
Travel to the Symbiote homeworld and more with the Spider-Man mobile game!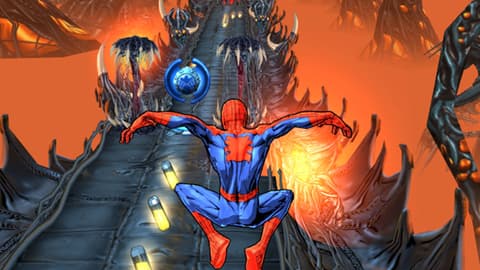 Spidey and his friends have gotten themselves into a super sticky interstellar situation in "Spider-Man Unlimited." Players will get to check out all-new scenery on the Klyntar homeworld and a host of other new features.
We talked with Gameloft Product Marketing Manager Vitaliy Gladiyenko about the upcoming update and all the fun ahead in the hit mobile runner!
Marvel.com: We have a big "Spider-Man Unlimited" update coming down the pipeline. Can we get a tl;dr of some of the big changes to expect?
Vitaliy Gladiyenko: The biggest and the most awaited feature of this update is a new level: Symbiote World. As far as I know, the symbiote homeworld has never been featured in any game before, which makes "Spider-Man Unlimited" the first game that allows all Spidey fans to visit the [birthplace] of one of Spidey's greatest nemeses: Venom.
Marvel.com: We're headed to the Klyntar homeworld? I can't imagine that's a very hospitable place for Spider-Men and Women—or anyone really.
Vitaliy Gladiyenko: Indeed, the planet isn't rolling out the welcome mat for our heroes. If you dare to travel there, make sure you're ready to face local symbiotic baddies. The most common symbiotes have a giant red spike protrusion while others have big shields and can only be taken down with a slide. There are some symbiotes packing bio-weapons that fire gooey projectiles and even a creepy flying fiend.
Players should also keep an eye on the local flora because it's not even flora in the truest sense of the word. A tree behind the corner may want to take a chunk out of you!
But let's not forget, that not all symbiotes—or Klyntar—are bad. Actually, none of them were bad originally. I suggest our readers get themselves a copy of GUARDIANS OF THE GALAXY #23, which tells a story about the Klyntar origin, which, by the way, was our main reference for the symbiote world location.
Marvel.com: Dang, so we're facing a host of new symbiote baddies and if I'm seeing this correctly, a trio of psychotic symbiote bosses?
Vitaliy Gladiyenko: Venom, Carnage, and Scream were here for a while already, but we made one small improvement to their behavior: now they swing around like any other Spider-Man does! Try to catch them now!
Marvel.com: Players will also get a shot at a couple new characters right?
Vitaliy Gladiyenko: Yes, we're releasing a bunch of characters with this update. Most of them are updated versions of the old Spideys, like Bulletproof Spider-Armor suit, Aracnido Jr., and few others. But there are two totally new guests to [the] "Spider-Man Unlimited" universe: Prowler, who was also featured in the recent Clone Conspiracy story arc, and one more Spidey, which we'll talk about just in just a moment.
Marvel.com: For players that brave the alien landscape and defeat all the biological threats the planet has to offer, what kind of rewards are they picking up?
Vitaliy Gladiyenko: Besides some generic stuff like portals, hard and soft currency, all players will be able to win our second new character, someone you might not expect to see in "Spider-Man Unlimited" so soon. A small hint: this guy also played an important role in the Clone Conspiracy story, his identity was a big surprise to Spidey fans, and now he's back with his own comic book! Can you guess who?
Marvel.com: I heard that the game was also getting some UX improvements?
Vitaliy Gladiyenko: Yes, besides the new location, we've also updated the main menu and a few other important sections of the game, like the pre-run and result screens, plus the Shop. We've been improving the player's flow for a couple updates already and plan to do so in future.
Marvel.com: Do you have anything else you want to tell players before we sign off?

Vitaliy Gladiyenko: Make sure you tune in for more "Spider-Man Unlimited" soon!
Pick up "Spider Man Unlimited" on Google Play and iTunes and stay tuned to Marvel.com for more news and interviews.
The Hype Box
Can't-miss news and updates from across the Marvel Universe!