Games
Published March 19, 2018
Piecing Together Marvel Puzzle Quest: Valkyrie
This Asgardian warrior brings her sword skills to the hit mobile game this week!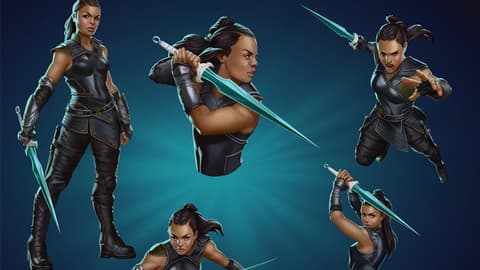 Not enough awesome Asgardians in your roster yet? Well, the Hela-fighting heroine from Marvel Studios' "Thor: Ragnarok," Valkyrie, slashes her way into "Marvel Puzzle Quest" this week. Armed with a keen blade and some serious attitude, she'll make mincemeat of her foes in no time. D3 Go! Senior Producer Josh Austin was kind enough to break down the vicious Valkyrie, so if you need more info, look no further!
Marvel.com: Valkyrie's just a tad late to the "Ragnarok" party but I'm glad she finally gets to show off her sword skills in game. I imagine the team's excited too!
Josh Austin: We are definitely excited to bring Valkyrie (Asgardian Warrior) into Marvel Puzzle Quest as our latest 4-Star character.  The Marvel movies keep getting better and "Thor: Ragnarok" has a plethora of great characters!  The team has wanted to bring in Valkyrie for a while, so they were happy to finally bring her out and right now is a good time with the home entertainment release of "Ragnarok."
Marvel.com: We already have a super bad lady sword-slinger in Gamora, what'd you all do to make sure Valkyrie feels different from the green-skinned Guardian?
Josh Austin: Gamora is definitely a tough assassin, but she's focused on destroying her target and moving to the next.  But Valkyrie actually has an attack that will move to the next target if the first target dies during her onslaught!  Valkyrie also deals extra damage if the enemy team doesn't have AP, so teaming her up with AP stealers is a different strategy than pairing Gamora with people that help gain control over purple tiles.
Marvel.com: Actually lets dig into her kit. How does Valkyrie bring the pain?
Josh Austin: Her first power is called Dragonfang Fury and it costs 11 Red AP.  The ability will deal damage 3 consecutive times or 5 times at power level 5.  If this ability downs an enemy, remaining attacks will continue to the next enemy.  Each individual attack can be modified by Friendly Strike tiles.
Her second attack is called Bounty Hunter and it's a Black Passive power.  For this ability, she creates a Black Countdown tile that targets a random enemy.  If that enemy is downed or takes a certain amount of damage before the Countdown tile expires, this tile is removed and the player gets 4 AP in their strongest color while destroying 4 AP in the enemy's strongest color.
Her last Power is called The Best Defense… and it's a passive Yellow ability.  For this power, she protects her allies from evil by fighting back even harder.  Whenever an ally takes a specific amount of damage, create Yellow Strike tiles.  As long as the enemy has less then 8 AP in a color, friendly matches in that color deal extra damage.
Marvel.com: I love The Best Defense… ability! Quick clarification, if an enemy were to use a team strike ability, say Khamala Khan's Embiggened Bash, would Valkyrie create 4 Strike Tiles? 
Josh Austin: That's correct!  Her The Best Defense… ability will fire twice and create 4 Strike Tiles if both her teammates are hit at the same time. If you're expecting some heavy team damage from the enemy, Valkyrie's an awesome pick to make the most of a bad situation.
Marvel.com: And who does she fight best with? What kind of teams should we be picking her into?
Josh Austin: Valkyrie is strong with characters that create Strike tiles like Captain Marvel (Carol Danvers), Blade (Modern), Punisher (Max) and Iron Fist (Danny Rand).
Marvel.com: When do we get to play her for ourselves? 
Josh Austin: Valkyrie is available this Thursday, March 22, and she will have a "S.H.I.E.L.D. Training Event" between March 22 and 29.  Her store will be called "Valkyrie & Friends" between March 22 and 30.  Her release debut is the Simulator that runs from March 22 and 26.  Her featured event is "Thick as Thieves" that runs between March 25 and 30.  And finally her Versus Tournament titled "Scrapper 142" starts on March 25 and ends March 28.
Pick up Valkyrie here and stay tuned to Marvel.com for more "Marvel Puzzle Quest" news and interviews.
The Hype Box
Can't-miss news and updates from across the Marvel Universe!