Games
Published October 31, 2017
Stern Pinball Announces Guardians of the Galaxy Machines
The leading name in pinball brings Star-Lord and friends to the table!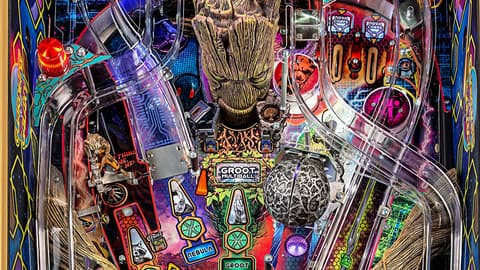 Stern Pinball, Inc., the world's oldest and largest producer of arcade-quality pinball machines, proudly announced today the availability of a new line of pinball machines celebrating the popular movie franchise, Guardians of the Galaxy. Guardians of the Galaxy pinball machines will be available in Pro, Premium, and Limited Edition models. The game will immerse players in a dynamic, challenging, and galactic pinball environment where Star-Lord, Rocket, Gamora, Drax the Destroyer, and Groot battle Ronan to stop him from using the Infinity Stone to destroy the galaxy.
"Guardians of the Galaxy is one of Marvel's most exciting and successful franchises worldwide. We feel that this theme connects perfectly with pinball in creating a high energy pinball experience," said Gary Stern, Chairman and CEO of Stern Pinball, Inc. "Stern Pinball and Marvel Studios share a love for these memorable characters and have a long, successful history of collaboration."
Stern's Guardians of the Galaxy Pro, Premium, and Limited Edition models are packed with features that provide an irresistible gameplay experience. Each game features a sculpted and interactive ball-eating Groot. In addition, a custom sculpted Rocket figure will keep players on their toes as it blasts the ball back at rocket speed. Color-changing inserts highlight the mysterious and interactive Orb, which opens to reveal the powerful Infinity Stone. The Limited Edition and Premium models also feature extra magnets, custom artwork, RGB lighting, and sculpted Groot arms that sprawl across the playfield.
In addition to the immersive theme and exciting gameplay experience, Stern Pinball's SPIKE-2 electronic platform enables high-definition graphics and innovative animations on the LCD screen. The state-of-the-art electronic system also powers a high-fidelity 3-channel audio system that is three times more powerful than audio systems of previous generations.
All models feature stunning and distinctive hand drawn art. Guardians of the Galaxy entertains with an amazing array of modern and classic features, making it suitable for all skill levels.
Stay tuned to Marvel.com for the latest on Stern's Guardians of the Galaxy pinball!
The Hype Box
Can't-miss news and updates from across the Marvel Universe!