Games
Published October 13, 2017
'Marvel's Guardians of the Galaxy: The Telltale Series' goes Pop!
Get the scoop on the new Funko Pop! line and Episode 4, out now!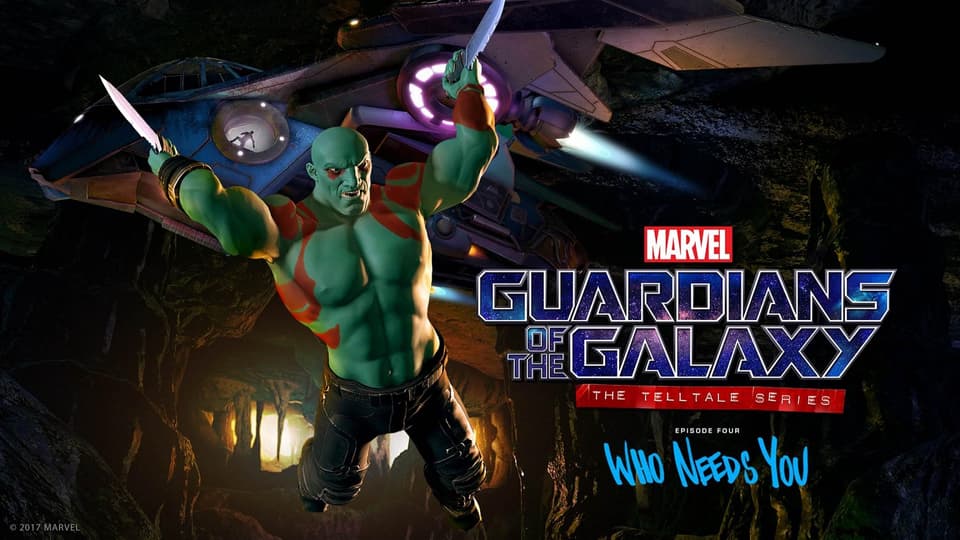 This week, we returned to our favorite ragtag group of galaxy savers and their struggle with the Eternity Forge in "Marvel's Guardians of the Galaxy: The Telltale Series." In the latest episode—Who Needs You?—the team must overcome their own fractured relationships and in-fighting to escape the Sacred Shrine alive. Players will help Star-Lord lead the team to safety while exploring the past of another team member—Drax the Destroyer.
Not only are the Guardians of this story gracing phone screens, televisions, and PC monitors around the world—but soon they'll appear in vinyl as Funko releases a new set of Marvel Gamerverse Pop! collectibles. Gamora, Rocket, Lylla, and Hala the Accuser will all appear in this latest set—created in collaboration between Telltale and Funko!
We sat down with Justin Lambros—Executive Producer on "Marvel's Guardians of the Galaxy: The Telltale Series"—to learn what we could about the series' penultimate episode and about the developer's work with Funko on this new set of collectibles.
Marvel.com: Episode 3—More Than a Feeling—left players with a serious decision about what to do with the Eternity Forge. With the artifact either empowered or destroyed, what state is the team in when we pick up here in Episode 4: Who Needs You?
Justin Lambros: This was our biggest choice of the season so far, and as per usual, the various Guardians had very different ideas of what to do with the Forge. Groot and Gamora sided pretty heavily with destroying it, while Rocket and Drax were very interested in using its power to bring back loved ones. Combine that with two very different versions of Hala to deal with, and you've got the Guardians in the middle of a crisis. I don't want to spoil anything, but pretty quickly in the episode this will come to a head, and you'll have to start picking up the pieces as Peter. Some of your team will support you, and others, well let's just say will be less than helpful. This episode is really about trying to keep these cracks in the group from being full fractures.
Marvel.com: The fate of the Eternity Forge also has an impact on Hala. What threat does she now pose to the Guardians and the galaxy at large—either with or without the ancient artifact?
Justin Lambros: One of the things that's so fun (and challenging) about creating Telltale games is having branched states for characters, and we've done a whopper with Hala. You'll either be facing her as the leader of a resurrected Kree empire with a fully operational armada of ships, or a living grim reaper/undead Kree Accuser who has nothing left to lose. Neither of these things seems like a good place for our heroes to be, but it has very different potential solutions to figure out how to save the galaxy.
Marvel.com: What lurks in these caverns that the team will have to contend with as they make their escape? Hala is one problem, but it sounds like there are many more hiding in the shadows.
Justin Lambros: An early decision we made with episode 4 was to really focus on the characters of the Guardians themselves to help make the current state of the galaxy a more personal issue for the team and the player. So, we've got an story here that puts even more internal pressure on the team directly before they can even begin to address the "saving of the galaxy" that they are supposed to be doing. Our creative team came up with a new and exciting set of problems, which will keep the pressure on the Guardians while they are sorting out their differences. It's one of the great things of the IP that we wanted to show off in this episode: new space creatures and fantastical environments.
Marvel.com: We've seen glimpses of the past for Star-Lord, Rocket, and Gamora so far, with Drax up next this episode. What element of Drax the Destroyer's backstory will we explore?
Justin Lambros: What we've talked about from the earlier creative meetings for this project was to dig into a different side of Drax in his flashback. His backstory in the comics is quite different from the movie, but we wanted to merge them a bit, trying to show Drax in a more normal family life, rather than digging into his history as a fierce warrior. I'm hoping players find it as compelling as we did in making it.
Again, one of the real goals of this project was to round out a more complex version of each of these amazing characters from the Guardians, and Drax is surprisingly complex when you start to dig into his past and what he has done to deal with it. We hope it makes some of the big choices later in the episode very challenging for the player.
Marvel.com: There's just one episode remaining, what can you tell us about the upcoming finale? Is there any one part of the story's conclusion that you're most excited to share with players?
Justin Lambros: I couldn't be more excited about the final episode. The team building it worked on the early episodes of the project, so they're carrying a lot of passion and knowledge for what's come before in the series. It's a very complex, branched episode that really aims to pay off on the character choices and consequences from the series in a big way. And without spoiling anything, I'm most excited about how we've kept the big final choice that we had planned from the early stages of pre-production and also added some more branched content and new moments that we didn't even conceive of at the earliest points. So, I'm hoping that whatever content the players get, they feel a strong emotional attachment to what they've decided for these characters, and, hopefully they get to save the galaxy as well.
Marvel.com: We teased last month that the Guardians as we know them here in "Marvel's Guardians of the Galaxy: The Telltale Series" are getting the Pop! vinyl treatment from Funko soon. What has the collaboration been like with Marvel and the folks at Funko to help bring Telltale's game designs to life?
Justin Lambros: This has been an amazing collaboration for the team and me personally. Not just because I've been collecting Funko Pop! vinyl for years and have a ridiculous collection of Marvel Super Heroes (and especially the Guardians), but also they've done an amazing job of representing the unique design elements that we have brought to our characters into their trademark stylization.
It's been a blast for us to put our unique Telltale art style on the main Guardians, but it's been in bringing the lesser known supporting characters to life in our game that we've really been able to shine. And Funko has put together a mix of those characters for us and really blown us away with their work. It's a terrific mix of cute and bad ass that we couldn't be more excited to have applied to some of our game characters.
Marvel.com: Hala and Lylla are sure to have Marvel + Funko fans excited, as these characters are joining the company's collectible line for the first time! How do you feel about helping to bring them into the Funko fold?
Justin Lambros: I've had the privilege to work on a number of Marvel projects in my career and one of my favorite aspects is drilling down into the lesser known realms of the Marvel character library and bringing those characters to life in the interactive medium. And when the game version of these characters then comes to life in other ways, it's really satisfying for the team members who work so hard on concepting, modeling, texturing, and animating these vibrant personalities to see others inspired by and adapting their creative work.
Lylla is an old comics character that has a very minor reference in the first Guardians film, so it was great to be able to have her play a major role in episode 2 of our series. And the undeniable cuteness of that Funko Pop! has really made our creative team proud, as Lylla held a special place in the hearts of our writers and designers. And Hala is a more recent comic creation, so we were happy to get some more awareness for this truly imposing character from the comics in our game and beyond.
The Hype Box
Can't-miss news and updates from across the Marvel Universe!