Games
Published January 10, 2019
Sweet Aunt Petunia! The Thing Enters The Contest
The ever-lovin' blue-eyed Ben Grimm takes on Diablo in this month's Marvel Contest of Champions quest!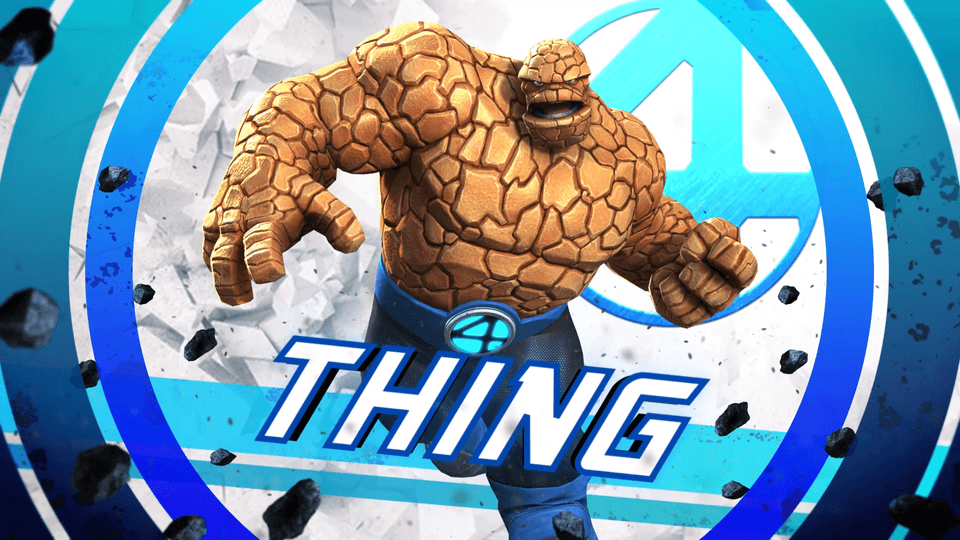 Sweet Aunt Petunia's favorite nephew, Benjamin "The Thing" Grimm, has found himself sent to Battlerealm, and boy, let us tell you, he's pretty PO'd about it. What a revoltin' development! But he's here now, and ready to clobber. Put that meatball sub with extra sauce on The Collector's tab.
This week, the nearly indestructible powerhouse from New York's Yancy Street arrived in Marvel Contest of Champions. Marvel.com had the opportunity to talk to Kabam Quest Designer Ryan White and Champion Designer Aidan Hanly to see how the rocks are stacked.
Marvel.com: Marvel Games and Kabam are celebrating Marvel's First Family with FANTASTIC FOUR: WORLD'S GREATEST WEEK! How are you guys rolling out the red carpet for the First Family?
Ryan White: Besides rolling out a new motion comic for Thing, it appears that the old Fantastic Four adversary, Diablo, has set up the Trials of the Elementals to stump the Summoners. On top of that, we've got the new Event Quest "This Man... This Monster!" which has Summoners teaming up to track down Thing and the rest of the Fantastic Four and bring them back to The Battlerealm.
Marvel.com: What's so special about Ben Grimm? There's only so much a man made of rocks can do. Can you tell us about his abilities?
Aidan Hanly: When he blocks or is hit by attacks, he generates a "Rock Stack". Each Rock Stack will increase both his Physical and Energy Resistance, and if he has enough of them, he can go Unstoppable. He can also use these Rock Stacks to increase the strength of his Special Attacks and give them additional effects.
Marvel.com: With his unbreakable spirit, awesome spandex pants, and commitment to clobberin', what did the team focus on while building Thing?
Aidan Hanly: Rather than focus on just one aspect, we tried to capture everything about Thing that makes him special. He's a character that's both aggressive and a great protector, so we made sure he has abilities that work great as both an Attacking and Defending Champion. Our Art and VFX teams also did an amazing job at capturing the look and feel (and spandex) of the big guy.
Marvel.com: This event is based on a classic comic storyline. What can you tell us about that?
Ryan White: As you can probably tell from the name, we were inspired by the story of Ricardo Jones, and saw it as a great jumping off point to introduce the ever-loving blue-eyed Thing, and the dreaded Diablo into The Battlerealm.
On top of that, this event will introduce Silver Surfer, who recruits the help of Night Thrasher to begin piecing together what happened to the Fantastic Four.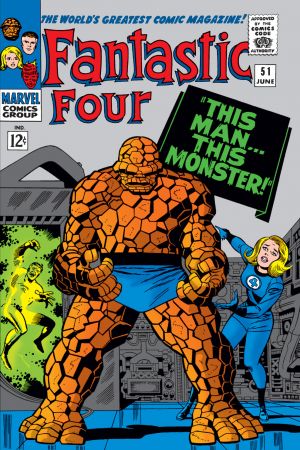 Marvel.com: Outside of his occasional disdain for Johnny and his antics, what sort of weaknesses does the big guy have?
Aidan Hanly: Thing's abilities are very dependent on his Rock Stacks. Even though he's immune to Bleed, whenever a Champion would normally cause him to Bleed, he loses a few Rock Stacks. So Champions that can frequently cause Bleed, like those in the Skill class, will be able to keep him under control.
Marvel.com: What Champs should we be pairing him up with? Any other tips or such we should be adding to our arsenal?
Aidan Hanly: Well, of course we had to give Thing a synergy with Korg, since he's the other man made of rocks in The Contest. He also has a great synergy with The Champion, since Thing was the only fighter on Earth who actually managed to get The Champion to yield in combat. Lastly, Thing has two synergies with Champions who haven't been added to the Contest yet, so you'll have to wait and see who else he teams up with.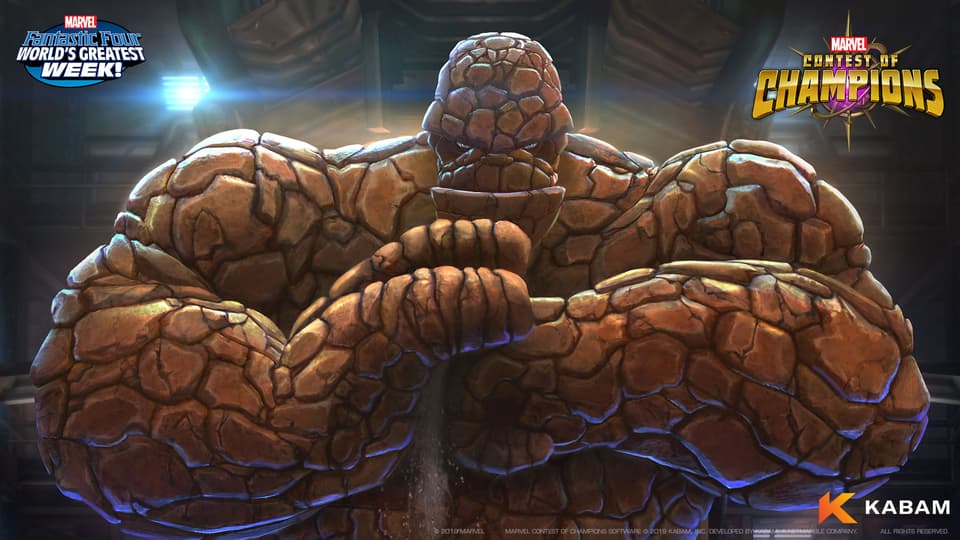 Marvel.com: Oh man, what a tease! When can we get to clobberin' with Thing?
Ryan White: Thing's Arena starts January 10 at 10 AM PST. Anyone eagerly awaiting to see what he can do can tune into the "This Man… This Monster!" event quest that's currently playable now! I have it on good authority that it contains clobberin'.
Marvel.com: Anything else fans can expect?
Ryan White: It's going to be a fantastic month, and while Ben Grimm may be tough to crack, he's going to rock any roster he joins.
Well, Summoners, you heard Ryan and Aidan, head on over to the App Store or Google Play Store and download Marvel Contest of Champions for free, and get to clobberin'!
Got the game and ready to head into the Contest? Marvel Let's Play gives you the key to success with Thing—dodging—and everything you need to know about Thing's Rock Stacks.
You can follow Marvel.com for all the news and content related to FANTASTIC FOUR: WORLD'S GREATEST WEEK. Plus, all of your favorite digital series -- Earth's Mightiest Show, This Week in Marvel and more -- will have exclusive interviews with the FF creative team, trivia, and more! http://Marvel.com/fantasticfourweek
Stay tuned to Marvel.com for Marvel Games news and interviews and follow Marvel Games on Twitter for more!
The Hype Box
Can't-miss news and updates from across the Marvel Universe!