Games
Published April 10, 2018
This Week in Marvel Games: Runaways, Jessica Jones, and Proxima Midnight
Everything you need to know about Marvel Games, this week!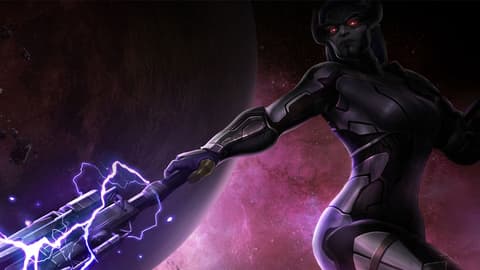 True Believers, every Tuesday, make your way over to Marvel.com for a rundown of all this week's Marvel Games news, from console game releases to character drops to mobile event updates, and more! 
Marvelites, the Runaways have interrupted an ancient god's ritual in the underwater Marine Vivarium and it's up to you to re-group among the chaos!
If you've checked out "Marvel's Runaways" streaming now, exclusively on Hulu, and couldn't get enough, Marvel Games and Warner Bros. Interactive Entertainment has your back! Out today, pick up "Marvel's Runaways Character and Level Pack," the new DLC for LEGO Marvel Super Heroes 2 for $2.99.
In this all-new Brian K. Vaughan's Runaways comic-inspired pack, players will travel to the undersea Marine Vivarium where they'll try to escape from the chaos and destruction that their criminal parents, 'The Pride,' have brought upon them. New unlockable characters Nico Minoru, Chase Stein, Alex Wilder, Karolina Dean, Molly Hayes, Old Lace, and Gertrude Yorkes add to the main game's roster of over 200 Super Heroes and Super Villains. LEGO Marvel Super Heroes 2 is available on PlayStation®4, Xbox One®, Nintendo Switch™, and Windows® PC.
Cosmic warrior Proxima Midnight enters the Battlerealm with an insatiable hunger for death this Thursday, April 12. What is this Black Order member capable of? Take a look below!
The presence of Thanos' greatest warrior can only mean terrible things await our heroes. Proxima Midnight is a formidable foe to anyone that crosses her. She's a master combatant that's willing to deal death by her spear without even a second thought. Her entire kit is based on Prowess and True Accuracy. Her abilities are enhanced and players gain good synergy bonsues when she receives special assists with Champions Corvus Glaive, Nebula, and Thor (Ragnarok). She'll dish some heavy attacks against Infinity Enemies like Doctor Strange, Scarlet Witch, Vision, and Hulk (Ragnarok).
This deadly super villain will be unleashed April 12. Check your in-game messages for more information about this deadly addition to the Contest!
In the world of Marvel Avengers Academy, our young heroes can't seem to catch a break between exams and super villains hellbent on destruction. Marvel.com writer Justin Synder caught a few minutes between classes to chat with Allen Warner, Lead Narrative Designer at TinyCo, to get you all the details on the Jessica Jones event, inspired by "Marvel's Jessica Jones," the first two seasons streaming exclusively on Netflix.
Marvel.com: What brings Kilgrave out of the woods now?
Allen Warner: New York has been decimated by the recent attacks of government-created Hulks, and the entire world is panicked because of the imminent arrival of Thanos. Being the sleazy manipulator he is, Kilgrave takes advantage of the chaos by using his mind-control powers to set the city's most powerful crime families against one another. As they knock each other out one by one, he assumes control of their resources and minions, quickly turning himself into the new kingpin of crime. As you can guess, this immediately puts him in the crosshairs of not only the Defenders and the Avengers, but rival criminal masterminds like Madame Gao and Kingpin.
Marvel.com: Jessica has quite a history with him. How will their past influence the event and her story?
Allen Warner: In our world, they're both younger, and have yet to really cross paths. As an investigator and a hero, Jessica knows about the seedy side of the city, so she knows about Kilgrave being an arrogant scumbag who's done horrible things, but it isn't as personal or serious as it's been portrayed in the comics and TV show. That being said, she doesn't have any respect or patience for manipulative people like Kilgrave, so she takes it upon herself to shut down his operation, and make it very clear that he isn't welcome in her city.
Marvel.com: What new faces will we see join the Academy as Kilgrave puts his scheme into action?
Allen Warner: Our new character this event is the Hood. We thought it would be cool to being in an antihero who would have a personal vendetta against Kilgrave for ruining his own criminal operation. The Hood has an amazing power-set, and some interesting history to play off with characters like Doctor Strange and Mysterio and Mephisto, so it made for some really cool interactions and stories. His visual levels look awesome, and his top visual rank is probably the most wicked looking character we've ever featured in Avengers Academy.
In addition to the Hood, we'll also be bringing back Jessica Jones, Hellcat, and Luke Cage. These are a few of my favorite characters we've ever featured in the game from their visuals to their animations to their stories. It's a lot of fun to bring them back together again along with some of the other Defenders to see how they deal with Kilgrave, and how they view the looming threat of Thanos.
Marvel.com: Seems like our heroes will need some new tech to combat Kilgrave and his mind control abilities. Who suits up in new gear to bring the fight to Purple Man?
Allen Warner: We're adding awesome new outfits for Jessica Jones, Luke Cage, and Spider-Woman. Two are all-time classics from the comics, and the third is a more obscure choice that's a perfect fit for dealing with both Kilgrave, and the threat on the horizon. Each one completely changes the look and vibe of their respective character, and I think people are really going to enjoy adding them to their campus.
Marvel.com: Kilgrave as a villain differs quite a bit from most we've seen at the academy. What was it like to write him and this story?
Allen Warner: Having removed the most atrocious acts that he hasn't committed in our universe, we're left with an arrogant, egotistical, sarcastic, insecure sociopath, which actually makes him pretty similar to quite a few of our villains, and even a few of our "heroes." It was actually really interesting to bounce those traits off of the other characters, and see how they each react. One of my favorite things about the story in this event is that it's the first time we've spent a lot of time watching the various villains interact, and it's really interesting to see the natural hierarchy, and in some cases, unexpected heroism, that results from their rivalries. It turns out that heroes like Jessica Jones aren't the only ones who want to knock the smirk off Kilgrave's face.
Marvel.com: Thanos still lurks on the horizon. Can we expect to see him make his move soon?
Allen Warner: VERY SOON. I can't wait to finally reveal the secret origin of the Avengers Academy universe, and talk about all of the amazing new heroes and outfits we created to help our heroes win the Infinity War.
Channel the Power Woman in her event starting this Thursday, April 12. Download the mobile game on Google Play and iTunes.
IN CASE YOU MISSED IT
MARVEL'S SPIDER-MAN: We know you've already pre-ordered the blockbuster action game from Marvel Games, Insomniac Games and Sony Interactive Entertainment, and you're waiting for September 7 to roll around.
Be sure to check Game Informer all month long as they keep things Spidey 24/7:
MARVEL PUZZLE QUEST: Learn about the latest MPQ feature — Supports — which gives your favorite heroes more firepower, and test it out in-game now!
Stay tuned to Marvel.com for more Marvel Games news and interviews.
The Hype Box
Can't-miss news and updates from across the Marvel Universe!