Games
Published April 18, 2018
This Week in Marvel Games: Thanos Descends Upon Marvel Games with 'Avengers: Infinity War' Event
Everything you need to know about Marvel Games, this week!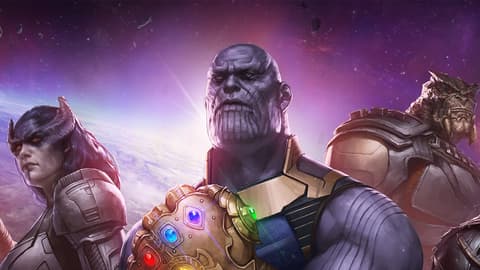 True Believers, every Tuesday, make your way over to Marvel.com for a rundown of all this week's Marvel Games news, from console game releases to character drops to mobile event updates, and more! 
Thanos isn't only terrorizing Earth's Mightiest Heroes on-screen with the April 27 release of Marvel Studios' "Avengers: Infinity War." Starting this week, the Mad Titan will have our heroes scrambling to assemble across seven titles in Marvel Games roster. Now let's get on to what cataclysmic events we can expect to see this week and what we can tease for the remaining participating titles!

MARVEL CONTEST OF CHAMPIONS
Are you ready to earn the rare title of "Infinity Warrior"? Black Panther's Chadwick Boseman and Spider-Man's Tom Holland will be kicking off their Champion Challenge tomorrow, Thursday, April 19, and run to May 17, to get you trained for the Contest's upcoming Infinity War event!
Beginning on Wednesday, April 25, you can expect to find four new events in-game with the latest build update, including the "Infinity Nightmare" story quest, a daily "Infinity Trials" quest," the solo "Vanquishing Blows" challenge, and "Infinity Dungeons," which features social co-op quests.
TRIALS OF THE MAD TITAN (April 25 – June 6)
The powers of the Battlerealm's Infinity Stones have spread throughout the Contest, leaving pockets of their condensed energies ripe for the picking. Cut your teeth on foes infused with the power of the Stones each day, and then collect Boosts that will temporarily give you access to the unique powers offered by each Stone! Combine these boosts on the final day each week to take on power enemies in the Trial of Omniscience, where the greatest rewards and most dangerous enemies lie.
INFINITY DUNGEONS (Available for a limited time only!)
Team up with another Summoner to battle through an endless series of Rooms. Even better, they don't have to be in your alliance! Strategize with them while in the Dungeon with the new Quick Chat feature. Each Dungeon has a unique theme depending on the day you play, including randomized Buffs on Nodes that are different every time you play.The further you go, the harder it becomes, and the better the rewards. Once you completed a Room, you must decide whether to push on to the next and more difficult Room, or conclude the Dungeon and collect the points and rewards you've earned so far. Points earn you a new currency called Dark Artifacts. Use these vessels of dark power to purchase new Infinity Dungeon Crystals containing Champions.
Cosmic warrior Proxima Midnight entered the Battlerealm last week, but she is never too far from her other half. Expect the arrival of Corvus Glaive and others invading the Battlerealm rolling out over the next few weeks!

MARVEL PUZZLE QUEST
Right out the gate, on Thursday, April 19, Captain America (Infinity War) brings his A-game, doing what's right and saving the world one clandestine mission at a time. Pick up Captain America (Infinity War) here.
The good-all-around playable character is perfect for use in teams where you want to shut down problematic enemy powers. Harness the Super-Soldier's powers during the "Come and Get Me Event," running April 19 to April 22!
Rope-a-Dope allows Cap to distract the enemy with a false advance, misleading them and leaving their backline vulnerable
Coup de Grace lets Cap summon all his strength to land a finishing blow
Man Without Country means our hero can still protect the innocent with covert tactics
Lastly, Captain America can reach down and lift up his fallen ally and give a boost of health with On Your Feet, Soldier!
We gave you a taste of Supports early this month, you can expect plenty of Infinity War tie-in items and bonuses to help your heroes throughout the Event, kicking off starting on April 24!
Never one to walk away from a challenge, the new action-RPG mobile game, available on iOS and Android, will have "Avengers: Infinity War" characters Thanos, Vision, Star-Lord, Loki, and Doctor Strange, assembling. You can expect Thanos timed raids and the Thanos legendary event kicking off Thursday, April 19!
You can absolutely expect a new level and "Avengers: Infinity War" characters debuting in the new event soon!
All we can say is — you better prepare for the first huge update inspired by "Avengers: Infinity War"!
Also, we can tease that Marvel Future Fight is also celebrating their 3 Year Anniversary this month. We wonder what surprises will be in store!
Get ready for next week's release of the Spider-Man (Iron Spider) playable character and a brand new Boss Battle against Thanos!
We've been teasing for over two years now, and the destiny has finally arrived in the form of Thanos descending upon the Avengers Academy and our heroes. Keep it on Marvel.com to learn about the heroes and villains across the universe who will need to team up to stop him.
IN CASE YOU MISSED IT
Game Informer continues their month-long coverage of all things Spidey! Pre-order the game and catch up on GI's exclusive stories you may have missed this past week:
Thanks to Marvel, Insomniac Games and Titan Books, to get you ready for Marvel's Spider-Man's September 7 release, "Marvel's Spider-Man: Hostile Takeover" will give you an early look at what kicks off the events in the game. The prequel book, written by David Liss and available on August 21, will feature some of Spidey's most famous friends and foes, including the Shocker, Echo, J. Jonah Jameson, Mary Jane Watson, and the Kingpin.
Don't miss out on "Marvel's Spider-Man: The Art of the Game," written by Paul Davies, which will follow on September 11, for never-before-seen images of Spider-Man, his costume and equipment, the Marvel version of his hometown New York, and the deadly villains he battles, fans will get a behind the scenes look at the game from initial designs, blueprints, and the breathtaking final concepts!
Stay tuned to Marvel.com for more Marvel Games news and interviews.
The Hype Box
Can't-miss news and updates from across the Marvel Universe!