Games
Published January 9, 2020
Fight Alongside the Warriors of the Sky in Latest MARVEL Future Fight Update
These new original characters have descended on the hit mobile game!
True Belivers, get ready for MARVEL Future Fight's biggest update yet!
The v570 update, available now, features the debut of the all-new original team of Marvel Super Heroes — the Warriors of the Sky! With this update, recruit and fight alongside these new heroes, discover new story missions and new uniforms in 3099 with your favorite characters like Iron Man, Captain America, Black Widow and Captain America (Sharon Rogers), and unlock new power and skills with Potential Awakening and Awakened Skills!
The four Super Heroes that make up Warriors of the Sky team consist of Blue Dragon, War Tiger, Sun Bird, and Shadow Shell. Each character has unique powers and backstories steeped in Eastern mythology.
"Everyone at Marvel loves collaborating with friends around the world to create characters which entertain, inspire and resonate with our global fans," said Bill Rosemann, VP & Creative Director, Marvel Games. "Combining awesome powers, cool visuals and memorable backstories, the Warriors of the Sky join the Avengers, the X-Men and the Guardians of the Galaxy as Marvel's next major super team."
Marvel.com had an opportunity to talk to the creative minds behind the game to learn more about the Warriors of the Sky and this update!
Marvel.com: The Warriors of the Sky follow original characters created for MARVEL Future Fight, including Sharon Rogers: Captain America, Luna Snow, and Crescent & Io. Can you tell us about these new members and how their team's creation come about?
Danny Koo, Director, Production (Marvel Games): It's been a pleasure to collaborate with Netmarble on these fantastic original Marvel characters. Ever since we established Captain America (Sharon Rogers), we had many requests from the Asia region that they would like to see some original content that represents that region and we have since come up with several cool ones.The Warriors of the Sky is one of the most ambitious creations to date. Io is a guardian of the Moon Temple. Throughout my travels in Asia, I have seen different interpretation of the Kyrin guarding temples in Asia, I thought it would be cool to have our own Marvel version of it. Together we have identified a cool East Asian mythology that consist of four mythological creatures (Azure Dragon, Vermilion Bird, White Tiger and Black Tortoise) guarding the four directions. Since Io is the guardian of the moon temples, these four mythological creatures would be guarding the temple's four directions.
However, we needed to reinterpret these four in our way. We identified four places that we could fit the four personalities from so we did some research on weapons origin, hairstyle, historic events and places, traditional and modern costumes. We have Blue Dragon with dragon-like hair, powers of the dragon and originating from Halong Bay (Land of the Blue Dragon). Sun Bird uses traditional weapon Keris (or Kris), Batik designs mixed with western influences due to the Portuguese exploration in the straits of Malacca from the 1600s. We unified all of them with magical tattoos and colors that represent the direction and their spiritual mythological beast. Shadow Shell has her powers of both the snake (venom) and turtle (protection) because the Black Tortoise is represented by a serpent wrapping around a black tortoise. Also, the design of her hairstyle is both modern and turtle-like. War Tiger has elements from traditional royal Thai patterns, while wielding a giant scythe that consists of a giant white tiger fang.
Check out their backstories and you can see their designs are related! However, there's the fifth element in the center of it all which is the Yellow Dragon from the Eastern Mythology which governs the Sky (heaven). We wanted to turn this into some epic form of Kyrin expression, something that guards the temple if there are extreme threats. We combined all four of the mythological beast into one single giant beast called the Sky Kyrin. Blue Dragon is the leader of the group, which is reflected in the head with a blue dragon element. The body is the white tiger element, the back and armor are the turtle elements, and the fiery wings are from the vermilion bird element. With the four colors from the Warriors of the Sky, the Sky Kyrin sports the golden armor to represent all four colors coming together. Pretty neat huh? Connecting the dots, Io has summoned the four Warriors of the Sky to team-up once again to fight off epic threats! We are thrilled to have MARVEL Future Fight fans get their hands on these creations! The Netmarble Monster team did a fantastic job in both the nailing down the designs and the characters expression in game. We look forward to many more creations and collaboration with this team!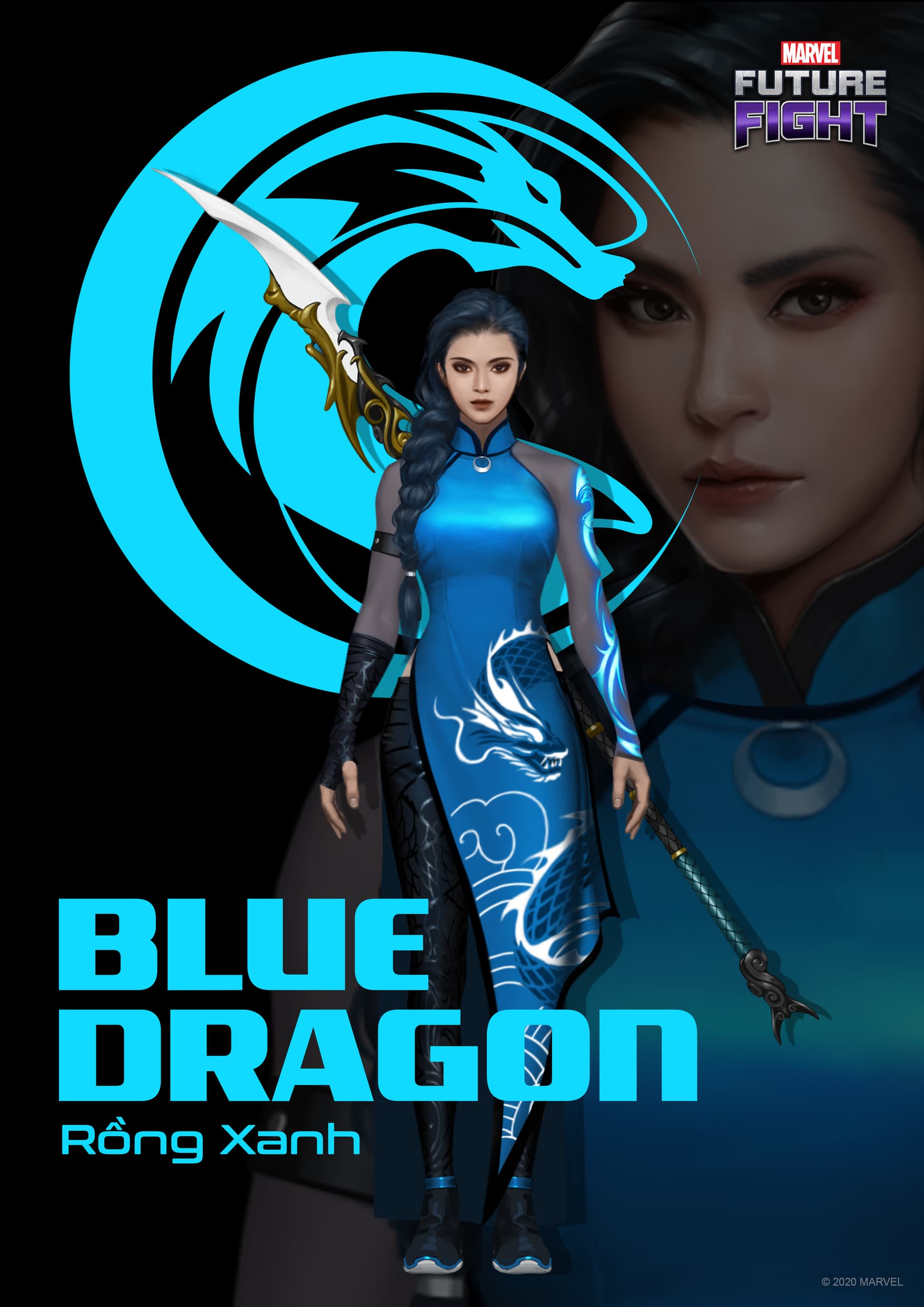 Marvel.com: What roles do each of the newly added characters play in the game?
You Jung Kim, Production Director (Netmarble Monster): Each Warrior of the Sky character creates synergy when placed on a team together. For example, Blue Dragon's Leadership Skill applies buffs to Warriors of the Sky allies. Sun Bird and Shadow Shell have skills that revive or protect Warriors of the Sky allies.
Marvel.com: This new update introduces the new feature "Potential Awaken" – what can players do with it? What happens to the Warriors of the Sky when they unlock their "Potential Awaken"?
You Jung Kim, Production Director (Netmarble Monster): Potential Awakening has been added in this update for the Warriors of the Sky characters. It's a new level of power that allows players to unlock Awakened Skills. For their Awakened Skill, each Warrior of the Sky can become the mighty Sky Kyrin and unleash a devastating attack. The Sky Kyrin attack is unique to each of the four heroes, so be sure to unlock them all to see the team's true potential!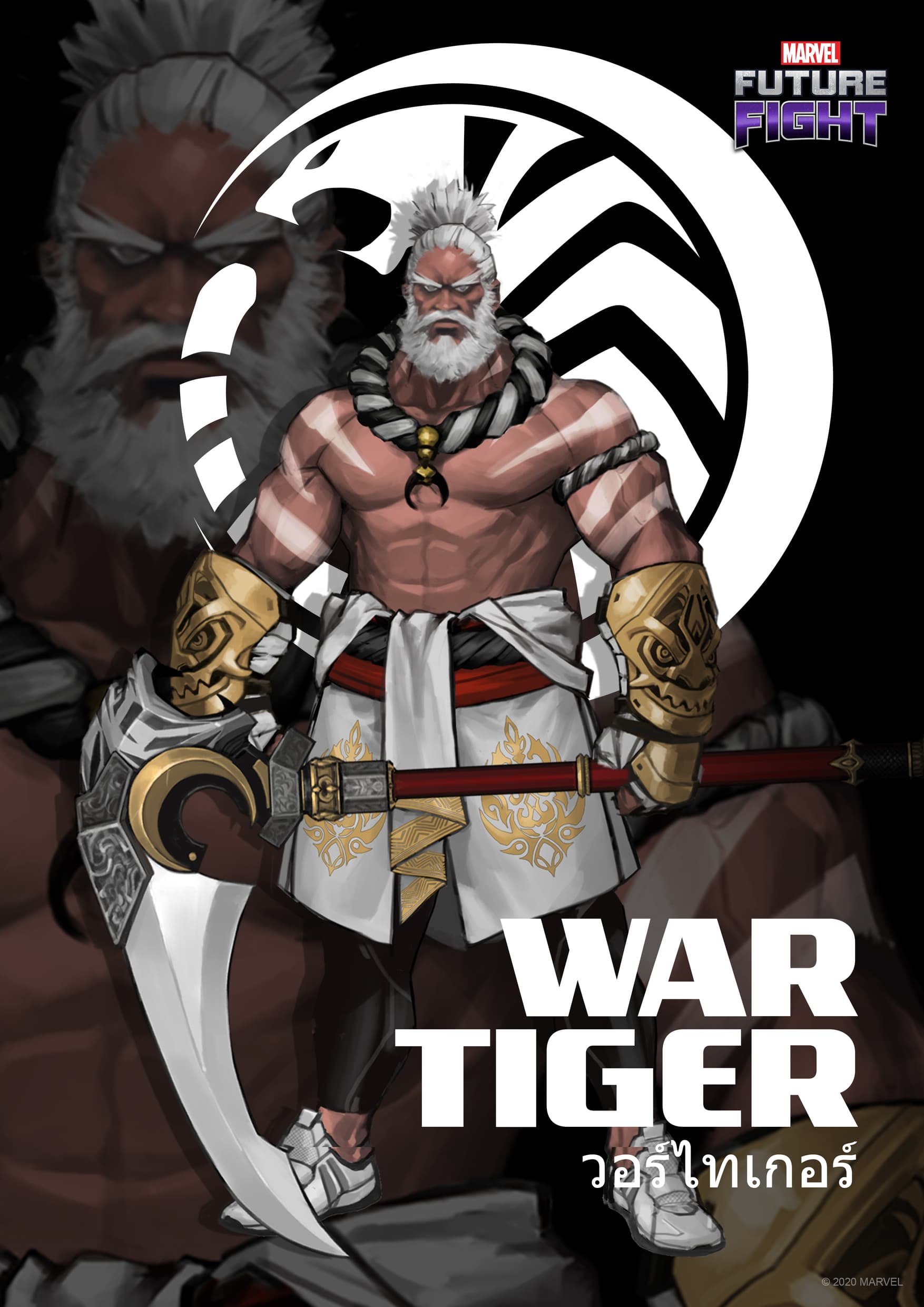 Marvel.com: Can you explain each of the member's skillset, and how that contributes to their Sky Kyrin's skillset?
You Jung Kim, Production Director (Netmarble Monster): Each member of the Warriors of the Sky represents a different animal aspect of the Sky Kyrin and uses weapons that reflect those spirits. With "Awakened Potential," all the Warriors of the Sky characters unite to form the Sky Kyrin in their "Awakened Skill." The attack style differs between each member. For example, the Sky Kyrin releases a deadly poison cloud for Shadow Shell's Awakened Skill. Meanwhile, War Tiger creates a devastating earthquake with the stomp of the Sky Kyrin's giant paw.
Marvel.com: MARVEL Future Fight has a history of introducing original characters hailing from Asia such as Crescent & Io and Luna Snow. Coupled with the Agents of Atlas update and now the introduction of Warriors of the Sky, what is the significance of these characters for Marvel and Netmarble?
Danny Koo, Director, Production (Marvel Games): The creations of original Marvel characters originating from Asia allows us and other creators to tell more stories and adventures in different mediums. We are in constant communication with our dear friends in Marvel Publishing to see what stories and content we can create that is new and exciting. The inclusion of Luna Snow, Crescent and Io is a good example of how it leaps from games to comics. We collaborated with Marvel Publishing to create cool new costume for White Fox that debuted in MARVEL Future Fight and made the leap back into the New Agents of Atlas! Luna Snow has her own K-Pop songs and a solo comic, while Crescent and Io together with White Fox also have their own solo origin stories. I am excited to tell more stories about the Warrior of the Sky as there are deeper mythologies and richer origin stories to dive into!
Joe Lee, Executive Director (Netmarble Corporation): Marvel's original characters have been very successful as both game characters and comics characters. It makes us proud, as collaborators and co-creators, to see these original Marvel characters making debuts in comics and fighting along side by side with the existing fan-favorite heroes.
From a creativity perspective, original Marvel characters are always a challenge. We need to think of what fans crave, while also respecting the rich history of the Marvel Universe. We take this as an opportunity to push our creative boundaries, and our friends at Marvel Games are always there to help us understand what those boundaries are.
I hope the Warriors of the Sky get as much love as our other original Marvel characters did!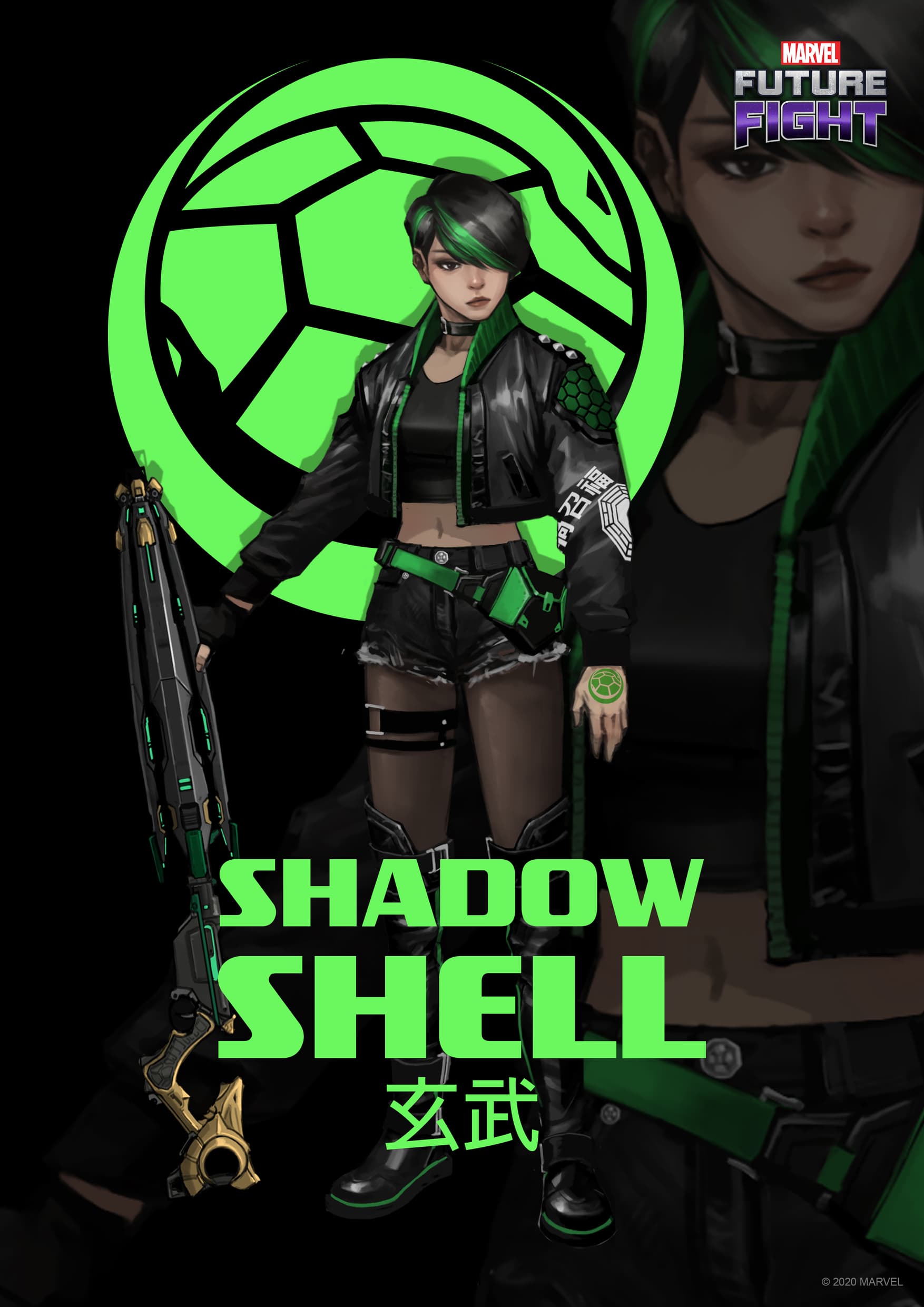 Marvel.com: Which characters will be sporting new looks in this upcoming update?
You Jung Kim, Production Director (Netmarble Monster): The 3099 uniforms for Captain America, Iron Man, Black Widow and the Star Night uniform for Captain America (Sharon Rogers) have been added in this update. The 3099 uniforms of the most iconic characters of the Marvel Universe were reimagined with MARVEL Future Fight's fresh perspective. They can be acquired for free from the newly updated Story.
Marvel.com: What else can you tell us about this new Update?
You Jung Kim, Production Director (Netmarble Monster): The new Story content includes new game mechanics, levels, and animated cut scenes with updated dialogue. We hope that players enjoy the MARVEL Future Fight story in a brand-new way!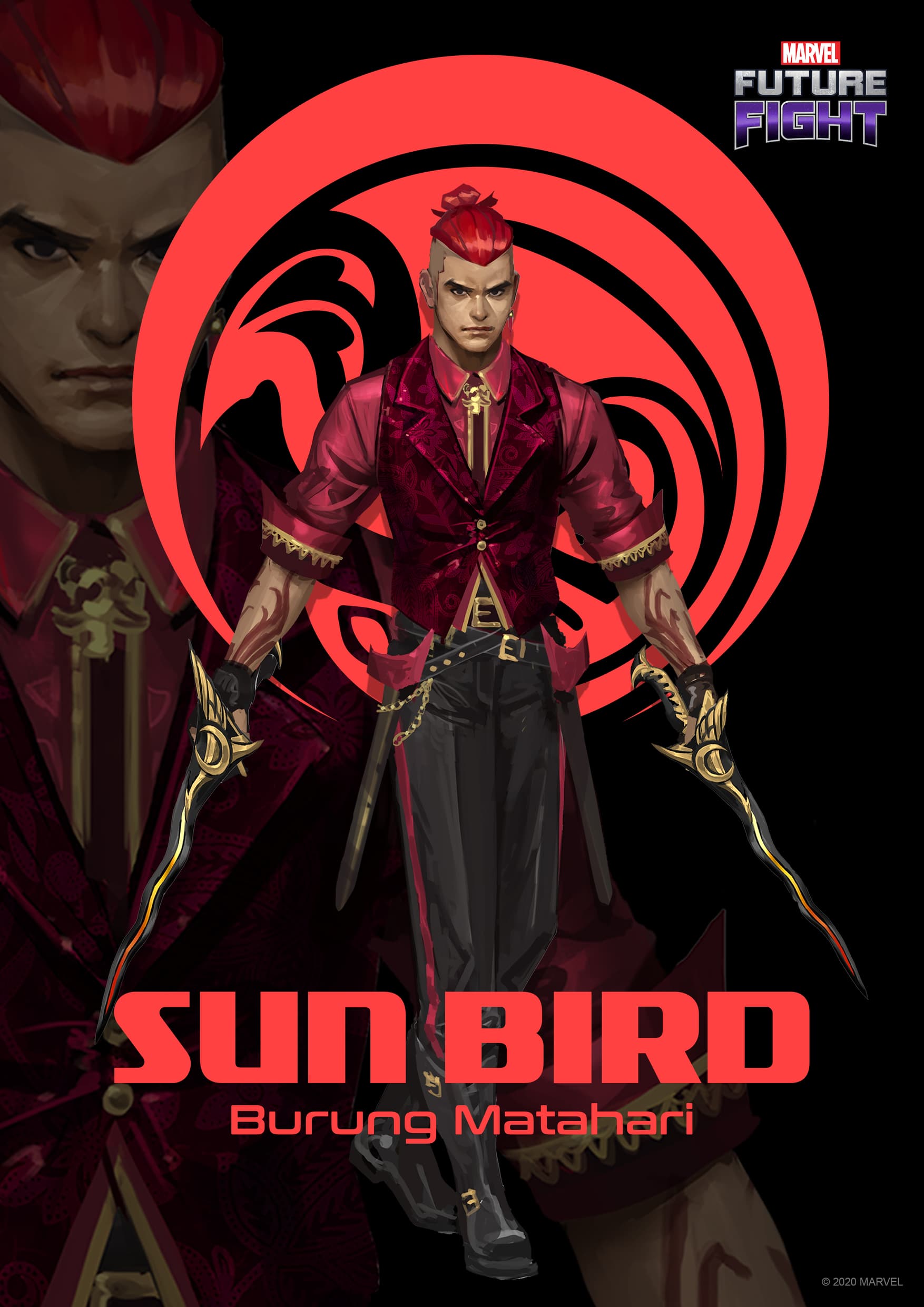 Marvel.com: What is your favorite Warrior member to play with and why?
Danny Koo, Director, Production (Marvel Games): I like to play them all. Netmarble did a fantastic job at character expression in the game and playing as each of them brings unique challenges and fun. The theme is teamwork. These characters have their own individual powers, when they come together as one, the towering Sky Kyrin, they are unstoppable!! Don't mess with the Sky Kyrin!
You Jung Kim, Production Director (Netmarble Monster): My favorite is War Tiger. He's very agile despite his size. He's very different than existing characters in the game, and that makes me like him more.
Marvel.com: What gameplay tips do you have for fans who want to get started with these Warriors of the Sky?
You Jung Kim, Production Director (Netmarble Monster): Warriors of the Sky characters attack using different elements. These characteristics can be very useful in "World Boss." Using Blue Dragon as the leader will help you deal greater damage. Sun Bird and Shadow Shell can revive the Warriors and grant helpful effects to the Warriors like Damage Decrease and Defense Increase. They can be of great help to their allies.
'Potential Awaken' is a new system that allows heroes to gain new active skills. Heroes capable of 'Potential Awakening' can develop potential heroes by satisfying their growth condition. Other additions to v570 Update includes Crescent Upgrade, which allows original character Crescent to upgrade to Tier-3 unlocking new ultimate skills; Realize Potential for Blue Dragon, War Tiger, Sun Bird, Shadow Shell, Songbird, White Tiger, Wiccan, Hulkling, and Squirrel Girl; as well as enhanced equipment and custom gear for game convenience.
Unite the four Warriors of the Sky and protect the world as the mighty Sky Kyrin!
MARVEL Future Fight celebrated its fourth anniversary with over 100 million players across the world. The game is currently available worldwide in the App Store® and Google Play™.
For more information, please visit http://marvelfuturefight.netmarble.com.
The Hype Box
Can't-miss news and updates from across the Marvel Universe!