Gear
Published February 18, 2021
Shop Marvel Must Haves: 'WandaVision' Halloween
Who says it can't be October 31st year round?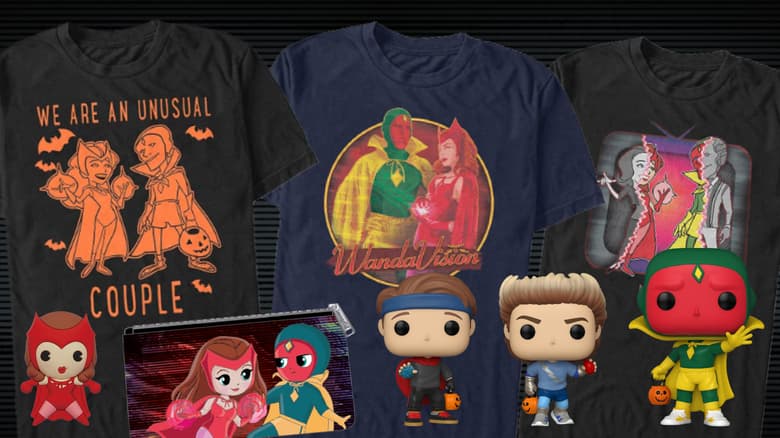 Who says you can't celebrate Halloween every month of the years, let alone every day? Break out the pumpkins, ghosts, cobwebs, candy, and whatever you want, because it's time pretend it's October 31st again! By way of the latest episode of Marvel Studios' WandaVision, that is.  
Episode 6 of the series, "All-New Halloween Spooktacular!" takes viewers back to an All Hallows' Eve of yesteryear with every member of the family decked out in their best costumes, which means that Vision is....a Mexican wrestler? 
While putting specifics on the costumes is neither here nor there, snag t-shirts featuring Vision in all his wrestling glory, Wanda Maximoff dressed up as a "Sokovian fortune teller," along with matching outfits for both Pietro and Tommy, and a red cape for Billy. Some might call these "classic" looks for the Vision-Maximoff family. 
Dive into the Halloween items in the gallery below, and happy trick-or-treating! Having trouble viewing the gallery? Click here. 
Stay tuned for more #MarvelMustHaves! 
Looking for more Marvel Must Haves? Shop Season 1 of WandaVision here! 
Looking for more WandaVision? Follow @WandaVision on Twitter, WandaVisionOfficial on Facebook, and WandaVision on Instagram! 
Want more exciting information about Phase 4? Find the latest Marvel Cinematic Universe news right here — and stay tuned for more!
This is just the beginning of the Phase 4 news. Stay tuned to Marvel.com for more details! And be sure to follow Marvel on Facebook, Twitter, and Instagram.
The Hype Box
Can't-miss news and updates from across the Marvel Universe!