Gear
Published August 3, 2022
Build Your Own Corner of the Multiverse with the Marvel Multiverse Role-Playing Game
Lead game designer Matt Forbeck takes us inside the official 'Marvel Multiverse Playtest Rulebook,' now available on Marvel Unlimited!
Have you tried Marvel Unlimited yet? It's your all-access pass to over 30,000 Marvel comics at your fingertips. Get your first year of Marvel Unlimited for just $60 by using code MUSAVE60 at checkout!
The Multiverse is full of possibilities, and what better way to discover them than to play through each one yourself!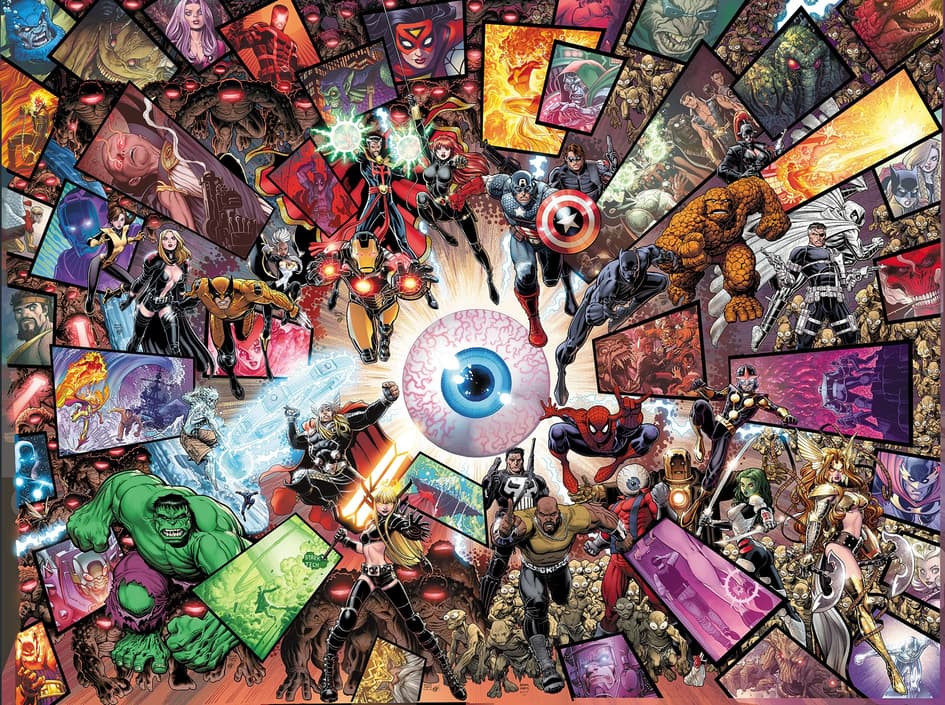 Today, the official MARVEL MULTIVERSE ROLE-PLAYING GAME: PLAYTEST RULEBOOK drops on Marvel Unlimited! Unlimited members can now dive into the hero-building world of the Marvel Multiverse Role-Playing Game, the latest tabletop RPG that puts the power of the Marvel Universe in your hands.
The key to unlocking the Multiverse lies in the PLAYTEST RULEBOOK, packed with character profiles, statistics, sheets, maps, instructions for character creation and combat. The PLAYTEST RULEBOOK is also welcoming player feedback, which can change the future course of the game itself!
With Roll20 as the official virtual tabletop and Demiplane as the official digital toolset, players have a variety of options for playthrough. We spoke to lead game designer Matt Forbeck about those endless options, plus what players can expect about this ever-evolving experience. Grab your friends, crack the rulebook, and start building your own Multiverse!
First off, can you tell us a bit about your Marvel fandom and how you were tapped to be lead design on this RPG?
I started out learning to read with comics! Anyhow, I've been a Marvel fan ever since I can remember. I designed a game called Marvel Heroes Battle Dice for Playmates Toys. I even wrote two editions of The Marvel Encyclopedia plus Marvel's The Avengers Encyclopedia and Marvel's Captain America: The Ultimate Guide to the First Avenger.
Long before all that, though, I co-designed a collectible card game in the mid-'90s for WildStorm, Jim Lee's division of Image Comics, and when Marvel decided it wanted to publish a tabletop roleplaying game, I was [the] first choice.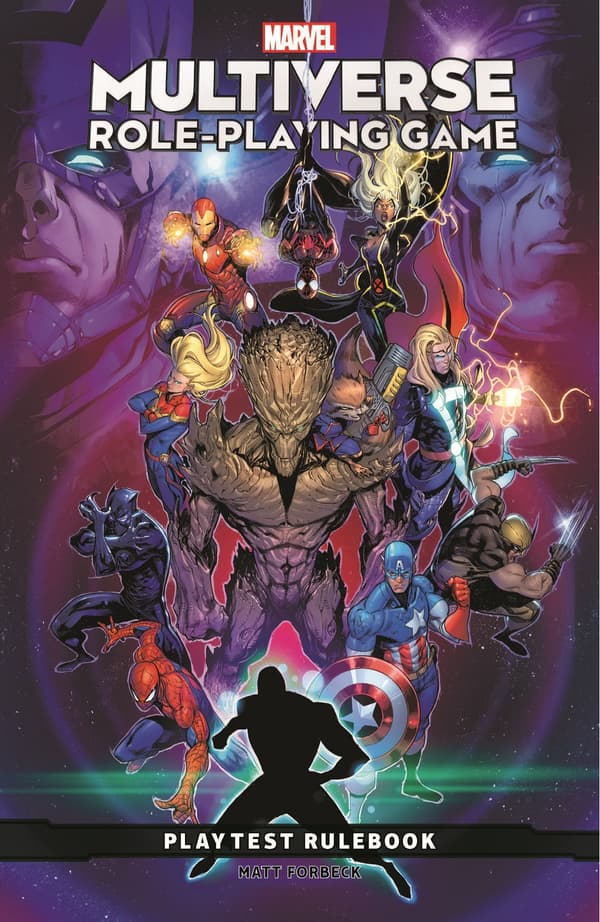 For Marvel fans who may or may not be familiar with the rules of an RPG: What sort of advice would you give to players who are new to this type of game?
MATT FORBECK: If you played "Cops & Robbers" as a kid, you've already played a roleplaying game. Modern RPGs just have more rules so we can figure out who's right when you tell your pal "I got you!" and they say "No, you didn't!"
The first and most popular such game in the world is Dungeons & Dragons, which most people have heard of by now. You get together with your pals, sit around a table, and make up stories together. With the Marvel Multiverse Role-Playing Game, those stories aren't about wizards and warriors but Super Heroes and villains drawn directly from the Marvel Multiverse. You can even make up your own characters to join in the fun and fight alongside the heroes you've known forever.
A thick book can be intimidating, but it's a lot easier than it looks. Once you sit down at the table, you can go without cracking a book for a long while.
What sort of features can players expect around building or developing their own characters?
MATT FORBECK: When the full game comes out next year, you'll be able to create all kinds of characters built to fit right in alongside your Marvel favorites. They'll come with all sorts of powers and abilities, and you'll be able to play as them through many different kinds of adventures. Your imagination provides the spark, and we provide the framework to create within.
It's all kinds of fun. I know people who just like to sit and create characters over and over again. Then they take their favorites and bring them to their games.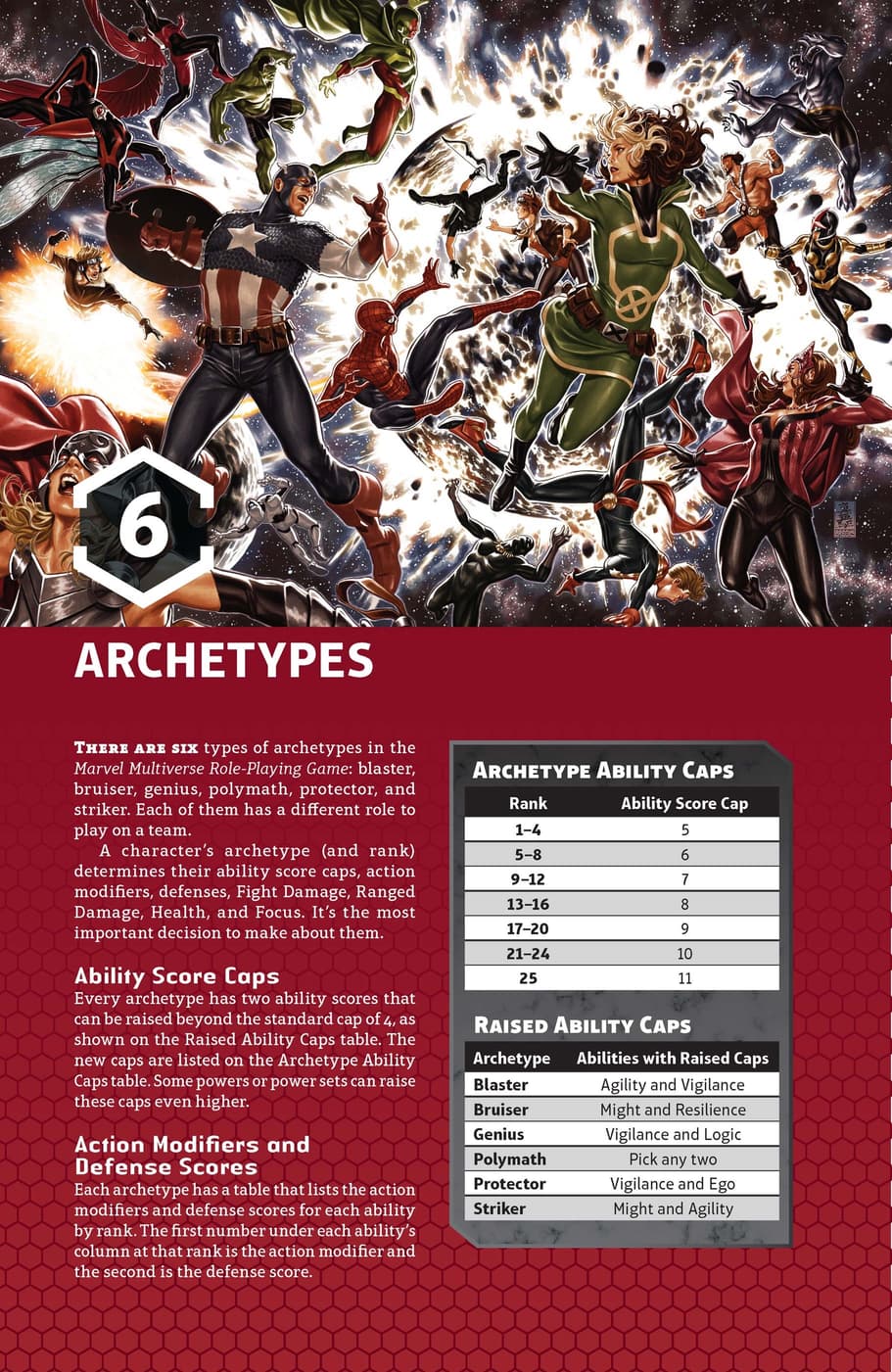 How much existing Marvel lore is baked into the game's design?
MATT FORBECK: The game is filled with references to Marvel Comics, including many profiles of our most famous heroes. What you see in THE PLAYTEST RULEBOOK is just a taste of what's to come. When the full game comes out, we'll have dozens of them in there, including both heroes and villains.
The game's system is called the d616 System, which is a direct reference to the main Marvel Comics universe. It's a lot more involved than a cute name, of course, but we try to take inspiration from all of Marvel's wonderful stories wherever we can find it.
Finally: Favorite realm, Earth, or character from the Marvel Multiverse?
MATT FORBECK: I grew up on Earth-616 stories, and those are still my favorites. I love seeing all the different universes interact, though, as it gives the storytellers so much more room to work with, especially for classic characters we already love. It's great to see new versions of them come to light and find their own fans too.
Spider-Man is by far my favorite character, and I would love to write a Spidey comic someday. However, when I wrote that book about Captain America, I really fell in love with the story of Steve Rogers, a man who does his best every day to represent the ideals America was built upon. He's now a close second.
All you need to get started on your own fantastic adventure is the rulebook, three six-sided dice, and a group of friends. Read the MARVEL MULTIVERSE ROLE-PLAYING GAME PLAYTEST RULEBOOK on Marvel Unlimited now, and get ready to unlock the infinite possibilities of the Multiverse.
For the latest information and updates to the game, go to marvel.com/RPG and follow Marvel on Facebook, Twitter and Instagram for more news to come!
The Hype Box
Can't-miss news and updates from across the Marvel Universe!