Gear
Published March 22, 2021
Shop Marvel Must Haves: 'The Falcon and The Winter Soldier' Episode 1
It's a brand new world for Sam and Bucky.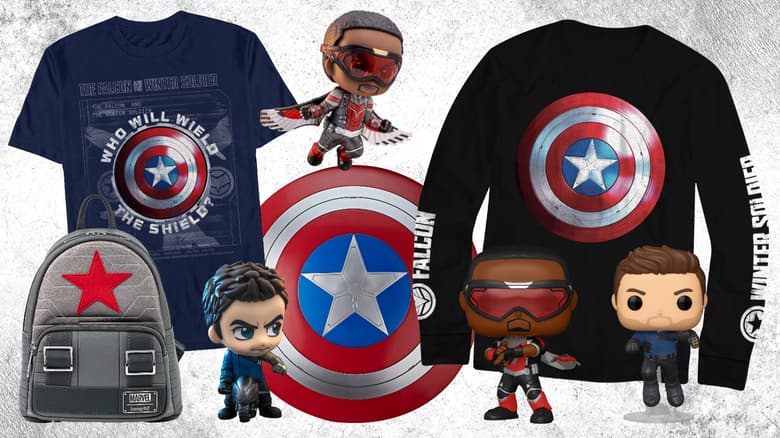 Welcome to Marvel Must Haves, your best destination for all new exciting and epic products out of the Marvel Cinematic Universe! We're taking flight with Marvel Studios' The Falcon and the Winter Soldier and all the explosive action from this globetrotting adventure. Each week through the run of the series we'll be bringing you brand new apparel, accessories, toys and more based on and inspired by the show, and don't forget to share what you must have on social with #MarvelMustHaves!
Are you ready? Sam Wilson (Falcon) and Bucky Barnes (Winter Soldier) sure are, so suit up, grab your wings, and get ready for what's coming next in Marvel Studios' The Falcon and the Winter Soldier. With the explosive first episode of the series now streaming on Disney+, it's time to dive into a brand new batch of Marvel Must Haves! 
Sam and Bucky are both dealing with their own problems at home — and that's not including Sam's decision to hand Captain America's shield over to the Smithsonian. No one could have predicted what would happen next, and now the big question is, who will wield the shield? Who is this new Captain America? Can Sam help his family, and will Bucky finally make peace with his past? 
The first week of Falcon and Winter Soldier Must Haves celebrates these two heroes as they forge a new path ahead in a world without Steve Rogers. Find new Funkos, t-shirts, accessories and more, and the most must have Captain America item — a shield!
Take a peek at the image gallery below to find everything new this week. Having trouble viewing the gallery? Click here. 
Stay tuned for more Marvel Must Haves! 
Looking for more Marvel Must Haves? Shop Season 1 of The Falcon and The Winter Soldier here! 
Want more 'The Falcon and The Winter Soldier'? Follow the series on Facebook, Twitter, and Instagram!
Want more exciting information about Phase 4? Find the latest Marvel Cinematic Universe news right here — and stay tuned for more!
This is just the beginning of the Phase 4 news. Stay tuned to Marvel.com for more details! And be sure to follow Marvel on Facebook, Twitter, and Instagram.
The Hype Box
Can't-miss news and updates from across the Marvel Universe!