Gear
Published April 5, 2021
Shop Marvel Must Haves: Sharon Carter
Fugitive at large.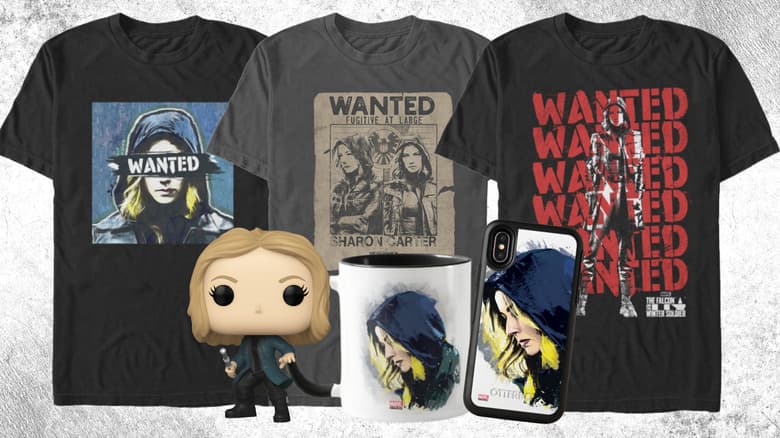 Welcome to Marvel Must Haves, your best destination for all new exciting and epic products out of the Marvel Cinematic Universe! We're taking flight with Marvel Studios' The Falcon and the Winter Soldier and all the explosive action from this globetrotting adventure. Each week through the run of the series we'll be bringing you brand new apparel, accessories, toys and more based on and inspired by the show, and don't forget to share what you must have on social with #MarvelMustHaves!
Where do you hide out when you're on the run? For Sharon Carter, the destination is Madripoor —  a city filled of bright, blinding lights and a ladder of low-lifes all trying to climb to the top. 
Episode 3 of Marvel Studios' The Falcon and the Winter Soldier introduces us to this brand new place, where Sharon has been keeping her hood up and her head down for the past few years. Ever since the events of Marvel Studios' Captain America: Civil War, she's been on the run, which has landed her in this lawless location. With a new job as an art dealer in Hightown, Sharon is less than thrilled to stick her neck out, again, when Sam Wilson (Falcon) Bucky Barnes (Winter Soldier), and Zemo show up. 
You don't have to go to any great lengths to snag some Sharon items yourself, as they're rolling out without a hitch with a new batch of Marvel Must Haves! Sharon's status as WANTED is prominent across many items, reminding her of the choices she made in the past. Plus, a new Sharon Carter Funko Pop joins the ever-growing roster, alongside Sam, Bucky, Zemo, and John Walker. Take a peek at everything in the gallery below! Having trouble viewing it? Click here. 
Stay tuned for more Marvel Must Haves! 
Looking for more Marvel Must Haves? Shop Season 1 of The Falcon and The Winter Soldier here! 
Want more 'The Falcon and The Winter Soldier'? Follow the series on Facebook, Twitter, and Instagram!
Want more exciting information about Phase 4? Find the latest Marvel Cinematic Universe news right here — and stay tuned for more!
This is just the beginning of the Phase 4 news. Stay tuned to Marvel.com for more details! And be sure to follow Marvel on Facebook, Twitter, and Instagram.
The Hype Box
Can't-miss news and updates from across the Marvel Universe!