Gear
Published February 1, 2021
Shop Marvel Must Haves: 'WandaVision' Episode 4
We interrupt this program to bring you some S.W.O.R.D.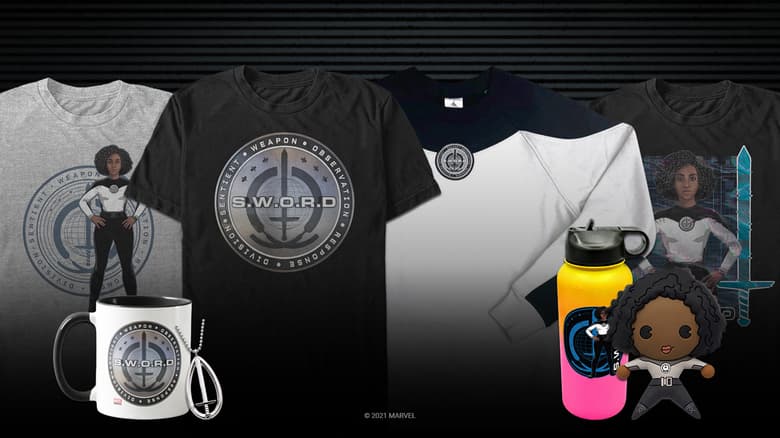 Welcome to Marvel Must Haves, your best destination for all new exciting and epic products out of the Marvel Cinematic Universe! Phase 4 of the MCU kicks off with Marvel Studios' WandaVision and each week through the run of the series we'll be bringing you brand new apparel, accessories, toys and more based on and inspired by the show. Dive into what's new this week, and don't forget to share what you must have on social with #MarvelMustHaves!
Captain Monica Rambeau, Agent of S.W.O.R.D. reporting for duty! If you're looking to get decked out just like her — or any of the other Sentient World Observation Response Division agents working outside of Westview — we've got everything you need in this week's Marvel Must Haves. 
Episode 4 of Marvel Studios' WandaVision, "We Interrupt This Program" rewinds us back to the very beginning as we rewatch some of the events we've already seen again, but this time from the perspective of Monica, and also FBI Agent Jimmy Woo and Dr. Darcy Lewis. All three are called in to assist with whatever's going on inside of Westview between Wanda Maximoff and Vision, but there are way more questions than answers right now. 
If you're ready to suit up and report for S.W.O.R.D. duty yourself, there are dozens of different t-shirts, accessories, houseware, and jewelry bearing the agency's name, and also featuring Monica herself. Shop them all in the gallery below! (Click here if you're having trouble viewing.)
Stay tuned for more #MarvelMustHaves! 
Looking for more Marvel Must Haves? Shop Season 1 of WandaVision here! 
Looking for more WandaVision? Follow @WandaVision on Twitter, WandaVisionOfficial on Facebook, and WandaVision on Instagram! 
Want more exciting information about Phase 4? Find the latest Marvel Cinematic Universe news right here — and stay tuned for more!
This is just the beginning of the Phase 4 news. Stay tuned to Marvel.com for more details! And be sure to follow Marvel on Facebook, Twitter, and Instagram.
The Hype Box
Can't-miss news and updates from across the Marvel Universe!