Gear
Published April 19, 2022
Take a Sneak Peek into the Marvel Multiverse Role-Playing Game Playtest Rulebook
Look inside the official Playtest Rulebook for the Marvel Multiverse Role-Playing Game!
The Marvel Universe is full of amazing Super Heroes (and nefarious Super Villains), but when it comes down to it, what kind of hero will you pick? And if you were assembling your own legendary Super Team, who's going to be in the lineup?
Be the first to check out the official PLAYTEST RULEBOOK  for the Marvel Multiverse Role-Playing Game, the newest tabletop RPG to take over your game nights! Available from April 20, look no further than below for an exclusive sneak peek at what's in store.
Designed by Matt Forbeck, the PLAYTEST RULEBOOK is an essential handbook for navigating the ins and outs of the game, as it contains instructions for the players and Narrator, character sheets, maps and more! To start off, it lists six archetypes you can choose: blaster, bruiser, genius, polymath, protector and striker. Each play a different role on the team, proving that it takes all kinds of heroes to prepare for any disaster.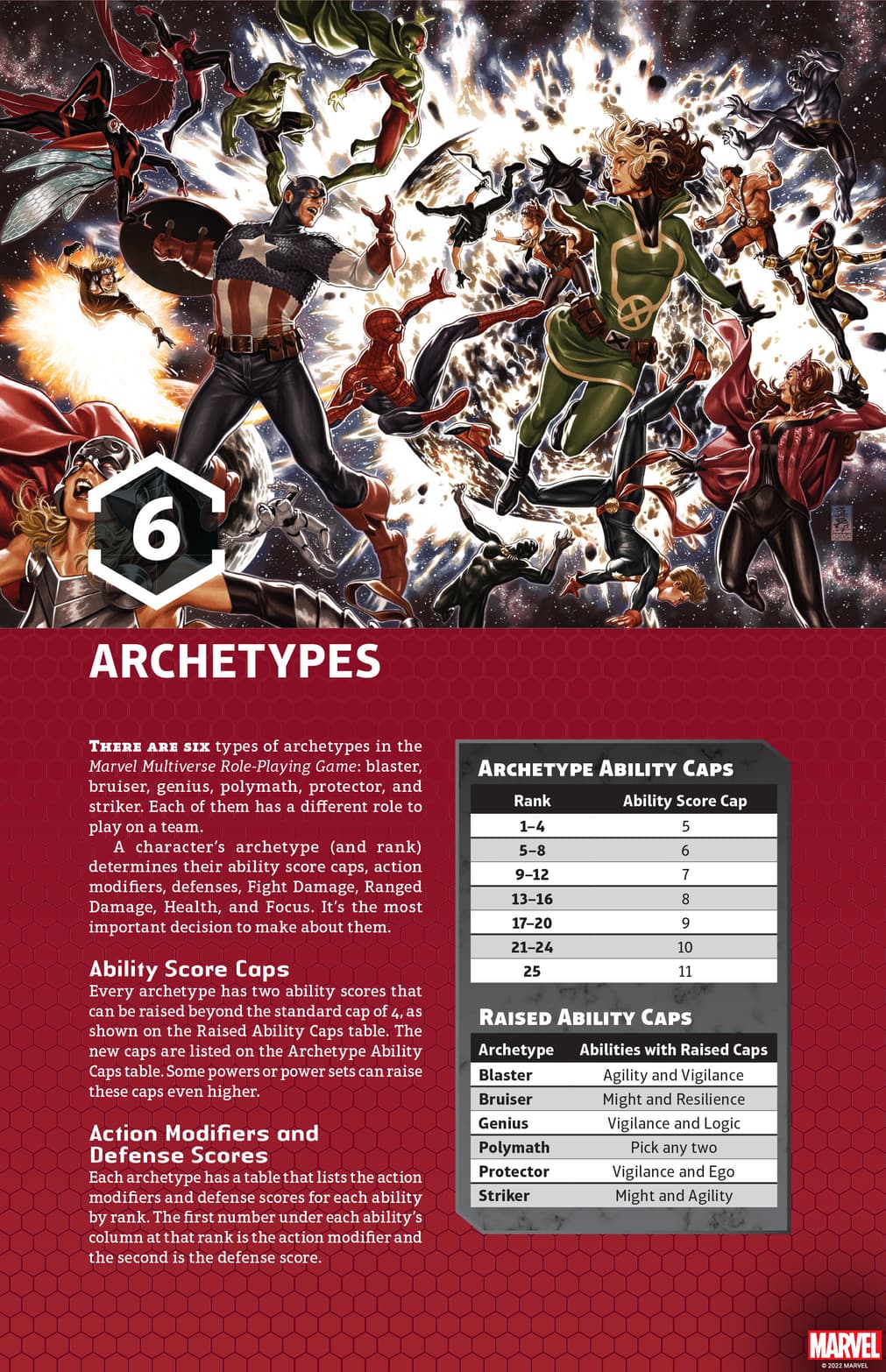 The archetypes are not the only factor in determining their ability score caps, as rank also comes into play. Choose carefully to determine other important stats such as action modifiers, defenses, Fight Damage, Ranged Damage, Health and Focus. Not only that, some powers or power sets can raise these caps higher, so knowing the potential of each archetype can play a crucial part later in the game.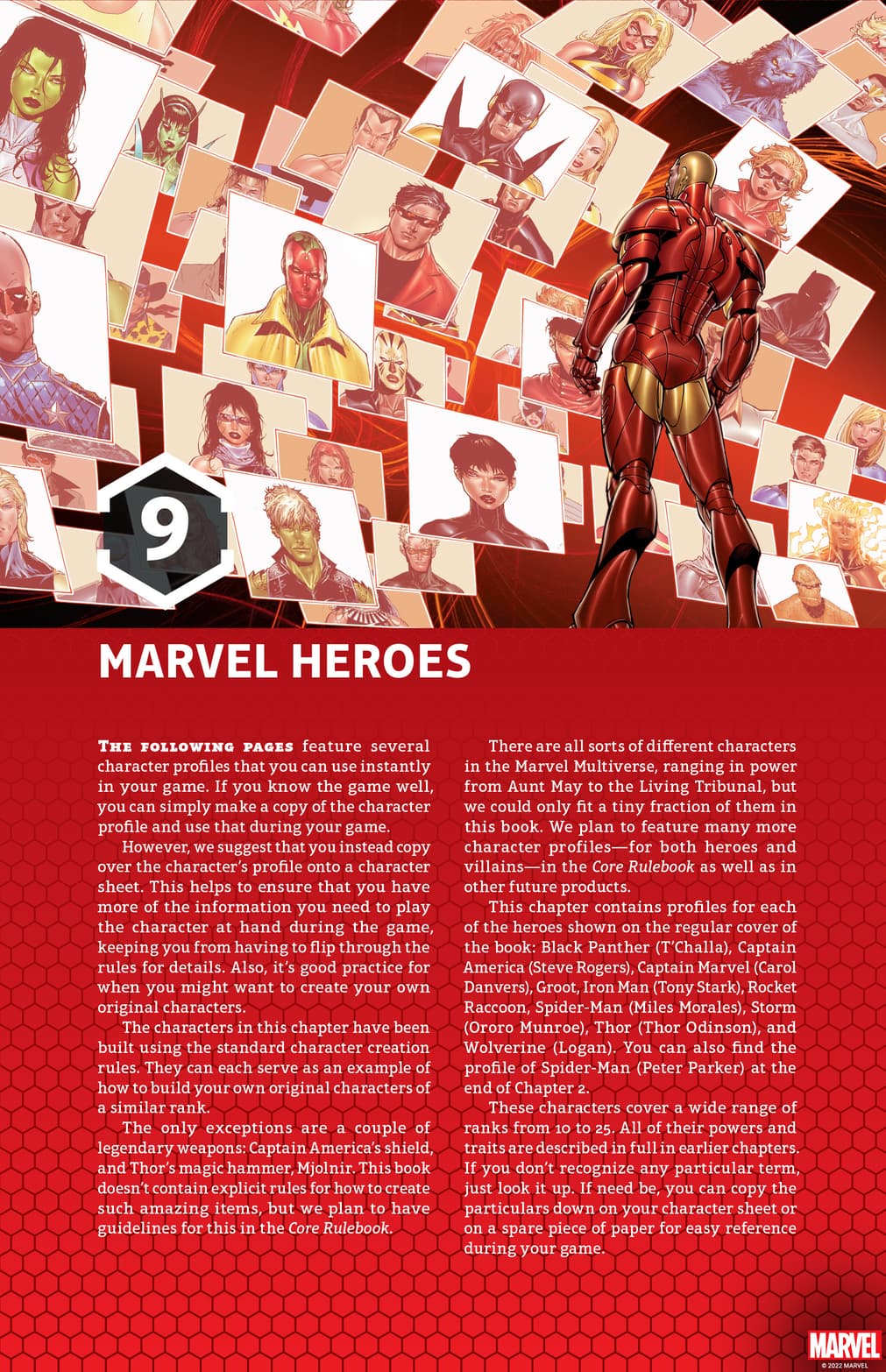 The PLAYTEST RULEBOOK provides everything you need to get started, including several character profiles to use instantly in your game. Find profiles of some of the most powerful Marvel heroes, including Black Panther (T'Challa), Captain America (Steve Rogers), Captain Marvel (Carol Danvers), Groot, Iron Man (Tony Stark), Rocket, Spider-Man (Miles Morales), Storm (Ororo Munroe), Thor (Thor Odinson), Wolverine (Logan) and Spider-Man (Peter Parker). These characters cover a wide range of ranks from 10 to 25.
Sound familiar? You can also find these characters on the cover of the PLAYTEST RULEBOOK!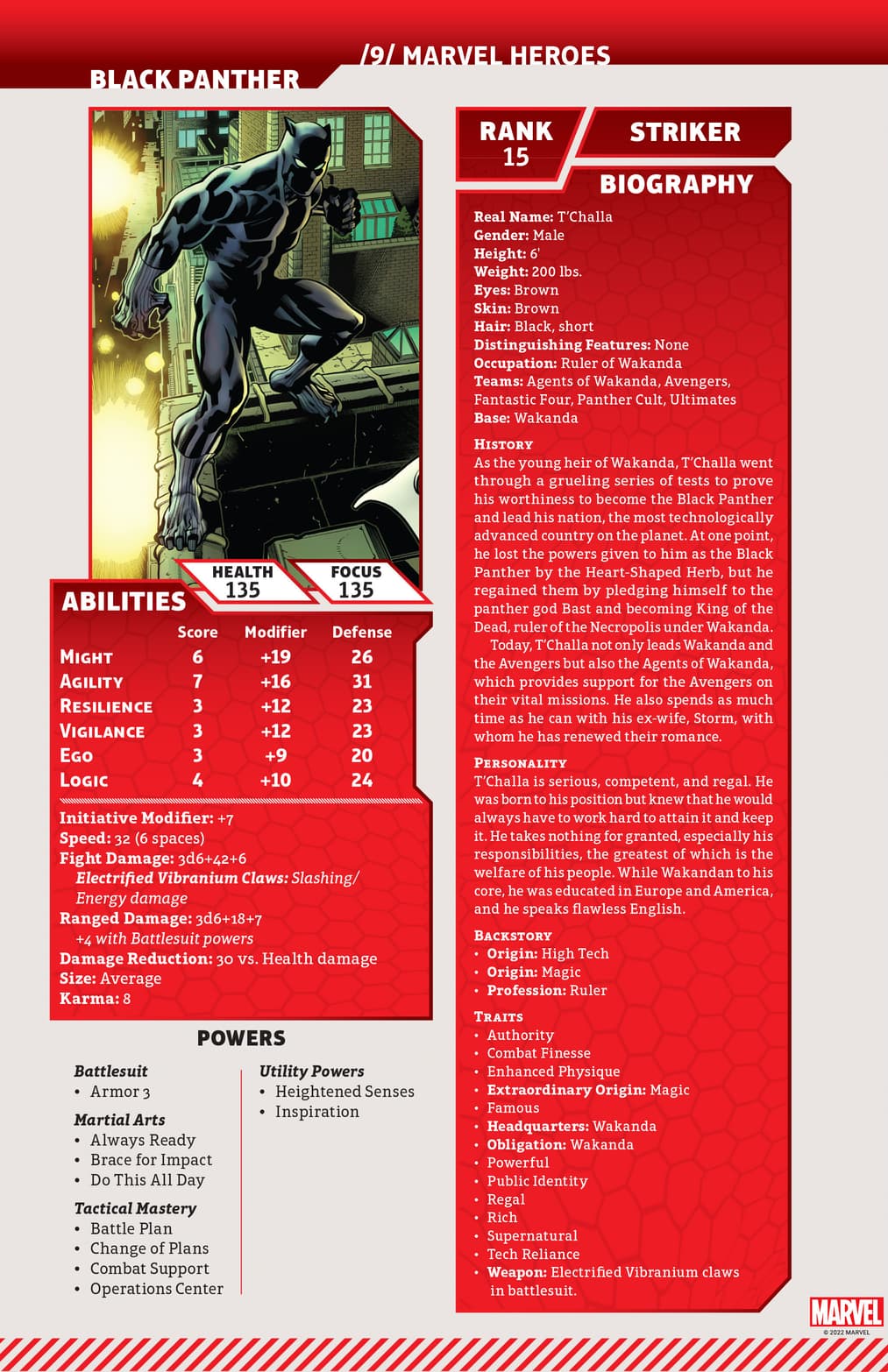 Find everything you need and more to get your game started, including blank character sheets to either copy character profiles or to fill in on your own. When in doubt, the PLAYTEST RULEBOOK will help navigate the game and provide plenty of examples to take inspiration from!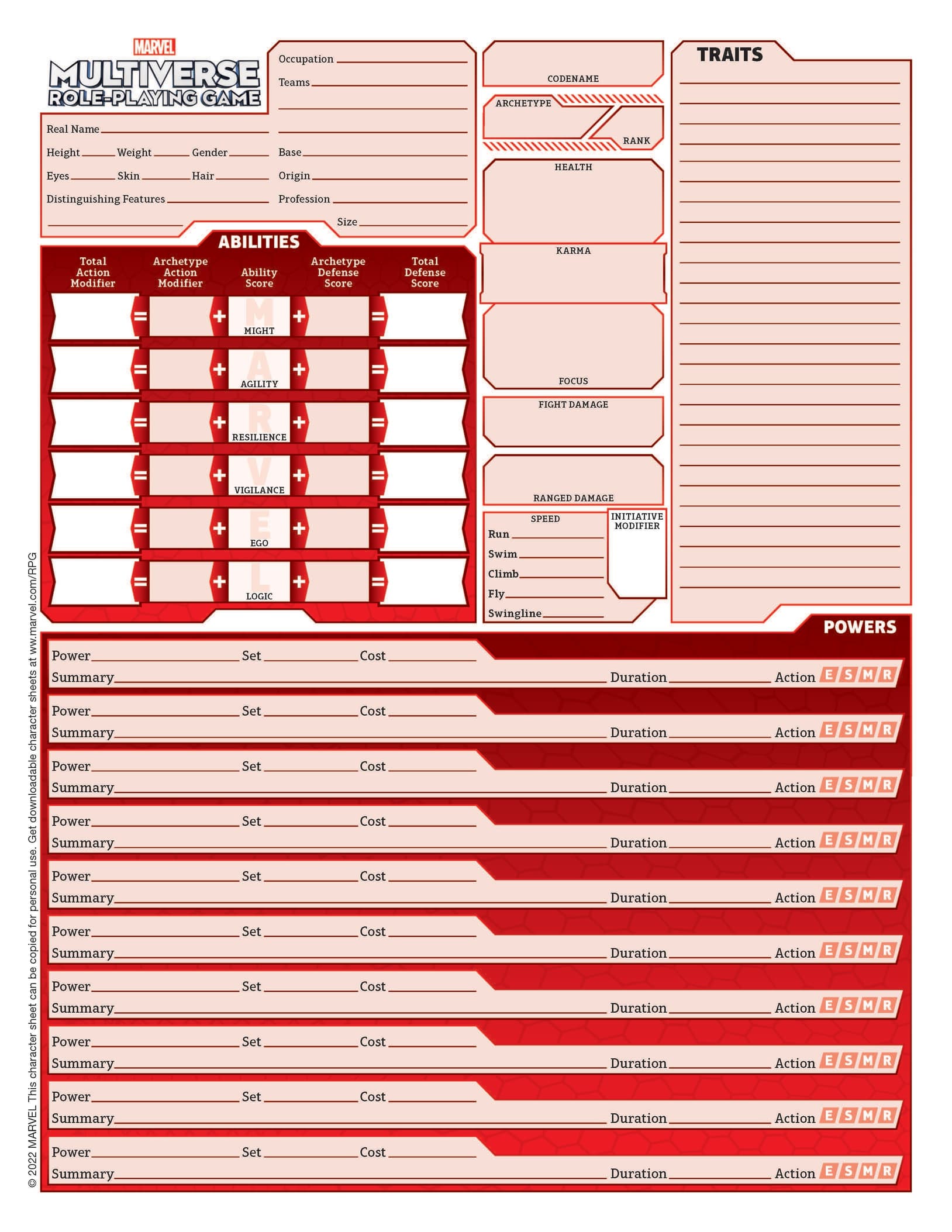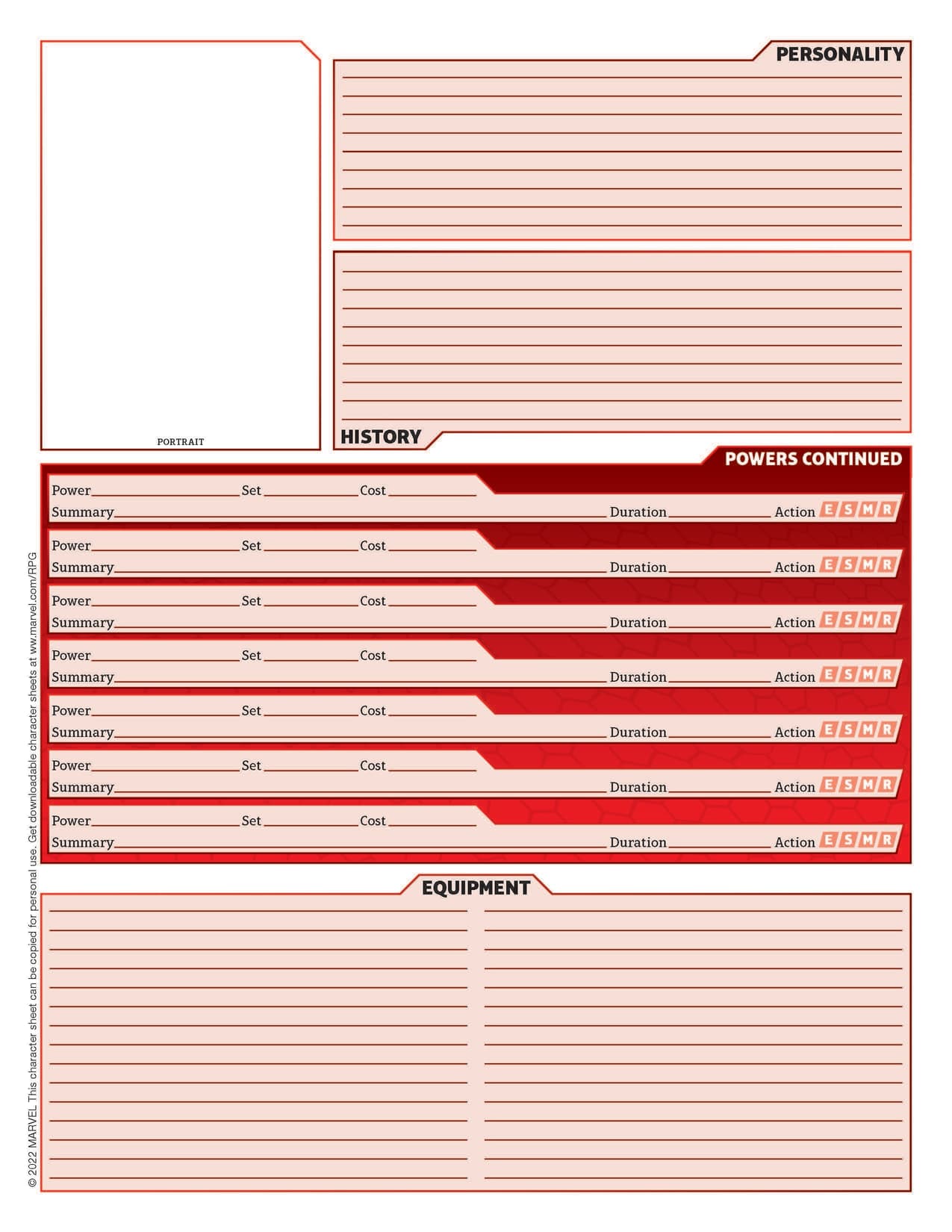 The Hype Box
Can't-miss news and updates from across the Marvel Universe!