Movies
Published October 2, 2018
BONUS: Paul Rudd Dishes When He Knew About Thanos' Finger Snap And Four Other Facts
The star stops by Marvel HQ to talk all things 'Ant-Man and The Wasp,' now available on Digital today!
Editor's Note: If you haven't seen Marvel Studios "Ant-Man and The Wasp," this article contains spoilers.
There have been very few people who were let in on the secrecy of Thanos' finger snap in Marvel Studios' "Avengers: Infinity War." As one of the architects behind the "Ant-Man and The Wasp" script, star and writer Paul Rudd was one of those invited to the secret club.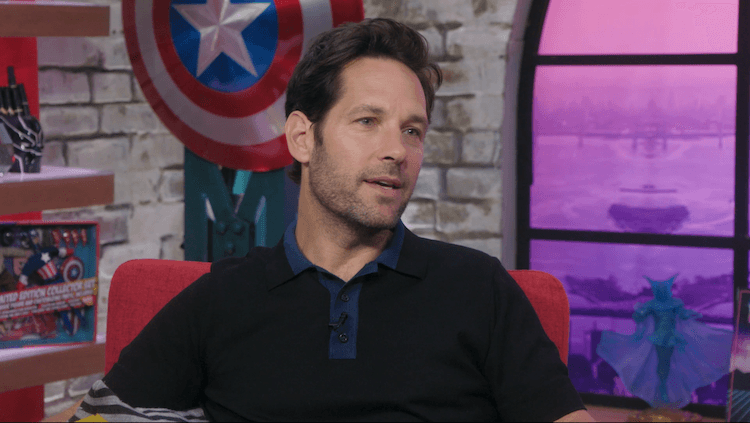 Paul Rudd, Ant-Man himself, stops by Marvel HQ to dish with host Lorraine Cink which anthill he was on when he learned about the outcome of "Avengers: Infinity War" and how it factored into "Ant-Man and The Wasp" final moments, and four other tidbits on this week's Earth's Mightiest Show bonus. Get the scoop below and be sure to snag "Ant-Man and The Wasp," now available on Digital HD in 4K Ultra HD and coming to Blu-ray on October 16.
One

. The Infamous Thanos finger snap.
The actor shared he knew the outcome of "Avengers: Infinity War" early on so he, as one of the writers of the script, could map out how the finger snapped factored into the last scene of "Ant-Man and The Wasp."
How does it feel to be part of a tiny club of those in the know, and how well is he at keeping that knowledge safe? "I feel like I'm being led in on some government secret," revealed Rudd. "It's a strange sensation to know these things, and know very few people in the world know this." And how great is the star compared to his character Scott Lang at spilling the beans? "I'm pretty good at keeping it secret," said Rudd on his curious buddies. "I don't say a word."
Two

. On working with The Wasp.
Evangeline Lilly stars as Hope Van Dyne/The Wasp, finally claiming her mother's mantle in the film. What does Rudd think of his co-star? "[Evangeline] is so fun to work with," shared Rudd. "I enjoy her company. She's perfect for the role, and it was really fun to get to play these two parts and have them be the duo they've always been."
 
Three. On his four roles in "Ant-Man and The Wasp" and the greatest musical that there ever was.
Paul Rudd had to master four distinct roles—Scott Lang, Ant-Man, Giant Man and Janet Van Dyne. What was his process like, especially when it came to the role of Janet? "I brought my own Janet," shared Rudd. "I didn't want to ask Michelle Pffeifer because that would have made me very uncomfortable to just say, 'Would it be okay if I study you? Can I shadow you for a while?'"
Can we also stop and admire Rudd's appreciation of the greatest musical that ever existed (according to this editor), "Grease 2," Stephanie Zinone, and "Cool Rider"?!
 
Four. On the tech coming out of Pym Technologies and brushing up on the quantum realm.
"I find all that stuff fascinating," shared Rudd on how he prepped for the role. "I've talked with several people who know a lot about quantum mechanics.
As for Ant-Man's favorite piece of tech? "For me, the coolest stuff, certainly all of the tech and everything we had in the lab is the practical lo-fi tech that has been enlarged to serve a purpose….My favorite thing that is not really tech, but is my favorite thing in the movie was that a lot of the cables in the lab were held together by giant bread ties."
 
Five

. On bloopers.
Lastly, what bloopers does he hope make it into the home release of "Ant-Man and The Wasp"? Rudd revealed a lot of time he doesn't know which scene or moment makes it into the film and what gets cut. What stands out? "A lot of times it involves me laughing because I can't keep it together," said Rudd. Find out which bloopers makes it in the extras today when you grab "Ant-Man and The Wasp" on Digital today!
Reserve your copy in your preferred format!
Follow @AntMan on Twitter and like Ant-Man on Facebook for the latest on "Ant-Man and The Wasp," and as always keep your eyes peeled to Marvel.com!
The Hype Box
Can't-miss news and updates from across the Marvel Universe!