Movies
Published June 28, 2022
The Many Faces of 'Doctor Strange in the Multiverse of Madness,' Explained
'Doctor Strange in the Multiverse of Madness' Visual Development Supervisor Ian Joyner explains the costuming choices for Defender Strange, Sinister Strange, and more.
In the grand calculus of the Multiverse, there exists an undefinable number of Stephen Stranges. With just over two hours to spare, though, Marvel Studios' Doctor Strange in the Multiverse of Madness only had time to introduce us to a handful of these Stranges, in addition to the Good Doctor we know and love from his previous Marvel Cinematic Universe appearances. To celebrate the film's release on Disney+, Visual Development Supervisor Ian Joyner broke down the elements that made each version of Doctor Strange so unique, yet so very familiar.
"So beginning to develop the different looks for Doctor Strange was a really interesting challenge. We got to see, 'What does he look like when ego is run amok? What does he look like when the dark power has taken over?' All the way to, 'What does he look like as a shambling corpse?' We were very lucky and very blessed that we have years and years of comic books to go back to," Joyner explains in the behind-the-scenes featurette below. "So we're all able to go and see which looks we thought were the strongest, which looks were the most interesting, and pull from that and infuse some of the design work that was done in the first film and make sure that it all kind of gelled together and felt cohesive, yet unique and interesting in its own way."
"With Defender Strange, some of the biggest asks were to make sure that this character felt like a brand new version of Doctor Strange, so we knew we had to avoid a lot of the things that have become iconic about the character, yet still instantly recognize him as Doctor Strange," he recalled. "Again, we were lucky because we had years and years of comic book reference. We knew we wanted to lean into the swashbuckling aspect of the character, things like removing the cape and making sure that he had a lot of mobility was important, but still having some of that secondary motion, like the sashes and things like that."
"One of the other iteration points was, 'Does every Strange have an Eye of Agamotto?' We explored yes, no, different takes – would there be different realities that had different versions of the Eye? – ultimately deciding that it made the most sense for just our Hero Strange to be the one who carried the Eye," he added.
"In developing Sinister Strange, we knew he had to be as recognizable as our Hero Strange as possible, but with an edge. So taking the initial costume designed by Carlo Ortiz and adding a little bit of a dark, sinister edge to it was a really interesting and fun challenge," he continued. "The simplest thing to do was to sharpen lines, to add more texture, to add more weathering. We also added a kind of leather backing on top of the shoulders to add a little bit more of an imposing stance on him."
"While we kept developing him, the idea came up for the third eye to come out. The question was, 'How organic do we go?' So we developed everything from kind of a bulging area in the area that would be instantly noticeable all the way to it just magically appearing. What ultimately seemed to be the best way to go is that you wouldn't really notice it until it pops open and gives a nice scare," he said.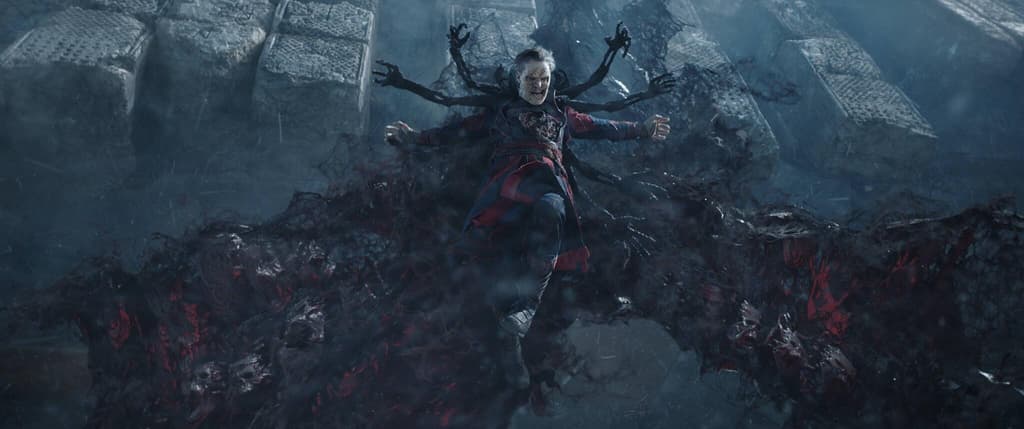 On the topic of scares, Joyner shared his excitement to work on Dead Strange, the zombified version of Strange from another universe: "When you're working on a Sami Raimi film, you have to hope at one point you get to make some form of zombie. One of the really fun parts about making Dead Strange was, 'How do we show that this gruesome character can be scary? How can we show this gruesome character can also be heroic?' So we did a lot of iterations, everything from missing eyeballs to clouded-over eyeballs to parts of his jaw being missing – all sorts of horrific things. Ultimately, we knew we still needed him to be relatable and somewhat heroic in the end."
According to Joyner, this naturally led to the creation of Dead Strange's spooky cloak, which the character pulled together by harnessing the power of dozens of supernatural creatures. "While we were developing the look of the shadowy beings that were pulling Strange back to the realm of the dead, a fun idea came up that not only would these things happen, but that Doctor Strange would be able to control them. What is a Doctor Strange without Cloak, right?" he pointed out. "So to then use those things and turn [them] into this crazy, demonic monster Cloak was such a fun challenge to undertake."
Joyner also broke down the updates made to Hero Strange's familiar costume. "One of the key design elements of Doctor Strange is avoiding the typical Super Hero look. You don't want him to just feel like he's wearing tights when he's fighting or conjuring or doing whatever he needs to do. The look of the core Strange is very similar to the last time we saw him, but as you start to look a little closer, the suit fits a little tighter," he pointed out. "He's a little bit more heroic in proportion, everything down to the way that the Eye of Agamotto is sitting a little bit higher, which we kind of pulled in to be a little bit of a reference to the comic book look."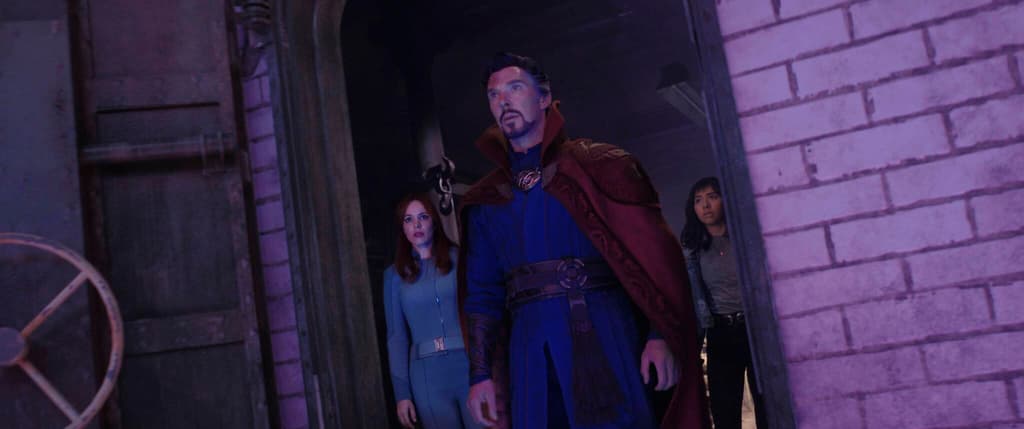 Strange isn't the only character who got a makeover. Due to events in the film, Strange's Cloak of Levitation was also in need of a touch up. "The Cloak is such an important character in the Doctor Strange mythos, and when Cloak gets damaged, it's heart-wrenching. This is a character we've known for years and years now. One of the thoughts was to look at what the Strange of that universe would have and bring that into the design of how to patch Cloak up and get him battle ready again. So pulling in that blue patch is almost a little memory and a little memento of some of the adventures he was going on," Joyner explained.
As to what he hopes audiences take away from these different versions of Strange, Joyner concluded, "I hope audiences react to these different Doctor Stranges the way that I felt when we got to start working on them: excited to see how different they all are, and yet interested to see how similar they could be. To take one too far would be to break the character, but to push him just to the edge of something new was something that was really, really exciting to work on."
To meet the Doctor Stranges of the Multiverse, check out Marvel Studios' Doctor Strange in the Multiverse of Madness, now streaming on Disney+!
Doctor Strange in the Multiverse of Madness is now streaming exclusively on Disney+.
Make sure to follow @DrStrange on Twitter and @DoctorStrangeOfficial on Instagram, and like "Doctor Strange" on Facebook for all the latest news and updates.
Stay tuned to Marvel.com for more details and sign up for Disney+ and start streaming now! And be sure to follow Disney+ on Facebook, Twitter, and Instagram for more.
The Hype Box
Can't-miss news and updates from across the Marvel Universe!