Movies
Published May 4, 2023
'Guardians of the Galaxy Vol. 3': The Cast Reflects on Being a Real Family Behind-the-Scenes
"We truly do feel like a family offscreen. I know everyone says that, but we genuinely have that."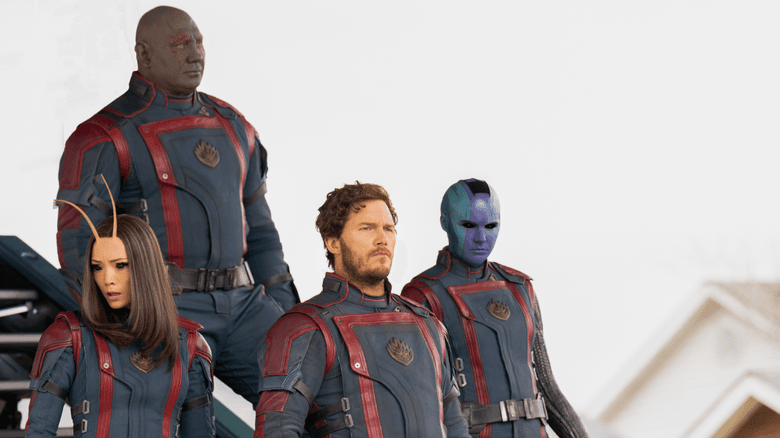 One of the major themes in the Guardians of the Galaxy films is the idea of a "found family" — a group of people who aren't necessarily related coming together as one unit, in this case, to save the galaxy multiple times. While viewers see this play out over the course of three movies (and two Avengers films, an outing with Thor, and one holiday special), it's been happening in real life behind the scenes, too. Over the course of the last decade, the Guardians of the Galaxy cast and crew have truly become a family, eager to talk about just how special every moment together has been.
"We truly do feel like a family offscreen. I know everyone says that, but we genuinely have that," Karen Gillan explains to Marvel.com. "I feel so grateful because stepping into these films can be somewhat intimidating … and yet James Gunn really made the experience way less scary and brought us all together. We've been through a lot now, and we've gone through some bonding experiences. It's lovely to have that sense of family throughout all of this." 
Returning writer and director Gunn is incredibly proud of the cast and crew he's assembled for the films, noting that everyone is, through and through, a good person. But if he had to signal out one person, it's star Chris Pratt, who's become "such a good friend" to Gunn over the years and helped foster and create the energy and positivity on set.
"If the director and the number one on the cast sheet are kind to the crew, then everybody has to be kind," Gunn continues. "He set a good tone from the beginning of this series."
Pratt himself views the whole experience as something akin to a "summer camp vibe" where after each movie was done and over with, the cast and crew "vowed to send a letter every day and to text every day, to call every day." Noting that everyone still leads very busy lives, and it can be hard to stay in touch all day, every day, once back on set everyone just "picked right up where you left off."
"I've been through enough of these things to know that some friendships will endure, and you will have that bond forever," Pratt continues. "I have people in this, on the cast and the crew, that I will talk to all the time. I feel very strongly about that."
There's also a real family connection in the film, as Gunn's younger brother, Sean, has been part of the group since the very beginning, playing Ravager Kraglin on-screen and doing the motion capture for Rocket behind-the-scenes. The younger Gunn jokes that he's not found family, because "[James] is older so I found him, I guess, in the cosmic scheme of things."
"To be able to share [the experience] with my brother makes it one of a kind," Sean muses. "I'll work with him again, and I'll work with everyone else again, but there's something about [the Guardians movies] that I'm not going to ever try to recreate this. This will be its own thing in my life forever."
Over the span of half a dozen projects together, the Guardians crew has picked up additional members along the way, welcoming in everyone — whether they were playing friend or foe — with open arms. When Pom Klementieff joined for Guardians of the Galaxy Vol. 2, she was nervous to insert herself into an already established ensemble. But, "Everyone was so nice and so welcoming, and they welcomed me as a new member of the family, and had such a blast working with them," she adds. "We did the same with the newcomers, with Will, with Chuk, with Maria. It's such a great atmosphere."
These newcomers — Will Poulter, Chukwudi Iwuji, and Maria Bakalova — make their grand entrance in Vol 3, (though Bakalova's Cosmo appeared in The Guardians of the Galaxy Holiday Special) and coming into the mix made all of them a little nervous. Would the rest of the cast take to them as well? Poulter jokes that he had "that new kid at school feeling."
"The way that they extend themselves to other people like me who are newbies coming in is so welcomed and appreciated," Poulter recalls. "The way that they behave and were towards me really made it a lovely experience and I'm super grateful for that."
Iwuji notes that the welcoming atmosphere made him want to come to work every single day, and upon arriving on set, the rest of the cast was "genuinely happy to meet me, because they'd been speaking to James about me."
"It's true all you hear about the group of people he surrounds himself with, because he could have anyone," he continues. "He's such a wonderful talent that anyone would want to work with him. He specifically wants to work with people that are good people that he likes — it bleeds not just from him, but the cast to the crew and everything."
Though it might be everyone's first movie together now, you'd never know because as Bakalova adds, everyone made her feel like she belonged there.
"I have to say that I've never had such an incredible experience having extremely warm, welcoming, and feeling like I'm already there, I'm already a family with them, even the fact that I'm just the newest puppy on set," she laughs. "Every single one of them, I have to say that has made me feel safe, and home, and like I belong there, and like they're my family. I'm just mind blown by their graciousness for real.
Even Nathan Fillion, who has been friends with Gunn for decades, is impressed by how welcoming everyone was for him on set. "[James] likes to work with people he enjoys. It's fantastic. Sometimes he calls you and says, let's go to Aspen. And sometimes he calls you and says, let's go to sushi. And sometimes he calls you and says, let's go make Guardians of the Galaxy Vol. 3."
Save the galaxy (again, for the third time). Guardians of the Galaxy Vol. 3 is in theaters on May 5, 2023. Get your tickets today!
The Hype Box
Can't-miss news and updates from across the Marvel Universe!