Movies
Published September 16, 2020
A Look Back at One of Tony Stark's Formidable Antagonists – Justin Hammer
He's like if Tony Stark used his powers for evil.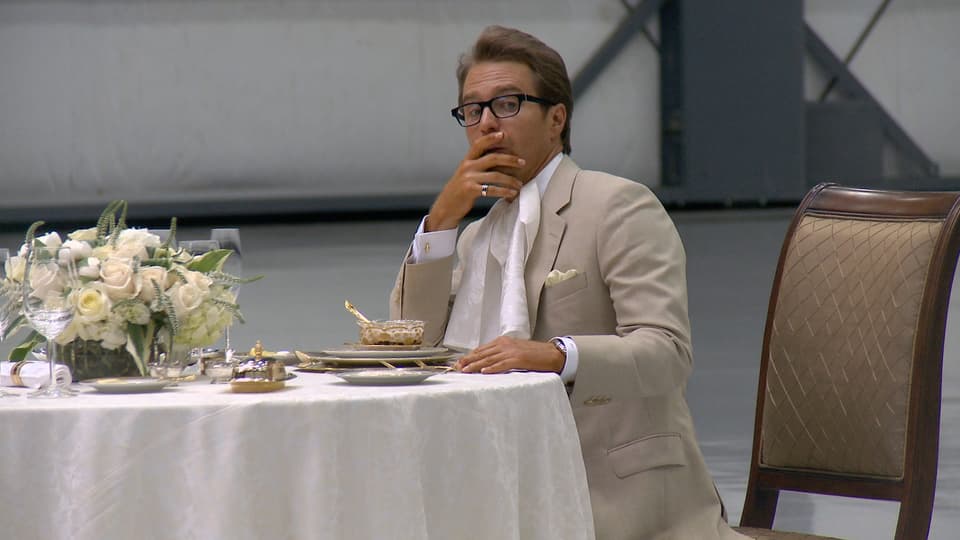 Need a genius, billionaire, philanthropist who can also dance? You're not looking for Tony Stark here, but rather Justin Hammer. As the antagonist in Marvel Studios' Iron Man 2, he's not trying to save the world with his weaponry (and his dance movies), but rather fill his pockets with cash.
And this is just one of the many, many reasons Hammer butts heads with Tony Stark. He is just like Stark in so many ways, and the complete opposite of Tony in so many others. These men both have big names to carry and an affinity to splashy presentations, but Tony is able to convince you that he's worth the money, while Hammer, on the other hand, is going to razzle-dazzle you and hope you don't see through his lies.
We first meet Hammer at the beginning of Iron Man 2, when Tony is summoned to speak before Congress regarding his Iron Man suit. Hammer is called to be a "weapons expert," and repeatedly called Stark, "Anthony" — two things that really rub Tony Stark the wrong way. It's not long before Stark has hijacked the hearing to show off some videos of Hammer in not the best light — like how Hammer's Advanced Weapons System is trying to build their own unsanctioned suit of armor with disastrous results.
Things take a turn after a race in Monaco. When Stark is attacked by Ivan Vanko (aka Whiplash), Hammer sees an opportunity to get even. After breaking Vanko out of prison, and literally wining and dining him, Hammer suggests a partnership between the two men to take Stark down. What could go wrong?
For Hammer, absolutely everything. You'd think a man who eats dessert first on purpose, would know not to go up against Tony Stark. But the thing about Hammer is that he thinks he can win. And in addition to that, he thinks he can win using some of Tony's own ideas against him, in terms of his fleet of iron suits.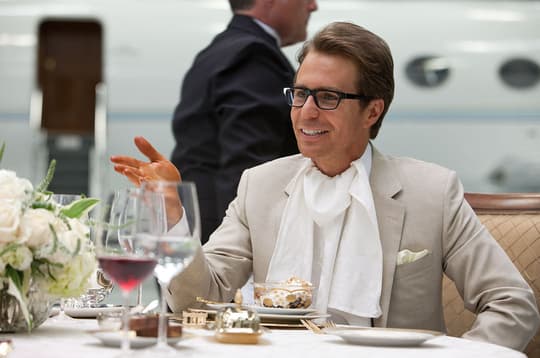 What sets Hammer apart from all of Stark's other foes is that he doesn't have any sort of superhuman ability or magical relics. We're used to watching Stark go up against antagonists while he's in the Iron Man Suit but with Hammer, that's different. Hammer is just a guy in an expensive three-piece suit with wits and smarts to spare, making him a great match for Stark.
Think of what could happen if these two men worked together! But instead, they're going to squabble, trying to see who has the biggest, best, most-powerful piece of machinery.
Hammer uses Stark's own tips and tricks — and his fondness of big guns — to woo James "Rhodey" Rhodes, and the U.S. Military, away from Stark Industries as a supplier. It works; and adding insult to injury for Stark, it sure does look like Hammer's Advanced Weapons System is about to become a much bigger problem for everyone. 
But don't worry, it's not long before Hammer's own hubris causes everything to come crashing down. In the end, it's shown to the whole world (after a disastrous presentation at Stark Expo, dance moves aside) that he's really no match for Tony Stark. Or Pepper Potts, for that matter, as she's the one who ultimately has him arrested.
Stark might have only faced off against Hammer once, but he's a villain who leaves a lasting impression for what he did do. In the end, there's only enough room for one billionaire with a big personality, and that spot is reserved for Tony Stark.
Want to relive Justin Hammer's sweet dance moves again and again? Find Marvel Studios' Iron Man 2 and more of Tony Stark's adventures on Disney+ now!
Looking for more Marvel movies and shows to stream? Check out everything on Disney+, Hulu, and ESPN+ right here, and where to find all your favorite Super Heroes right here. 
Disney+ offers subscribers high-quality and commercial-free viewing, up to four concurrent streams, unlimited downloads on up to ten devices, personalized recommendations, and the ability to set up to seven different profiles. Additionally, parents have the ability to set Kids Profiles that create an easy-to-navigate interface to access age-appropriate content.
The Disney Bundle gives TV lovers the opportunity to enjoy all the stories they love and the entertainment they want from Disney+, Hulu, and ESPN+ for $12.99.
Sign up for Disney+ and start streaming now! And be sure to follow Disney+ on Facebook, Twitter, and Instagram for more.
The Hype Box
Can't-miss news and updates from across the Marvel Universe!