Movies
Published May 5, 2023
Maria Bakalova on Playing the Galaxy's Best Dog in 'Guardians of the Galaxy Vol. 3'
Good dog.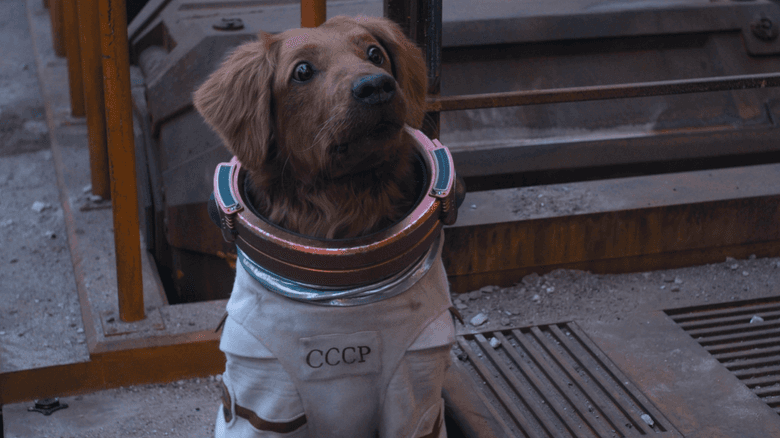 It's about time the Guardians of the Galaxy got a dog, and they've got a good one in Cosmo. Though the pup wasn't always intent on saving the galaxy — she was blasted into space from Earth and kinda forgotten about, until she was scooped up by The Collector and added to his collection — now it's something she does best, having officially and formally joined the ranks alongside the other cosmic heroes.
But just who could join the cast and play a perfect little pupper for Marvel Studios' Guardians of the Galaxy Vol. 3? According to returning writer and director James Gunn, they did a very wide search for someone to take on Cosmo before landing on Oscar-nominated Maria Bakalova. Gunn couldn't be happier with the outcome, noting that the actress has a "dog-like quality about her" — and that's a good thing.
"Maria is such a loving human being, and she wears her heart on her sleeve completely," Gunn explains to Marvel.com. "Everything that comes out of Maria's mouth is 100% authentic. She does not censor herself, and she's just this really loving human being. She reminds me of a dog in that respect- she's just very much present, very much there, and is just a lot of fun to be around because she is like a puppy."
Bakalova jokes that she always thought of herself more cat-like because cats are so independent. But she's taking it as "a huge compliment" that her dog-like qualities are now showing.
"I love smiling, and jumping around, and having this excitement in my eyes, in my heart, and everything. So yeah, I might be more of a dog," she laughs. "I think we all should learn lots of things from them because they have this unconditional love that can only teach us to love more, and to believe more, and to hope more."
For the film, Bakalova not only stepped in to do Cosmo's voice but also provided the motion-capture reference for the character on set. Just off-set there was a dog named Slate also used for reference — and playtime. 
"Seeing [Slate] helped a lot because you see what his behavior is, because that's a trained dog," Bakalova says. "At the same time when Slate saw people, he started wanting to play and wanted to enjoy it. It's interesting, you remember why it's important to have the energy so high up, because even me right now, I'm beyond excited. But I'm trying to be concentrated and slow down little."
When not filming (or playing with Slate), Bakalova got a crash course in filmmaking. She spent just about all her downtime on set shadowing Gunn, learning the ins and outs of moviemaking first hand. "Being around him and seeing how he is creating the magic, it's revealing lots of secrets to me," She adds.
Calling the experience the "biggest school" she could attend for filmmaking made her excited for the future. "How he actually came up with these ideas with the way that he's working, the drawings that he's doing, the directing, the ideas behind the scenes," She continues. "He's guiding you to improvise and do things that are not written, and he's leading you to open up and try."
Bakalova goes on to cite Gunn as one of the biggest influences in her life to date. "I have to say that I've been a lucky person because [he's] a unique type of human beings. I got a chance to learn a lot, I studied acting for 10 years before I came to the United States, but [James is someone who's] taught me the most in my life."
So, with the combination of Bakalova and a very good CGI dog, viewers get to see exactly what Cosmo is capable of in the latest outing with the Guardians of the Galaxy.
"One of the things I love about Cosmo is she has, in some ways, the intelligence of a human being, but she has all the emotionality of a dog," Gunn adds. "She loves everybody, is very excited about everything, is really stalwart and strong and sticks up for people."
"[Cosmo's] a hero," Bakalova states. "Let's be honest, they are all heroes. But she definitely has proven herself, and her loyalty, and her strength."
Save the galaxy, again. Guardians of the Galaxy Vol. 3 is now playing exclusively in theaters. Get tickets now! 
The Hype Box
Can't-miss news and updates from across the Marvel Universe!