Movies
Published February 13, 2018
Marvel Music and Hollywood Records Present Marvel Studios' 'Black Panther' Original Motion Picture Score Soundtrack
Original score, composed by Ludwig Göransson, available digitally on February 16.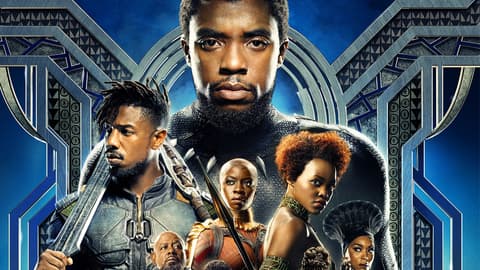 Marvel Music/Hollywood Records are releasing the digital album of the Black Panther score, composed by Grammy®-nominated composer and songwriter Ludwig Göransson, on February 16.
"Black Panther" marks Göransson's third collaboration with director Ryan Coogler ("Creed," "Fruitvale Station").  The Swedish-born composer wrote the original songs for "Creed" and has also produced albums for Childish Gambino, Haim, and Chance the Rapper.
Göransson recorded the score in London with a 132-piece western classical orchestra, African percussionists and a 40-person choir. Göransson said, "After reading Ryan's first draft of the script, I quickly realized that the only way I could properly score 'Black Panther' was to travel to Africa to record, research and learn from as many musicians I could find. I was introduced to Senegal's most incredible musicians and storytellers, and from there it all started to come together.  One of the instruments that especially caught my attention was the talking drum, which together with West African sabar drums and ceremonial rhythms, became the foundation for the score."
Göransson infused a wide array of African instrumentation into the score and character themes.  Speaking about the score's creation, Göransson notes: "The talking drum is used for T'Challa's main theme, with one hit per syllable of his name played on the drum.  For Erik Killmonger's theme, the name was sung and screamed into a fula flute to convey the "musical interpretation of the character's ferocity."   Sabar drums were used to "propel the story and to highlight both the country of Wakanda and T'Challa's movements, especially in his fight scenes."  Sabar drums are used in traditional African wrestling "making them perfect for the action scenes."
Göransson's biggest challenge was to blend a western classical orchestra and modern production with traditional African rhythms and harmonies.  He adds, "Together with Ryan Coogler, we worked out new ways of combining the three elements into something traditionally authentic and truly unique, that I hope embodies the heart and soul of Wakanda."
The "Black Panther" digital album is available for pre-order HERE.  The soundtrack can be streamed HERE .
Get your tickets now for "Black Panther" and stay tuned for even more royal action in the coming days!
"Black Panther" hits theaters February 16! While you await the King, follow @theblackpanther on Twitter and like Black Panther's official Facebook page!
The Hype Box
Can't-miss news and updates from across the Marvel Universe!