Movies
Published October 6, 2018
'Spider-Man: Into the Spider-Verse' Creators on Bringing Miles Morales to the Big Screen
The cast and creators debuted the first 35 minutes of the animated movie at New York Comic Con!
On the heels of the debut of the incredibly well-received new trailer this past week, attendees at today's New York Comic Con panel for Sony Pictures Animation's "Spider-Man: Into the Spider-Verse" got a big treat today, as the first 35 minutes of the film were shown! 
To divulge details of what happened would be venturing into spoiler territory -- and breaking the humorous vow Executive Producers Phil Lord and Chris Miller has the audience repeat to not give anything away – but the audience reacted with massive enthusiasm to what was shown, as we met an animated incarnation of Peter Parker and were introduced to Miles Morales and his life in Brooklyn. There were some notable Spider-Man villains glimpsed, incredibly endearing supporting characters, and lots of heartfelt and humorous moments, with aspects that Spider-Man fans of every generation will really appreciate. 
After the 35 minutes ended (with a tantalizing "To be continued…" on screen), the film's creators and cast sat down onstage, with Lord and Miller saying they knew they wanted to tell Miles Morales' story very early on, once they were approached about the film. Given movie audiences are familiar with Spider-Man's story from previous tellings, Lord said they decided, "Maybe we can use the fact that this story has been told a lot of times to our advantage, so the expectation is how can we make it differently."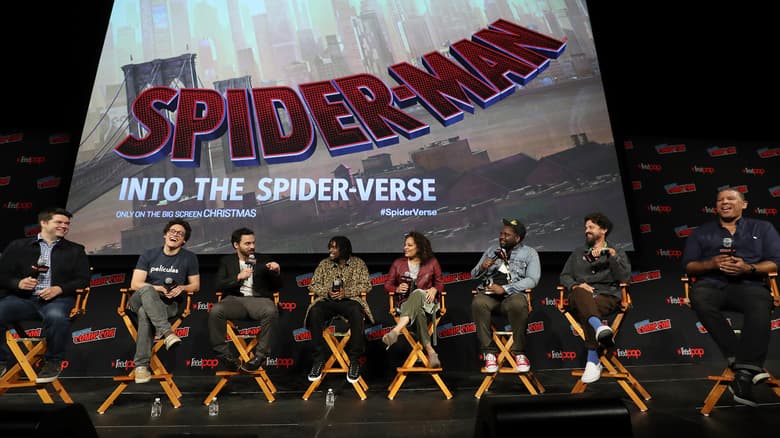 When it came to doing the first animated Spider-Man movie, Co-Director Bob Persichetti said, "This was our chance to lean into a medium that was just made for Spider-Man. How can we take advantage of this medium that has been expressive for so many years and tie it to the original source material, which is a comic book?" He said they decided to "Lean into flash frame and visuals that are reminiscent of drawings but figure out how to do it with a computer, which is its own giant task." 
Co-Director Peter Ramsey and Persichetti both said they wanted to really "Bring New York to life," as Ramsey put it. While Brooklyn is a big focus, they wanted to represent all five boroughs, with  Persichetti noting that when it came to "Into the Spider-Verse," "There's so many things that were born out of New York. Marvel, hip hop, graffiti… Miles!" 
Shameik Moore ("The Get Down"), who voices Miles, was incredibly excited to be portraying the character, noting, "When I was younger and I first saw Miles Morales I thought 'Dude, this is a black Spider-Man. I definitely want to play a black Spider-Man some day!'" In fact, Moore recalled that as he was wrapping up the movie "Dope," he actually wrote down,  "I want to be Spider-Man. I am Spider-Man. I am Miles Morales." Then, amazingly, "Two years later I got the opportunity!" 
Jake Johnson ("New Girl") noted that he was voicing a different take on Peter Parker than audiences usually get, saying this was, "Peter Parker at 40. Peter Parker who's a little chubby. Peter Parker who's a little depressed. And that's a new Peter Parker!" He described Peter's dynamic with Miles as "A little Mr. Miyagi," as he serves as a somewhat reluctant mentor. 
As for the other Spider characters glimpsed in the trailer, Lord and Miller said they would help provide Miles with different ideas on how you can live with these abilities and what you can do with them. 
Brian Tyree Henry and Luna Lauren Velez voice Miles' parents, Jefferson and Rio, and both were very happy about the representation their characters provided. Henry said that with most movies, "To see a black boy and his father, you don't really get to see that," and that it was important to him to show that Miles has a good upbringing. Velez agreed, also loving the bilingual aspect Rio brought to the story.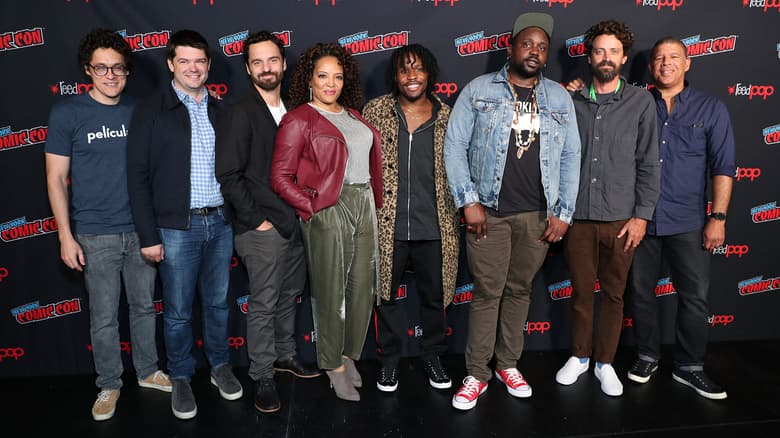 "Spider-Man: Into the Spider-Verse" took about three years to complete, but Ramsey remarked "That's crazy" as far as what they were working to accomplish in that time frame. He said they put a lot of "Blood, sweat and tears and anguish" into making it, "But a lot of love and a lot of passion."
Ramsey added, "The minute we knew this was the Miles Morales story, we knew we had to introduce a new Spider-Man who has to speak to people in a new way" and the intention was for audiences to "go on this journey with him and want to see him succeed, see the story though his eyes, and really let him live as a character." 
"Spider-Man: Into the Spider-Verse" opens December 14th, 2018.
The Hype Box
Can't-miss news and updates from across the Marvel Universe!