Movies
Published December 12, 2018
'Spider-Man: Into the Spider-Verse' Stars on Miles Morales and Peter Parker's Dynamic
Shameik Moore and Jake Johnson discuss playing two different versions of Spider-Man in the new animated movie, opening December 14th!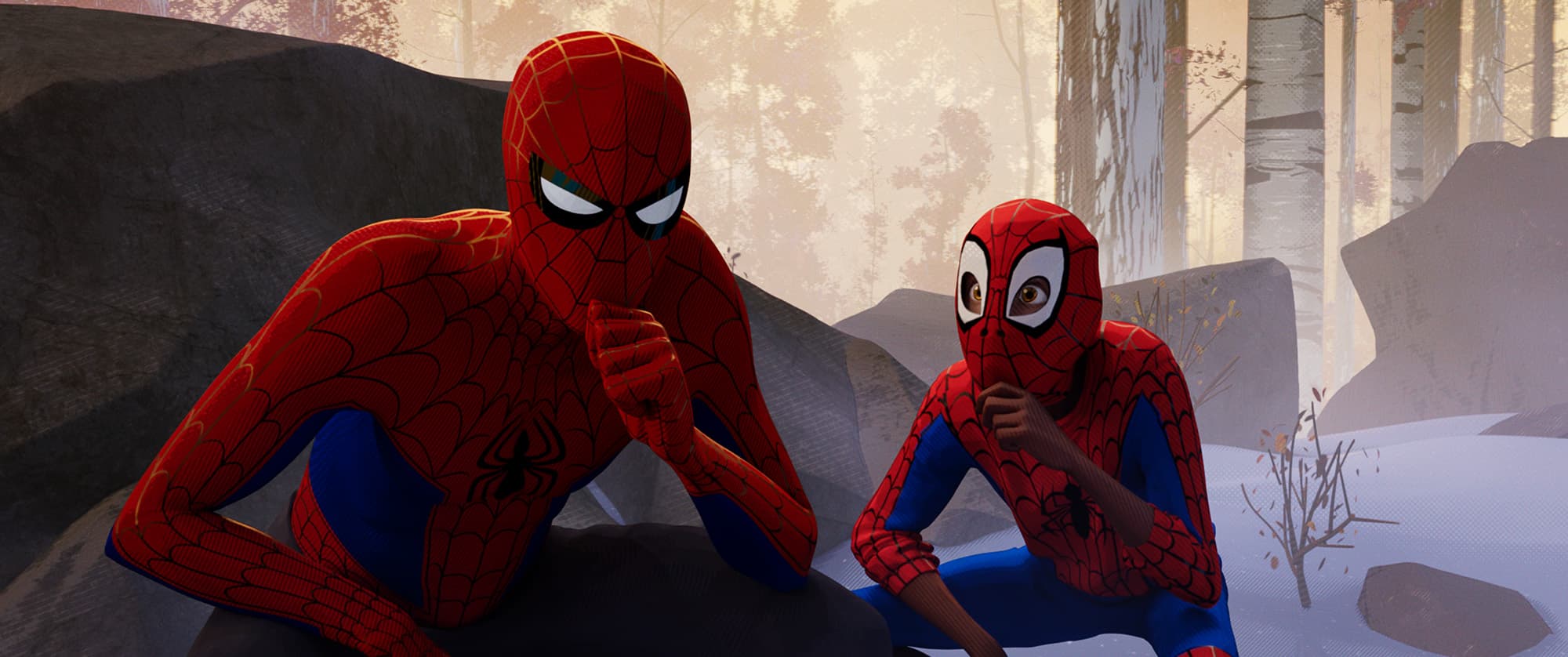 The select group of actors who have gotten the chance to portray Spider-Man expands this week with the release of the animated film "Spider-Man: Into the Spider-Verse," as we meet the young Miles Morales (voiced by Shameik Moore), alongside a version of Peter Parker who's been Spider-Man for 22 years (Jake Johnson), plus several other Spider-People from across the multiverse. 
Marvel.com sat down with Moore ("Dope," "The Get Down") and Johnson ("New Girl," "Jurassic World") to discuss what it was like getting to play Spider-Man in the new film from producers Phil Lord and Christopher Miller ("21 Jump Street," "The LEGO Movie"), what Miles and Peter make of each other, and more – including the rave reviews "Spider-Man: Into the Spider Verse" has gotten. 
Marvel.com: Shameik, you've told the story about writing in your journal years ago that you would be Spider-Man after you first were introduced to Miles Morales. So what was it like to actually have that become reality?
Shameik Moore: It's like affirmations, you know? Really, I'm just thankful on that side of things. I have a lot of friends that auditioned for this and I know there are a lot of people that would love this opportunity. I was chosen out of I don't know how many hundreds of people who sent in audition tapes. Maybe not that many people… but it was a lot, I'm sure! [Laughs] Just like there are a lot of people that live in Brooklyn, but Miles was the one bitten by that spider, I was bitten in the same way. 
Marvel.com: Jake, what was it like finding out about there was the possibility of you playing Spider-Man in this film? 
Jake Johnson: Honestly, I think what really makes this movie work, in my opinion, is Phil Lord and Chris Miller. Those guys are -- I don't want to say under-credited. They are credited! Everyone knows how brilliant they are. But when you work with them, you see they're brilliant. Even listening to Phil talk about the inspiration for this... Phil was at a museum and he saw artwork and thought ,"I wonder if we can make Spider-Man like that." That thought process is just smart. So truly, I was beyond excited. I got an email from Phil where he just said, "I'm writing an animated movie and there's a part I'm writing for you." Before I even knew it was Spider-Man, I would have run through a wall to be in a Phil Lord and Chris Miller project. I'm excited because I know the people on top are going to make it great. If a couple hacks called me and said, "We're making Spider-Man. Do you want to be in it?" I wouldn't be that excited because I don't want true fans like yourself to come in and go, "You just killed Peter Parker." I knew having them, it was going to make the true fans happy and I was like, "Wow, I not only get to play Peter Parker but I get to play their Peter Parker." It was a double whammy for me, for sure.
Shameik Moore: Would you really run through a wall?
Jake Johnson: Depends on the wall. I used to do construction. Dry wall I hung up? I'd run through that. I'm not running through concrete. 
Marvel.com: A key component with Spider-Man has always been his relatability. Shameik, portraying this version of Miles, how much did you connect with him? 
Shameik Moore: I'm a normal kid and I feel like I relate to Miles in a few ways. His parents are still in his life and they love each other and they love him. My family's like that. Miles is a creative soul. He likes to draw. I don't draw but I make music and I dance and I act so I can relate as far as wanting to express myself creatively. I made the comment about him being chosen by that spider out of everyone and I was chosen out of a lot of people. I feel like I relate to him in those ways and I bring that energy to the [recording] booth. I approach it like I literally am this person. I approach it no differently when I'm in front of the camera on "The Get Down" or in "Dope." I like to express different parts of myself that I don't do on the day to day. If it's time to be a bad guy and be rude -- I'm not a rude guy like that but I get to express that. But Miles Morales is connecting a lot to who I am as Shameik in my family life. I'm really like the kid who got sent to the Young Marines and the all-boys military school the way Miles got sent to that school, the uppity school. My mom would do everything for me. I'm where I am today because of my mom and it's the same thing with MIles. Long story short, I feel like I approach the character that way and honestly. 
Marvel.com: The movie takes our familiarity with Peter Parker and puts this twist on it. Jake, what was it like for you figuring out, "Okay, what would this guy be like after nearly a quarter of a century as Spider-Man?"
Jake Johnson: I think you nailed it by talking about what makes Spider-Man interesting. I know I'm quoting Phil a lot but we did an interview that nailed a lot in my head for me. With Spider-Man, everyone's welcome. He really is a regular guy from Queens who gets these superpowers who you can really relate to. So there's that real, regular guy we know from the comics and the movies as a teenager and in his early twenties. But what is that guy at 40? Peter, who is going through real break ups and real hard times, still has all the powers of Spider-Man because he is Spider-Man. But you get to see a very human and relatable version of that and as an actor that was just a joy to get to play in this Super Hero world but do it through a very realistic Peter.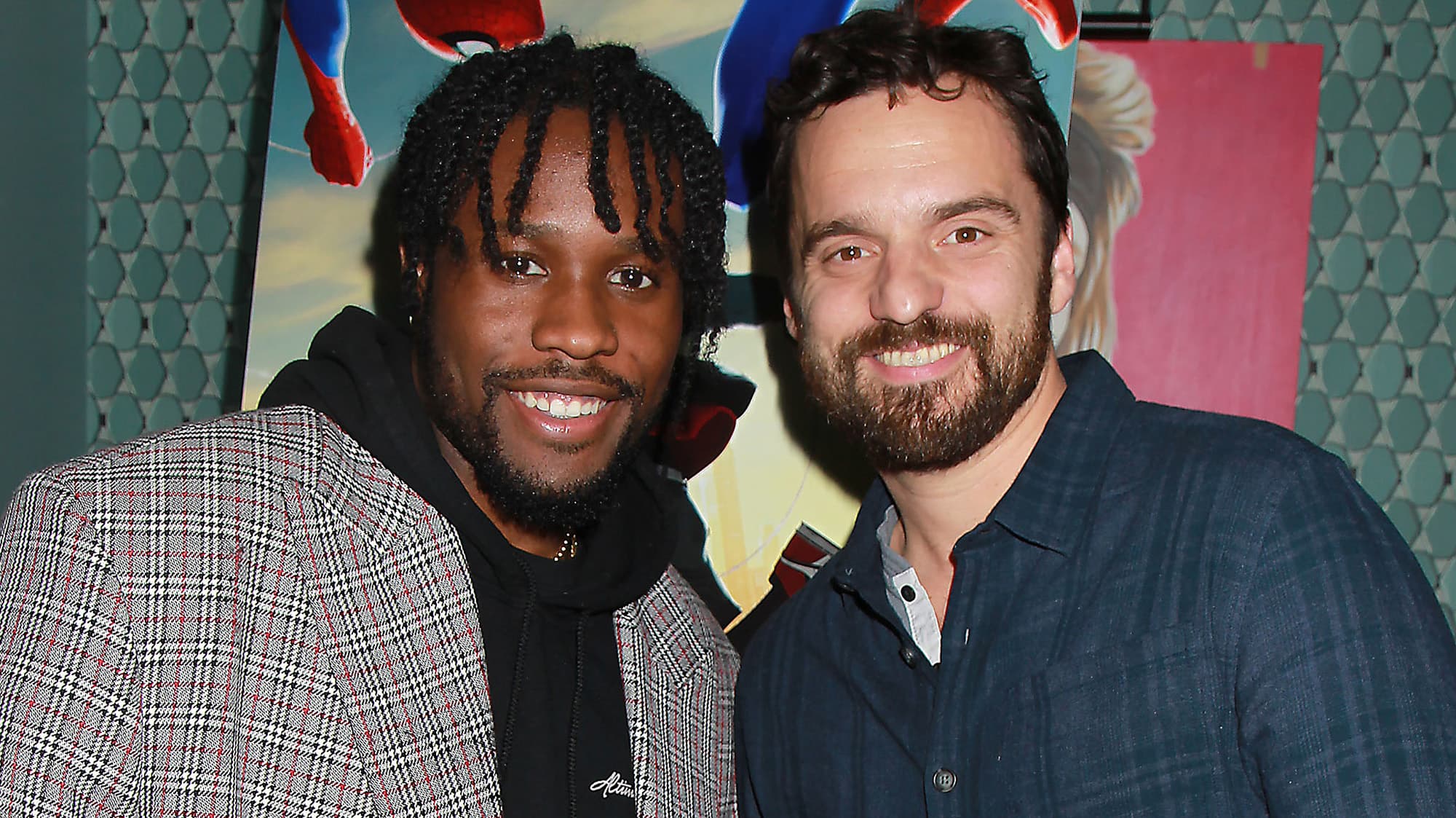 Marvel.com: A key component in the movie is the dynamic between Miles and Peter. When they first meet, how would you describe Peter's reaction to Miles? 
Jake Johnson: I think Peter sees a kid who's playing Spider-Man games and he's got a sense to him but he's not ready. And it's the same thing in our line of work – say if I'm acting with somebody and they don't know blocking yet. And you go, "You might be talented but you're not hitting your mark. That mark on the ground, if you're not standing on it, the light's not hitting you which means we're doing it again." And that level of impatience is something I can relate to where you're like "Come on!" But you see something in that person where you go, "Miles could be great. He just has never hit a mark before." So it's that thing that you can relate to. It's somebody who does what you do and you go ,"Wow, you're fantastic. You just need help and I didn't realize I have to be a teacher."
Marvel.com: What does Miles think of this incarnation of Peter, initially?
Shameik Moore: He's thinking it's a sign like, "Oh, you're gonna help me! You're not Peter Parker… but you are Peter Parker!? Is it possible that you're Peter Parker from a different dimension? Perfect. We've got to help each other!" He's ambitious and hopeful when he meets Peter. He's counting on him and hoping he can get through to him. 
Marvel.com: What is it like seeing the incredible reviews and reaction this movie is getting?
Shameik Moore: It's exciting! I hope it does as well as it feels like it's going to do. 
Jake Johnson: We were at Comic Con, even before this [reaction] happened, and when you see people who adore this stuff… I really wanted them to like it just in terms of life. If someone has spent 30 years of their life reading and loving this stuff, you don't want to do something as an actor where they're like, "You really let me down, man," and you're going, "Sorry, we didn't mean to. We're just trying to make a good movie!" So hearing that the core group really loves it - I had that with "New Girl" too. By the end, I didn't even care what the scripts were. As long as that main, core "New Girl" group said "You did it right!" The people who really love this universe are saying, "I love Spider-Man and this one takes it to a new level" I'm thinking, "Guys, that's it. That's the goal!" So it feels very validating. 
Spider-Man: Into the Spider-Verse" opens December 14th, 2018. 
Check out Marvel.com all week for more from the cast and creators discussing the making of the acclaimed animated film!
The Hype Box
Can't-miss news and updates from across the Marvel Universe!