Movies
Published July 10, 2019
Spidey's Suit As An Homage to Iron Man and 8 Other Things We Learned From 'Spider-Man: Far From Home: The Official Movie Special'
The deluxe collector's edition hardcover is now available!
Peter Parker embarked on his international MCU adventure last week when Spider-Man: Far From Home hit theaters worldwide.
Titan Publishing, in partnership with Marvel, has produced a special deluxe collector's edition hardcover, Spider-Man: Far From Home: The Official Movie Special, featuring interviews with Tom Holland (Spider-Man/Peter Parker), Jake Gyllenhaal (Quentin Beck/Mysterio), Samuel L. Jackson (Nick Fury), and Zendaya (MJ). In addition, this movie special also has behind-the-scenes interviews with the crew behind the movie's stunts, costumes, and groundbreaking visual effects. Grab the perfect companion piece to the 22nd MCU film available now wherever books are sold.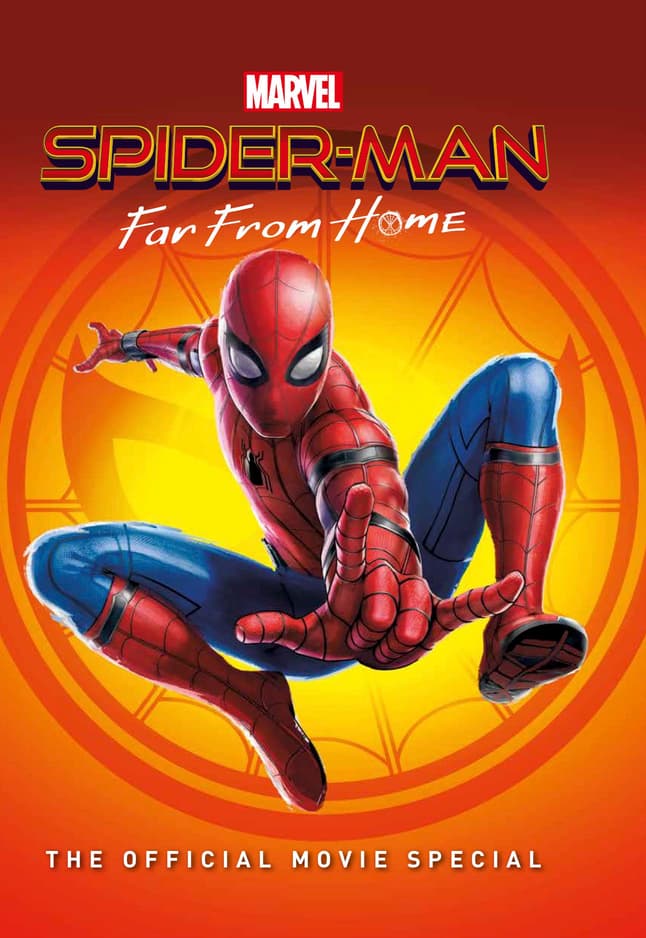 Spider-Man: Far From Home immediately follows the events of Avengers: Endgame, exploring a world coping with The Blip and the loss of our heroes like Iron Man. Wishing he could just have a normal teenager vacation with his friends, Peter Parker must battle mysterious elemental forces aided by Nick Fury and Quentin Beck.
After you've seen the film, discover the weight of responsibility Peter faced, the making of Spidey's new suits and Mysterio's final look, the various European shooting locations, how the Elementals were brought to life, and more with exclusive interviews from the cast and crew, as well as behind-the-scenes photos from set.
Thanks to the folks over at Titan Publishing, we've got a special preview of Spider-Man: Far From Home: The Official Movie Special in the gallery below.
Here are the top 9 things we've learned from the spreads:
1. Once in a lifetime opportunity.
Tom Holland revealed when he was younger watching the films, he never knew they were all connected until he saw Marvel's The Avengers, and now he's an intrinsic part of the MCU. Holland revealed, "It's totally opened up a whole new world for me.... I often think I'm the luckiest kid alive to be playing this part, to be part of this incredible world. I always imagined that it would be exciting and it would be a dream come true, but the dream come true is way bigger than I thought it would be."
2. The film is only as great as its ensemble cast.
According to Holland, what makes this film special and grounded is "it's not just a film about Peter Parker; it's a film about Ned Leeds, it's a film about MJ, and it's a film about Quentin Beck."
3. Molten Man isn't as awesome as the town of Liberec.
For the scenes shot in the Czech Republic, filmmakers Jon Watts and Eric Carroll shared the big summer festival involved the construction of several booths as well as the purchase of a Ferris wheel and a carousel, which was laid to waste by Molten Man in a big action sequence. The town of Liberec allowed them to take over the whole town square for a couple weeks, including controlling the traffic, shutting down the square at night, and leaving their property there so they don't have to constantly build it up and tear it down every day.
4. Spider-Man: Far From Home really embraced drones.
Not only do drones play a role in the film, they also played a role in the production of the film, which allowed the filmmakers to get these incredible sweeping aerial shots of their various locations without the need of a "giant helicopter and a crew of several people."
5. Parts of Venice was built in London.
While the cast did travel to and film in Venice, Zendaya revealed that the highly-trafficked vacation destination had to be recreated in London including "the water, the architecture, all the little details of the shops." "It felt like you were stepping into Venice - if you ignored the lights and the cranes," quipped Zendaya.
6. MJ is no damsel-in-distress, and don't you forget it!
In discussion with Jon Watts, Zendaya was excited to see and explore more of MJ in this film. "We made sure there were no damsel-in-distress moments," said Zendaya. "She saves herself. She helps her class get to safety. She's not just waiting for [Peter Parker] to come fix everything. She is the one who helps him figure out what's going on. She solves the case, really." Who knows what the outcome of the film would have been if MJ wasn't around.
"It's important for young women to see themselves in different ways on-screen," added Zendaya.
7. Complications of shooting on-location.
James Chisholm, second unit visual effects supervisor, revealed one of the big challenges he and his team faced was "match[ing] the different times of day." While they did travel to Europe and film on location in London, Venice, and Prague, they had to create visual effects that needed to integrate to the live-action footage in these locations seamlessly and realistically.
8. Tom Holland loved Spidey's Stealth Suit!
Not only did Spidey's Stealth Suit serve the narrative, Holland revealed he loved it because "It's much comfier than the spandex. It also looks pretty badass."
9. The Final Suit is an homage to Iron Man.
Tom Holland credits seamstress Robyn Gebhart, who also made the suits on Spider-Man: Homecoming, for making them realistic but also almost ripped out of the comic pages.
Holland loved the reveal of the final suit because it's "kind of an homage to Iron Man in the way that it's made."
Learn all this and more in Spider-Man: Far From Home: The Official Movie Special. Check out the special preview below and pick up the book NOW wherever books are sold!
The Hype Box
Can't-miss news and updates from across the Marvel Universe!