Movies
Published February 9, 2018
The Architectural Inspirations Behind Wakanda in Marvel Studios' 'Black Panther'
A mix of traditional and futuristic elements shaped this special place in the Marvel Universe.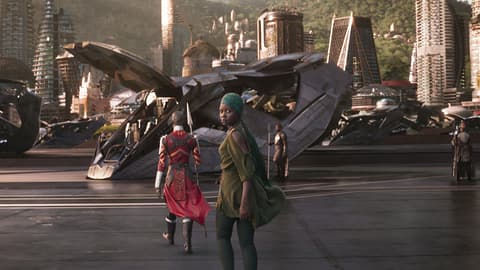 As crucial as the characters are to any Marvel Studios movie, the setting is a character in its own right. In Marvel Studios' "Black Panther," the setting of Wakanda defines the story and sets the tone for T'Challa's narrative.
Last year, during Marvel.com's visit to the set of the film, "Black Panther" producer Nate Moore and production designer Hannah Beachler discussed how they built the world of Wakanda and what influenced them to bring the impressive location to life in the Marvel Universe.
Wakanda is a futuristic country grounded in its past. Moore spoke about having the character live in a world built on different communities coming together, "What we were very afraid of was making Wakanda almost too Kirby-esque and by that I mean making it feel almost like they're alien and not human. The truth is they're human. They're just 20 or 25 years ahead of us. Having a city built on Vibranium allows them to have all these advances and have wealth beyond our wildest imaginings and that's a big part of the movie."
The initial design of Wakanda started with the comics. Moore explains how the design was a combination of ideas, "I think there were definitely some inspiration points, especially design-wise that we got form both Chris [Priest] and Ta-Nehisi's run. Brian Stelfreeze is an amazing artist and some of his version of Wakanda and even Wakanda technology was stuff that we borrowed pretty liberally from. But there's also a lot of original Ryan Coogler and Hannah Beachler, who is our production designer – a lot of their ideas that are outside of publishing that we found interesting."
For concept ideas, Beachler was looking to the future, specifically contemporary architects who had designed in Africa. Inspired by avant-garde architect Zaha Hadid—one of the most respected and celebrated architects in the world—she found her inspiration. "I started poking around and looking at really modern architects who have designed in Africa, all over Africa, east and west Africa. And someone who I really fell in love with was Zaha Hadid, who has passed away, but she is one of the foremost architects. Her architecture is very voluptuous and very flowing, very organic. And the more I started digging into Senegal and Nigeria and finding things, while not necessarily futuristic-looking, very modern in their sensibilities as far as the way they're putting together their elements and the colors that they use, I was struck by that. I think in Kenya, Uganda—Johannesburg was another one—where no matter where you go, you really do see that they're always keeping in mind the tradition."
A closer look at the design elements of Wakanda and you'll see a familiar pattern emerge, a circular pattern, "I did a lot of research into what the circular designs mean, as far as, you look at Stonehenge, you look at a lot of these old designs and they were actually based on the idea of bringing in plumbing, you know, not electric, but using water as a way to create sort of an electricity, if you will," said Beachler. "Sort of the idea behind it was, there were always these circles and it has to do with vibration and sound, and a lot of the stuff that we're doing is sonic and based on sound, and vibrations. Vibranium is about vibrations and soaking that vibration in."
What separates Wakanda from other places in the Marvel Universe is the fact that while it's the most technically-advanced civilization it has a strong history of culture as its foundation. As Moore explained, "So imagine a place that still has standing monuments that are centuries old, next to the most modern skyscrapers in the world. In the same way, they haven't lost a lot of their cultural touchstones that other places have. They still worship, potentially the same gods they did when they first started. They still have rituals that are centuries old because they never had that sort of cultural imperialism that you've seen across the world. So it's a place that really sits between being technologically advanced but also having a high value on their traditions."
Finding the value in traditional architecture but shaping it with a futuristic slant was the running vein for creating the world of "Black Panther." "It was important for us to keep that tradition, because we wanted to honor and have reverence for the continent," said Beachler, "and bring it to the screen in a way that you haven't seen before, as being a prosperous place."
Get your tickets now for "Black Panther", opening February 16, and stay tuned for even more royal action in the coming days!
If you're interested in learning more about Wakandan architecture and Marvel Studios' "Black Panther," pick up MARVEL'S BLACK PANTHER: THE ART OF THE MOVIE in stores February 13. Go behind the scenes with exclusive concept artwork and in-depth analysis from the filmmakers in this keepsake volume!
While you await the King, follow @theblackpanther on Twitter and like Black Panther's official Facebook page!
The Hype Box
Can't-miss news and updates from across the Marvel Universe!