Movies
Published March 14, 2018
The Avengers Reassemble on the Set of 'Avengers: Infinity War' to Take on Thanos
Here's everything we saw and learned on the set of 'Avengers: Infinity War'!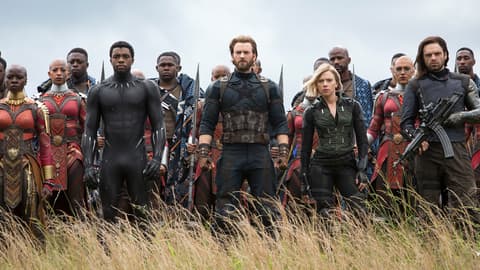 True Believers, we're inching closer to culmination of the last decade of the Marvel Cinematic Universe with the release of Marvel Studios' "Avengers: Infinity War," in theaters April 27!
Last summer, Marvel.com had the opportunity to visit the "Avengers: Infinity War" set and now we're allowed to share with you all the things we learned about the final chapter phase of the MCU. [Warning: If you want to head into the film knowing nothing, do not proceed ahead!]
With that warning in mind, let's begin and peep some new photos while you're at it:
[Updated Thursday, March 15]
[1] Source Material. "Avengers: Infinity War" will deviate from the source material. So don't go in expecting THE INFINITY GAUNTLET, the 1992 six-issue run.
Mark Ruffalo, who plays Hulk/Bruce Banner, revealed during the visit, "It's so different from the comic books. There's elements that are clearly the same, but when you really start to get into the story, everything changes."
He goes on to add, "[Infinity Gauntlet] is informative…but then again it just gets so off of the topic that it starts to become a little confusing."
[2] Witness the King. Hot on the heels of Marvel Studios' "Black Panther," our set visit was able to witness a scene unfold as our Avengers — a fully bearded Captain America, a platinum blonde Black Widow, a visibly-wounded Vision holding on to Scarlet Witch, Falcon, War Machine wearing STARK leg braces, and Bruce Banner — make their way off the Quinjet in the country of Wakanda. Our current roster of Avengers are greeted by King T'Challa, the Dora Milaje, and Bucky.
Some of our heroes have not seen each other in a very long time following the events of Marvel Studios' "Captain America: Civil War." Steve and Bucky embrace while Sam approaches with a quip, "Are you gonna snap and kill someone if they say bologna sandwich?"
T'Challa asks, "How big of an assault should we expect?"
"A pretty big one, sir," Cap replies.
As seen at the end of "Black Panther," T'Challa has brought Wakanda out of the shadows. Is the nation ready for Thanos to bring the fight to them? That's left to be seen.
[3] Avengers (Re)Assemble. As highlighted in the scene above, some of our heroes will be meeting each other for the first time, while others haven't seen each other since the end of "Avengers: Age of Ultron" or "Captain America: Civil War."
For instance, our Avengers are meeting the healed Bucky, now known to his Wakandan allies as "White Wolf." Banner has been missing in action on his cosmic adventure, and may know how big a threat Thanos really is.
Get prepared for tons of amazing pairings!
[4] Children of Thanos. The Mad Titan himself will not be operating alone. As we've seen in the trailers, Thanos likes to get his hands dirty but he also has those to do his bidding. Enter the Children of Thanos. While on set, we were shown maquettes of Ebony Maw, Proxima Midnight, Cull Obsidian, and Corvus Glaive. Get a glimpse of the Children of Thanos maquettes during our D23 2017 coverage here.
Maquettes of Smart Hulk, who we caught a glimpse of in "Thor: Ragnarok" and angsty Tween Groot, as seen in the end credits of "Guardians of the Galaxy 2," made an appearance.
[5] Costume Upgrades. You can bet our heroes are going to look their baddest and sharpest versions as they take on the Mad Titan. We've already seen Bucky and Cap get some upgrades thanks to Wakanda's source of Vibranium. Spidey has a pretty sweet revamp courtesy of Tony, while Rhodey has STARK leg braces to help him navigate the injuries he endured during "Captain America: Civil War." We can expect these aren't the only heroes who will leveling up their armor.
That's all we can share for now, but keep it on Marvel.com as we start rolling out interviews with the directors, screenwwriters and stars over the next few weeks!
[6] IMAX. The Russo Brothers revealed the entire film was shot by IMAX Arri 65 cameras. With unbelievably larger-than-life characters, the IMAX cameras helped the directors frame the shots and capture the intricate beauty of the exotic landscapes. Not only that, the evolving visual effects technology will push what Josh Brolin can do as a performer.
Related:
'Avengers: Infinity War' Brings the Heroes To Wakanda – Chadwick Boseman shares his thoughts on opening Wakanda to the world!
Hulk Is Back From 'Ragnarok' And Ready For Battle In 'Avengers: Infinity War' – Mark Ruffalo talks Hulk's place on the team and the evolution of speaking in full sentences!
The Russo Brothers Give Us An Insider Look on How They Tackled 'Avengers: Infinity War' – Get a glimpse on the storytelling elements from balancing tones to collaborations and more.
Scarlett Johansson and Chris Evans Are Ready For Fans To See The Avengers Assemble in 'Avengers: Infinity War' – See Black Widow and Captain America gather the team against Thanos on April 27!
Danai Gurira On the Strong Female Presence In 'Avengers: Infinity War' – Okoye, leader of the Dora Milaje, isn't ready to assemble
Thanos Isn't Wrong in Marvel Studios' 'Avengers: Infinity War' – Marvel screenwriters on creating the Mad Titan's emotional story in 'Avengers: Infinity War'
Don Cheadle says 'Infinity War' Is Serious Business – War Machine reveals how the stakes have been raised, his road to recovery and suiting up
Elizabeth Olsen and Paul Bettany Believe Scarlet Witch and Vision's Relationship Is An Asset To Help Spur On The Fight In 'Avengers: Infinity War' – Olsen and Bettany detail the difference between a Russos and a Whedon 'Avengers' film
"Avengers: Infinity War" opens in theaters on April 27. Stay tuned to Marvel.com, follow @Avengers on Twitter, and Like "The Avengers" on Facebook for the latest on the Avengers as it develops!
The Hype Box
Can't-miss news and updates from across the Marvel Universe!